Description
The Renogy E.Flex Series is ready to generate electrical power wherever sun rays land, offering a versatile charging solution for portable power stations or off-grid DC batteries. The 80W EFlex solar panel can provide up to 320Wh per day at average sun intensity levels when you are out for short trips, camping, or fishing.
If you have any questions regarding this product, please submit a case !
Key Features
Highly Efficient
Premium solar cells with an energy conversion efficiency of up to 22% guarantee sufficient power output in daylight conditions
Superior Durability
IP67 level water proof
ETFE film provides long-life and ultra protection against environmental stress
Portable
Frameless lamination and light weight construction. Easy to carry.
Kick-Stand
Kick-stand ready for angled cell position, allowing more power generation during day hours.
Compatibility
EFLEX portable solar panel is designed for the most portable generator power station on the market, including Phoneix 200 or similar power stations from other brands.
Package Includes
E.FLEX 80 portable solar panel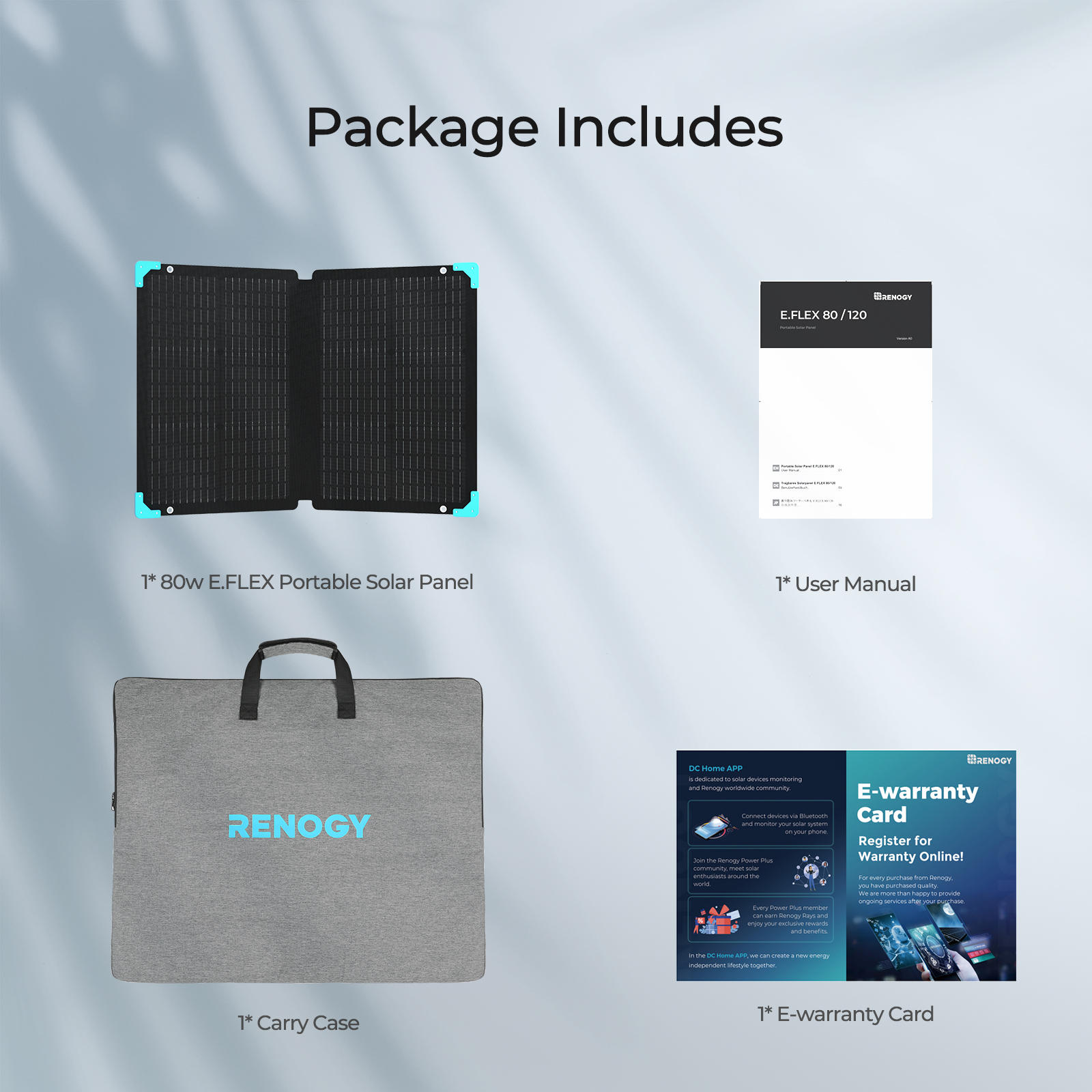 1 x
| Specifications | |
| --- | --- |
| Max Power at STC: 80W | Open Circuit Voltage (Voc): 20.7V |
| Short Circuit Current (Isc): 4.9A | Opitmum Operating Voltage (Vmp): 17.2V |
| Optimum Operating Current (Imp): 4.7A | Operating Temperature: -40°F to 149°F(-40℃ to +65℃) |
| Dimensions:24.8*17.1*1.0 inch(fold), 24.8*34.2*0.2 inch(unfold) | Weight: 7.3 lbs (3.3 kg) |
| Panel Leads (Pair):2.5mm2(39.37in) | |
Warranty Information
| | |
| --- | --- |
| Panels | Material and workmanship warranty:1 year |
Certification
Review
Hide Reviews
High quality solar panel.
This solar panel is built well, it does not contain any cloth material between the cells, the whole unit is one piece with nothing to fray or rip. The kickstand is stable and handy, there are even grommet holes at the top and bottom of the cell for staking down or hanging the panels. The panel had no problem making its rated power even in the -12F temperature and the weak winter sun. The case is high quality with water proof zipper.