Description
Renogy's DCC50S DC to DC MPPT on-board Battery Charger is designed to give you options! This multi-stage, multi-input battery charger can charge a service battery from an alternator connected to a starting battery or by utilizing solar panels connected directly to the unit. While your vehicle's alternator prioritizes your starting battery, this unit will allow your solar system to charge your service battery first! It's the smart way to keep yourself fully charged and off-grid longer! And with multi-stage charging and multi-chemistry functionality, Renogy's DC to DC MPPT Charger has you covered whether you're using Flooded, Gel, AGM, or Lithium batteries.
Now you can unlock monitoring features exclusively using the BT-2 Bluetooth Module and Renogy DC Home App!
Please Note: The BT-2 Bluetooth Module requires a separate purchase.
If you have any questions regarding this product, please submit a case !
Key Features
Designed to charge service batteries from two DC inputs—solar panels and alternator

.

Built-in Maximum Power Point Tracking (MPPT) to maximize the solar power

.

3-phase charging profile (Bulk, Boost, and Float) ensures your service battery will be accurately charged at the correct voltage levels to 100%

.

Built-in Voltage Sensitive Relay (VSR) for easy setup with traditional alternators

.

Compatible with smart alternators (with variable output voltage)

.

Trickle charges the starting battery via solar panels if the service battery is fully charged

.

Isolation of the starting battery and the service battery

.

Temperature and voltage compensation features prolong battery life and improve system performance

.

Smart Protection Features: battery isolation, over-voltage protection, battery temperature protection, over-current protection, overheat protection, reverse current protection, solar panel and alternator reverse polarity protection

.

Compatible with multiple battery types: AGM, GEL, Flooded, and Lithium

.

Compact with a sturdy design, it was built tough for all conditions

.
Bluetooth Monitoring Ready! Exclusively available with the BT-2 Bluetooth Module accessory and Renogy DC Home App available on the IOS and Google Play Stores.
Package Includes
50A DC-DC On-Board Battery Charger with MPPT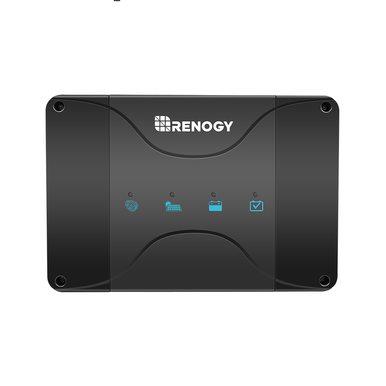 1 x
Specifications
System Voltage : 12VDC
Battery Voltage Range : 9-16VDC
Maximum Charging Current : 50A

(25A Alternator / 25A PV)

Battery Type : SLA, GEL, FLD, LI, USER
Backup Battery Charging Mode : MPPT
Charging Efficiency : Up to 97%
Max. Solar Input Voltage : 25V
Maximum Solar Input Power : 660W
Alternator Input Voltage : Traditional Alternator: 13.2-16VDC Smart Alternator (Euro 6): 12-16VDC"
Maximum Alternator Input Power : 660W
Self-consumption : 60mA
Operating Temperature Range : -31°F~149°F / -35°C~65°C
Dimensions : 9.6 x 5.7 x 3.0 in / 244 x 146 x 77 mm
Weight : 3.13 lbs / 1.42 kg
Warranty Information
| | |
| --- | --- |
| Accessories | 1-year material warranty |
Reviews
Hide Reviews
Review on the 50amp charger,
Awesome product & looking forward to use these products more regularly with my customers . Only one disappointment was the very delayed postage/delivery which I had to put a customer on hold for quite awhile. Apart from that great product looking forward to dealing with you again. Thanks, Harsha Dissa, Director , Yakka ATS Pty Ltd Australia.
50A DC-DC Charger
I upgraded my vehicle to 400 ah Lithium Batteries, when choosing a DC-DC charger I was very interested in being able to maintain my vehicle start battery during long off-grid trips. The Renogy DCC50S came in at a great price and has all the features I was looking for. I have comprehensively tested my new Lithium charging system and am very impressed with the performance of the DCC50S, the only issue I would advise on is to mount the unit where heat can be dissipated, this unit can get very warm when pushing the full 50 amps through it.