-Industry-leading 200W self-heating
-EV-class cells (Grade A) with 5000 cycles (80% DOD)
-Low-temp cut-off for safer charging & discharging
-Automatic cell balancing during charging
-Vibration-resistant frames & IP65 protection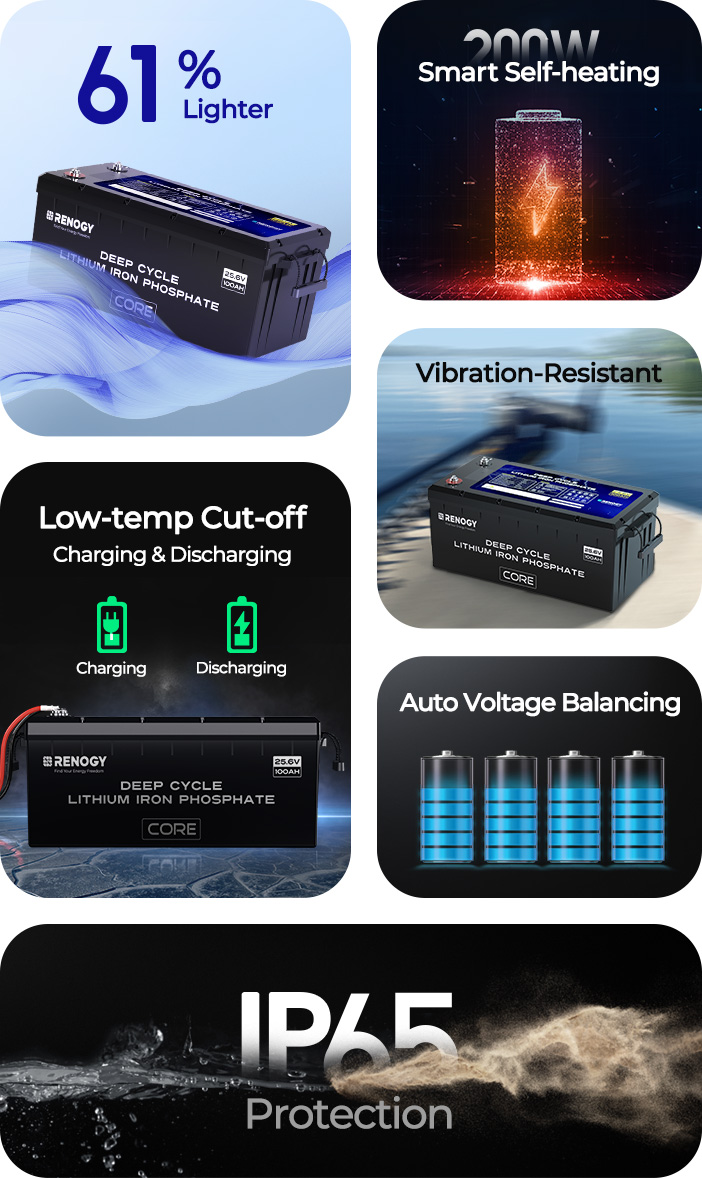 Cruising Made Easy with Lighter Power
The built-in automotive-grade battery cells (Grade A) help reduce the overall weight of your 24V batteries to ensure a faster & smoother cruising experience.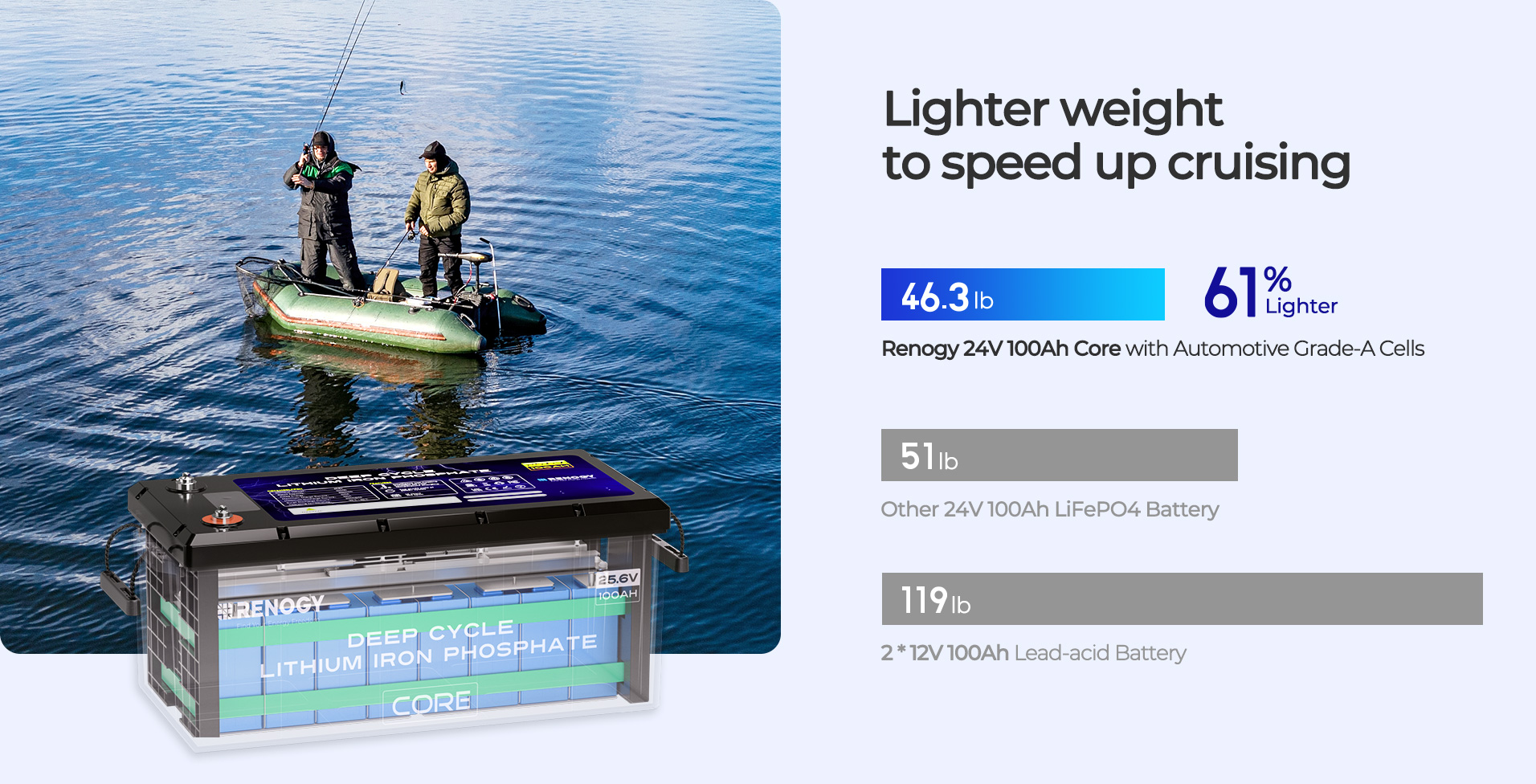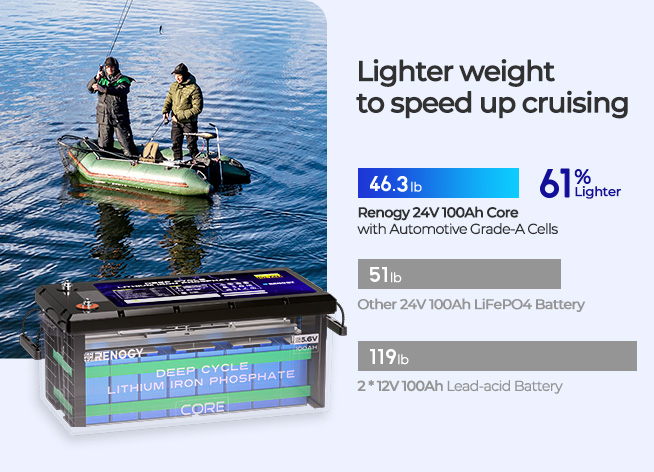 Efficient Backup Power for Peace of Mind
With over 5 times power condensed per kilo, Renogy 24V 100Ah LiFePO4 Battery offers more power in a similar footprint. Be power-ready before emergencies. Not after.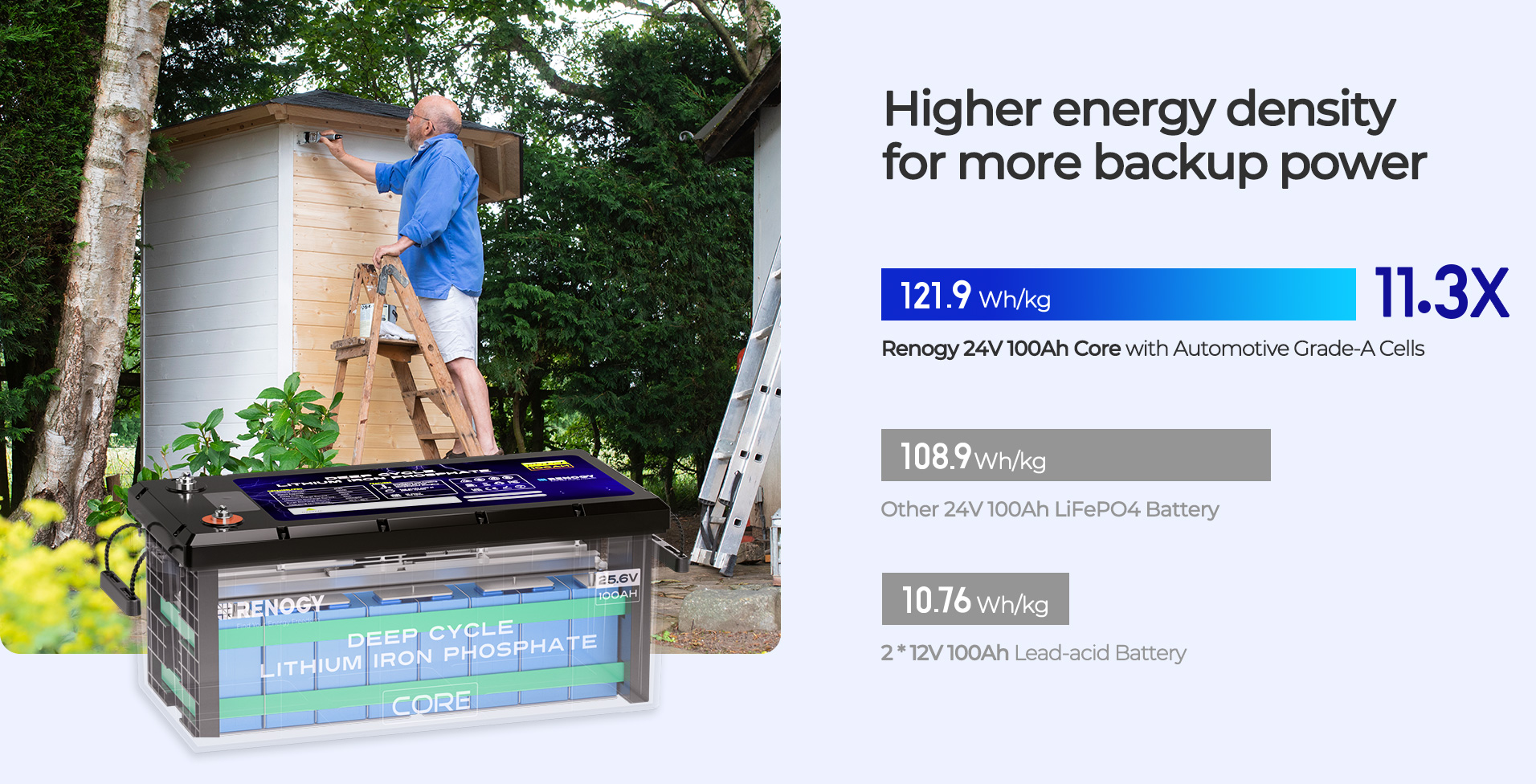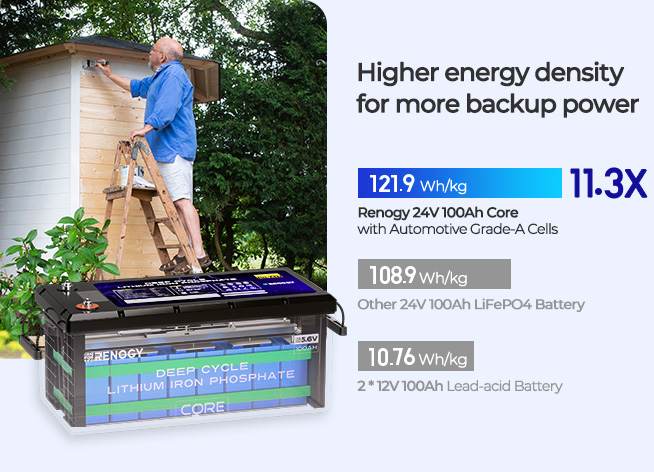 Longer Battery Life. Lasting Outdoor Fun.
Grade-A prismatic cells boast 5000 cycles at 80% depth of discharge – that's 10 times longer than traditional lead-acid batteries. With this longevity, enjoy a worry-free 10-year battery lifespan for extended and uninterrupted adventures on the road.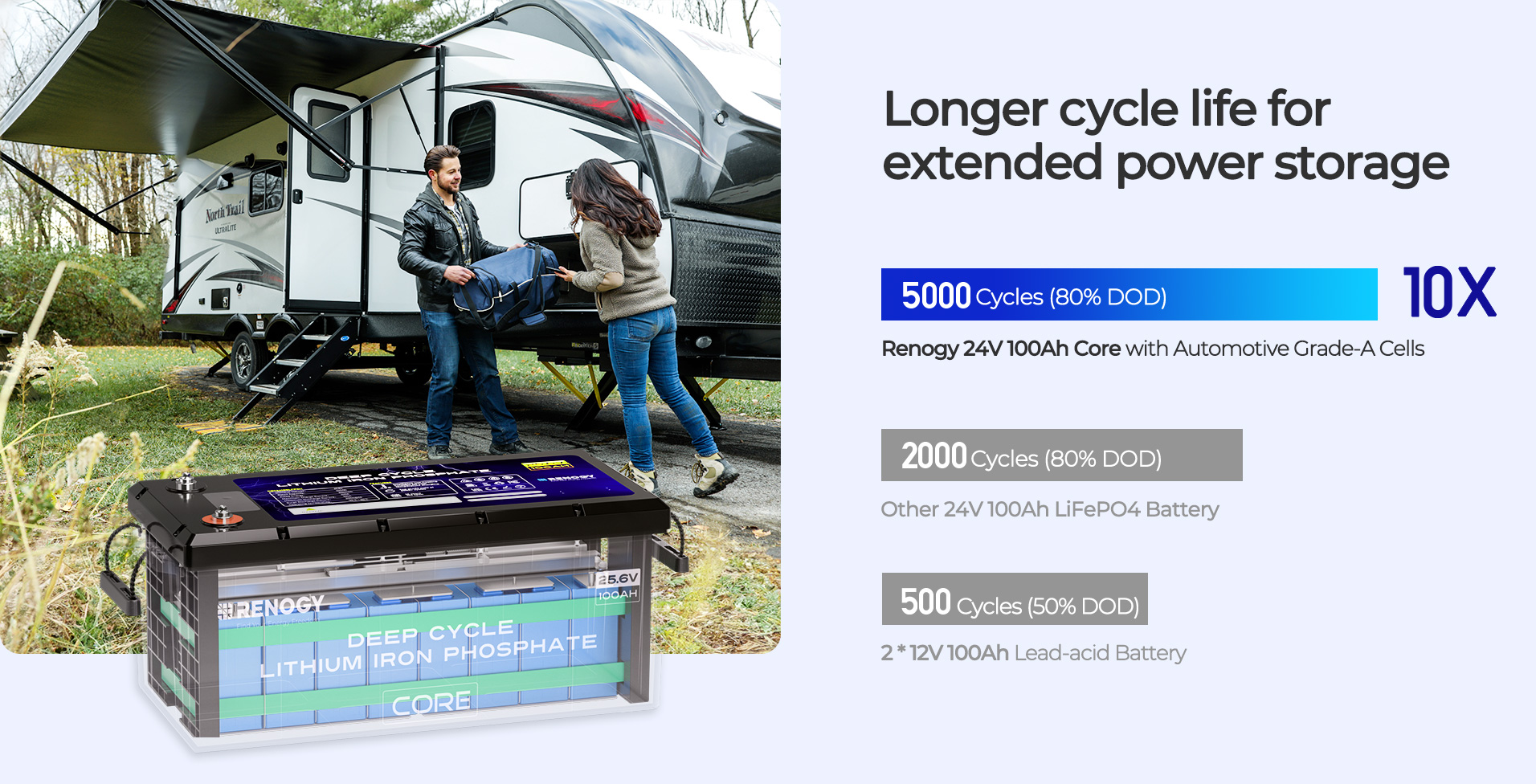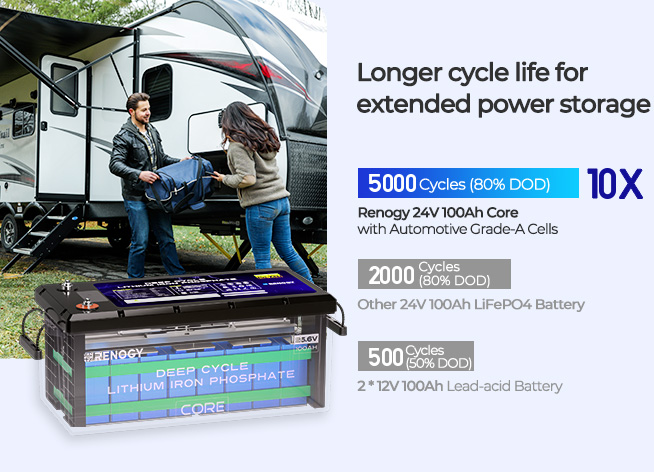 Why a 24V LiFePO4 Battery?
Enjoy a cleaner, more efficient setup with a Renogy 24V 100Ah LiFePO4 battery - that means 30% less wiring needed and pre-selected cells featuring balanced voltage, Plus, the programmable BMS ensures automatic cell balancing during charging, leaving behind the days of dealing with messy wires and unbalanced cells that come with 2 * 12V 100Ah batteries.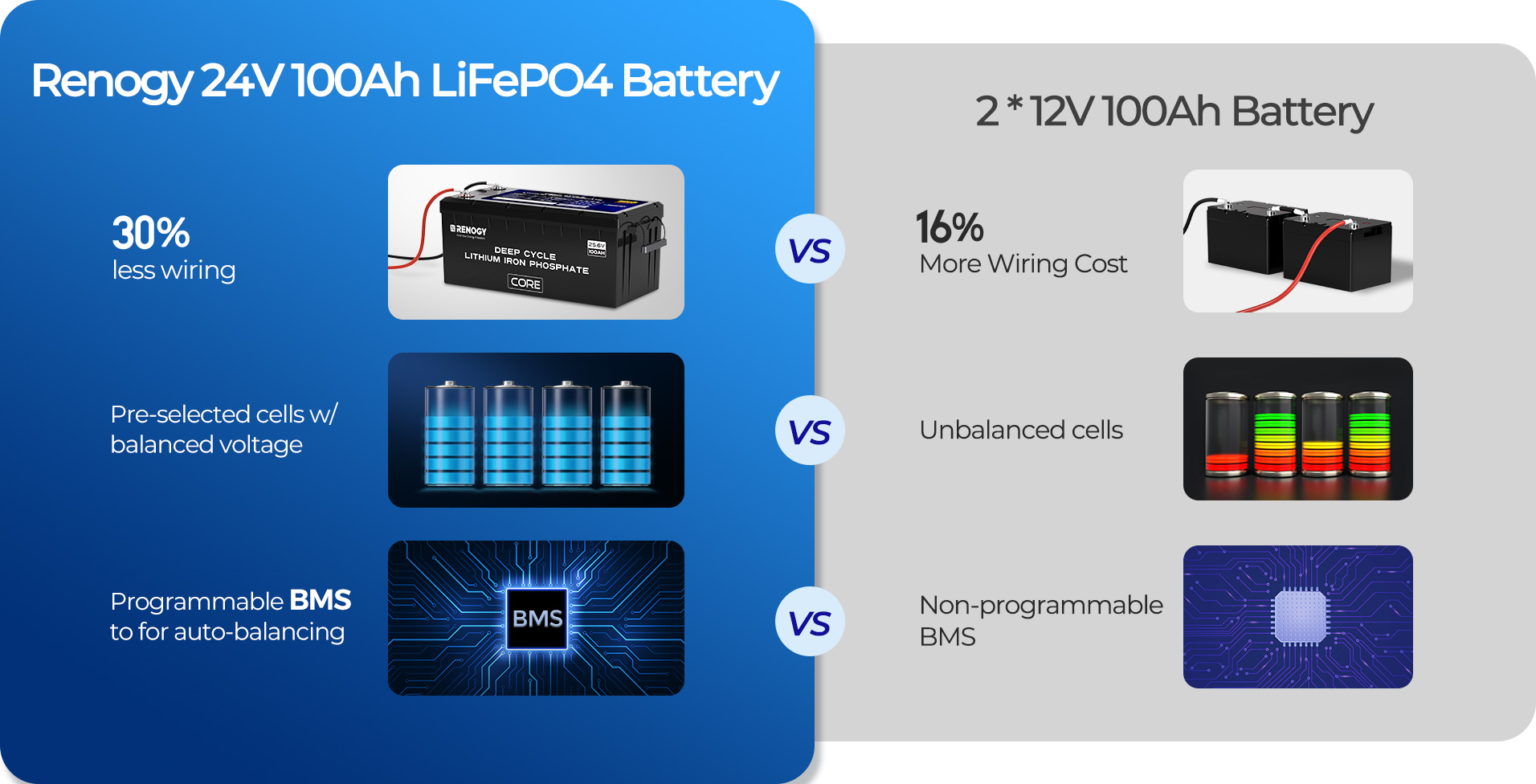 Seamless Power Expansion
Maximize your backup power to 40.96kWh by connecting a total of 16 batteries in a series-parallel connection, having you covered for extended blackouts or any high-demand projects.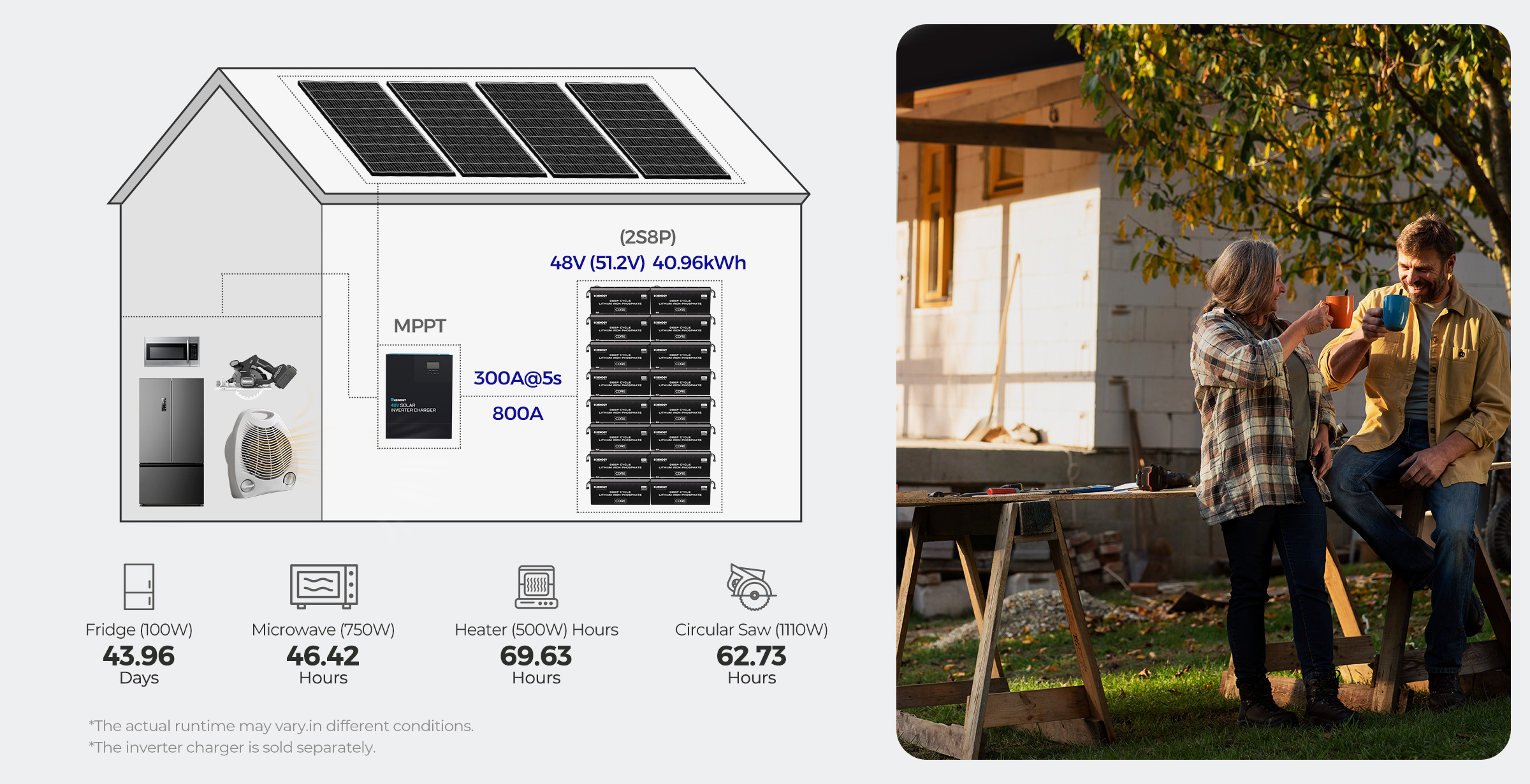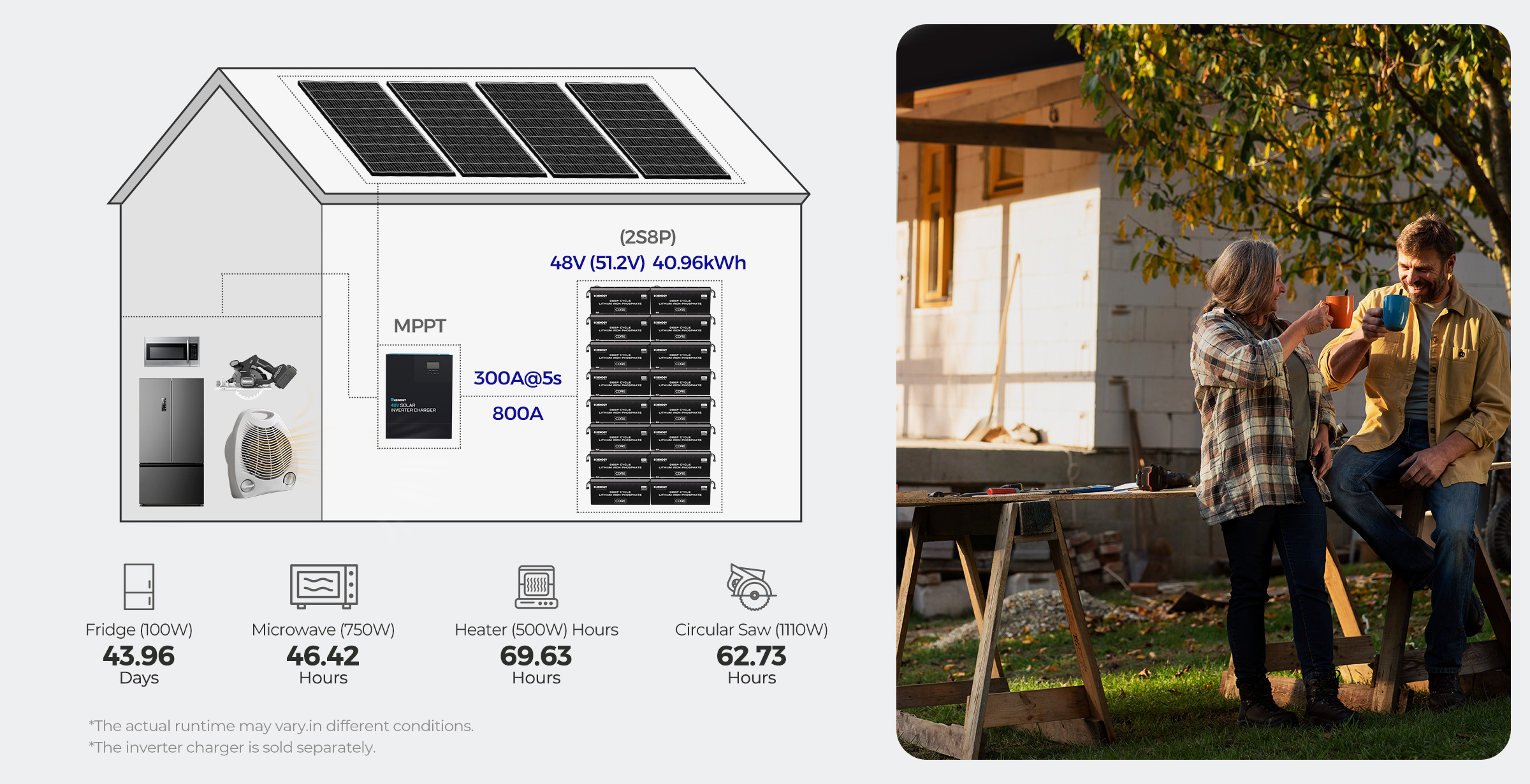 Wired in Series/Parallel
Besides the series-parallel connection, the Renogy 24V 100Ah LiFePO4 Battery allows you to wire up to 8 in parallel or 2 in series for flexible power setup.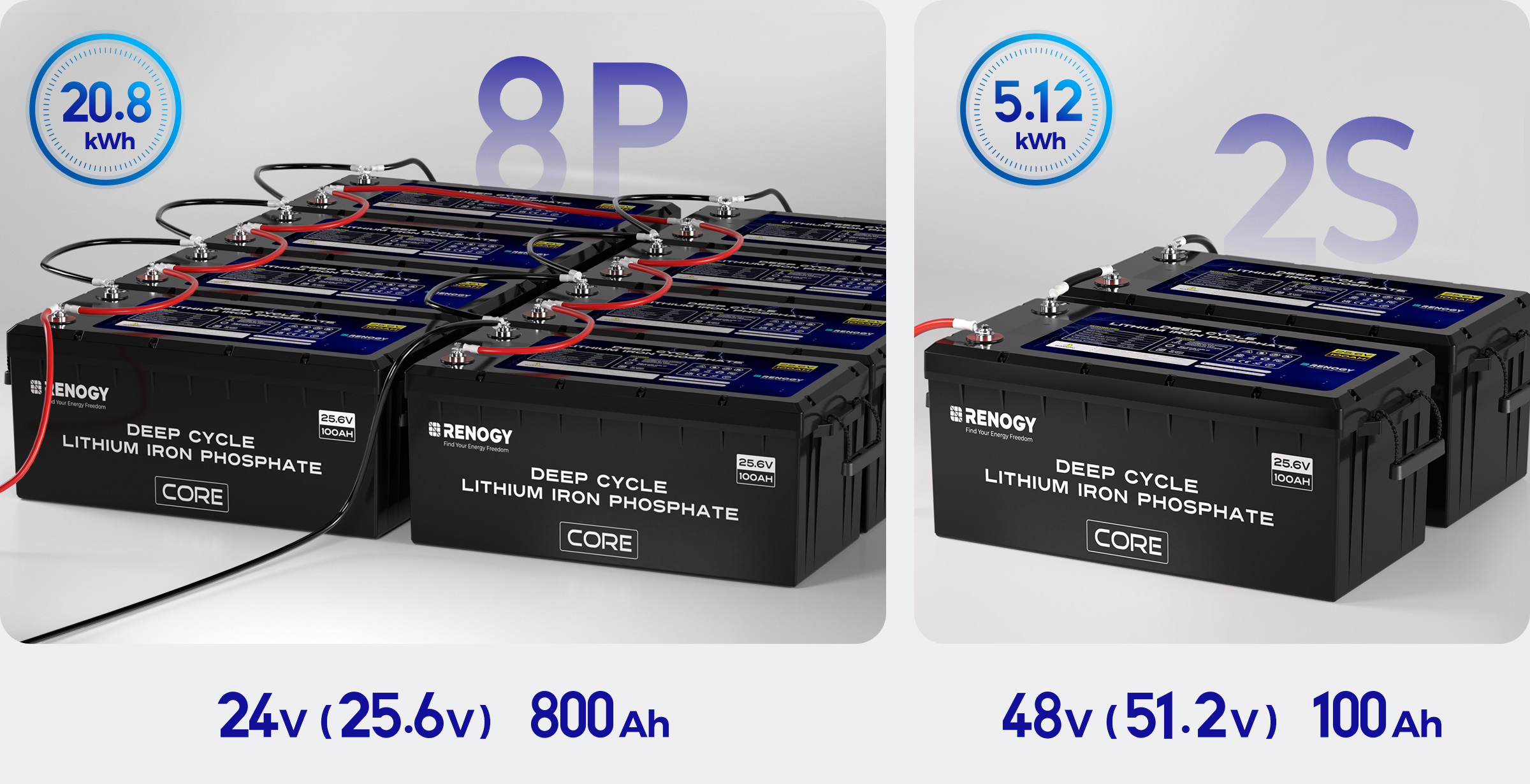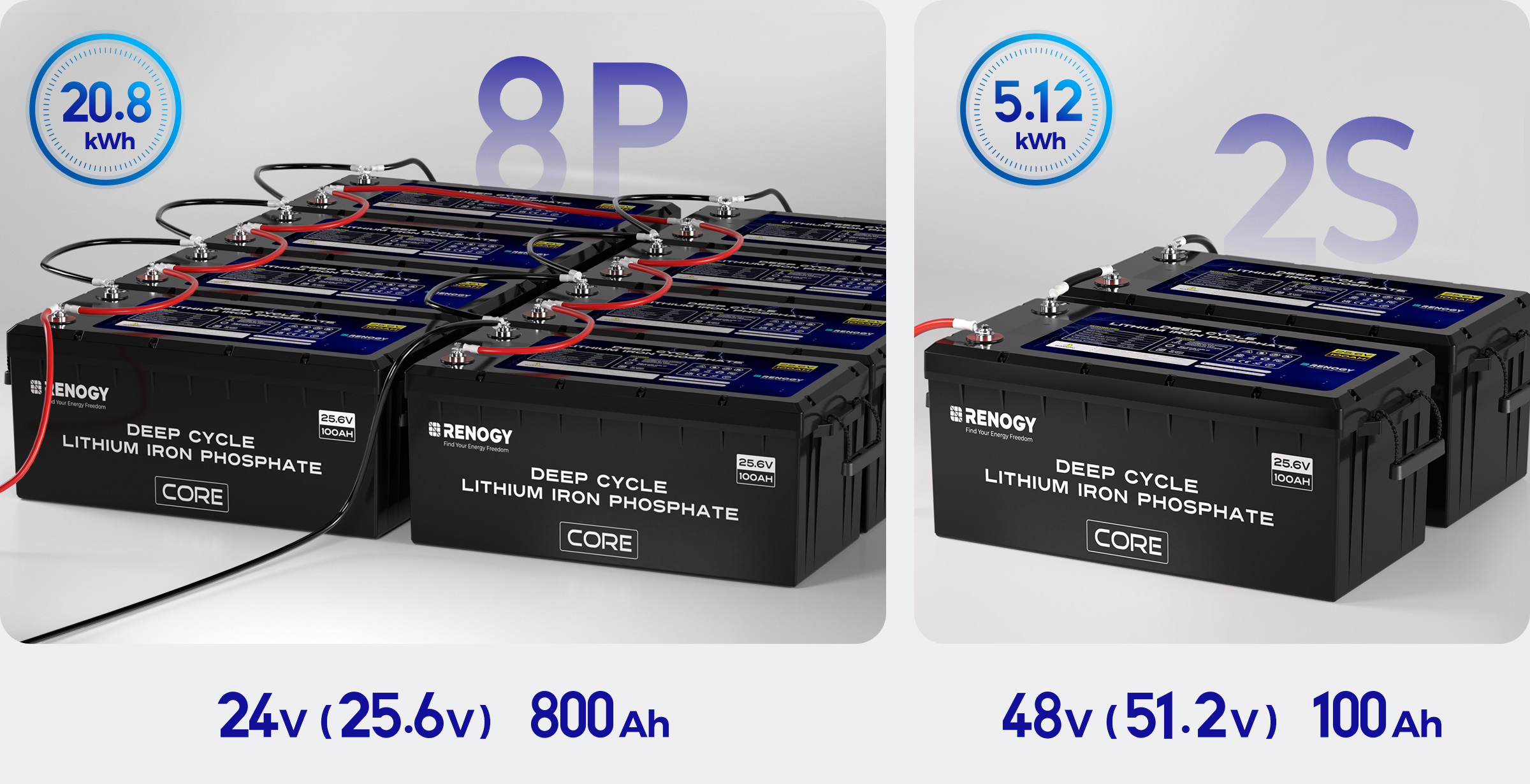 The Renogy Difference
Going solar is not that complicated. Renogy is here to help you build your system faster so you can roam further.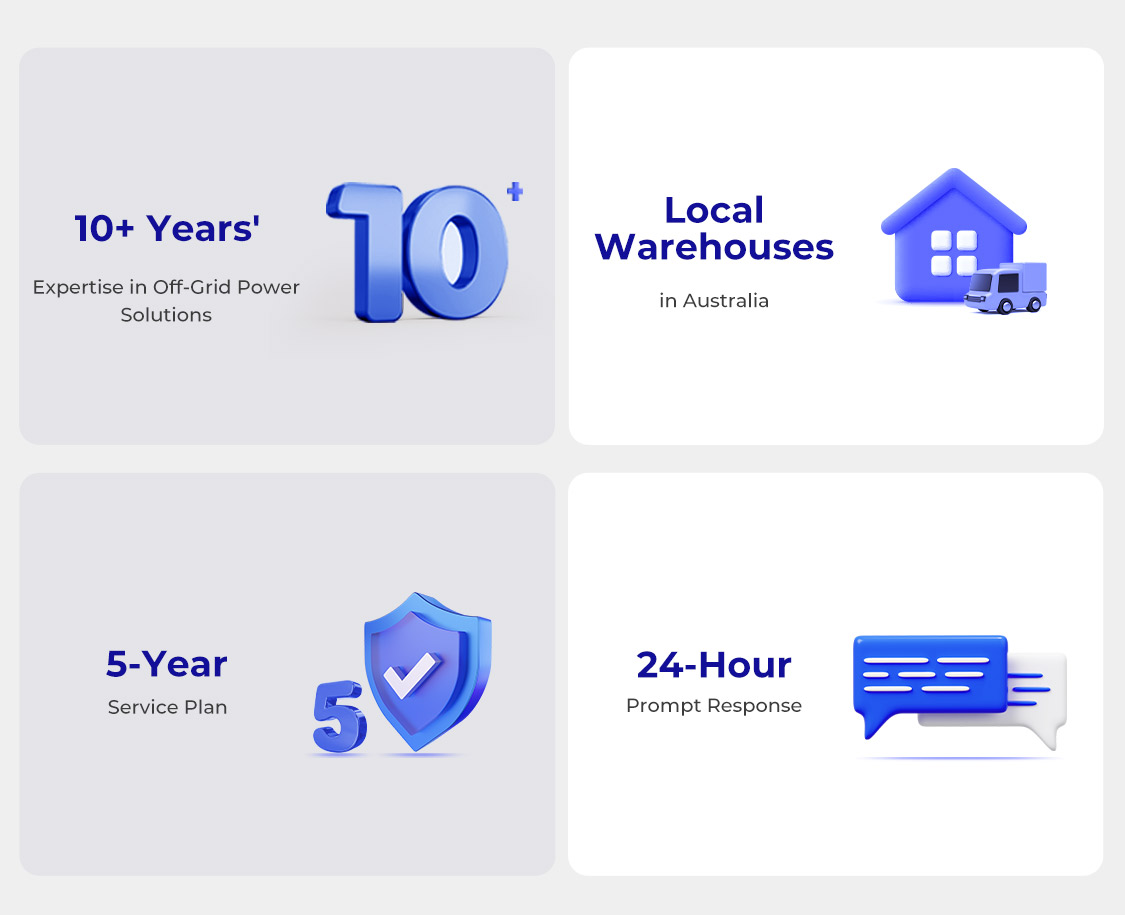 Connect with Renogy customers.
Go to Power Plus Community
Still have questions?
Ask our specialist
Renogy 12V 100Ah Core Series Deep Cycle Lithium Iron Phosphate Battery

Electrical Specifications
Temperature Parameters
Rated Capacity (0.5C, 25°C)
100 Ah
Operation Temperature Range
Charge: 32°F to 131°F / 0°C to 55°C
Nominal Voltage
25.6 V
Operation Temperature Range
Discharge: -4°F to 140°F / -20°C to 60°C
Energy
2560Wh
Storage Temperature Range
-13°F to 149°F / -25°C to 65°C
Cycle Life(0.5C/1C, 25℃)
5000 Cycles (80% DOD 80% EOL)
Operation Relative Humidity
10% to 95%
Charging Parameters
Mechanical Specifications
Charge Voltage
29 V
Dimension (L x W x H)
20.55 x 9.45 x 8.62 in / 522 x 240 x 219 mm
Maximum Continuous Charge Current
100 A
Weight
46.3 lbs. / 21.0 kg
Discharging Parameters
Terminal Bolt Size
M8 x 1.25 x 15 mmm
Maximum Continuous Discharge Current
100A
Protection Rating
IP65
Peak Discharge Current
300A@5s
Self-heating
YES
Certifications
Warranty
MSDS, UN38.3, FCC, PSE, CE, UKCA
YES
5-year material Warranty
1.Can this battery be used in series to build a 48-volt system?
Yes. Renogy 24V Core Series Batteries can be connected in series to ramp up voltage for a 48V off-grid power system. You can also consider wiring batteries in series first and then wire sets of batteries (same models required) in parallel for maximum power up to 40.96kWh.
2.Will this new 24V 100Ah Core LiFePO4 work with 24V batteries from other brands?
We do not recommend wiring batteries with different chemistries, rated capacities, nominal voltages, brands, or models in parallel or series. This can result in potential damage to the batteries and the connected devices, and can also pose safety risks.
3.How many Renogy 24V 100Ah Core Series Batteries can I connect at most?
The 24V 100A Core Batteries support versatile connections, including series, parallel, and series-parallel connections. You can connect up to 2 batteries in series, 8 in parallel, or 16 in the series-parallel connection. Batteries of the same model and similar capacity are required.
4.How long will the Renogy Core Series Lithium Iron Phosphate Battery last?
Renogy 24V 100Ah Core Series Batteries can deliver 5000 cycles with a recommended 80% depth of discharge (DOD). Meanwhile, these batteries integrate self-heating and low-temperature cut-off to provide power in freezing weather.
5.How should I balance my batteries in a 2S2P configuration?
We advise you to connect your four batteries in parallel periodically to rebalance the battery voltages every six months. This helps reduce voltage differences and optimize their performance.
6.Can I pair a Bluetooth Module for this battery to monitor the battery status on the phone?
No. This battery is not compatible with the Bluetooth module. You can use a 500A Battery Monitor With Shunt (sold separately) to keep track of battery status.
7.My battery temperature gets too low during operation and the self-heating doesn't work very well.
Each 24V 100Ah Core LiFePO4 Battery requires a charging current greater than 10A to initiate and sustain the heating. Please check the charging current of the charger for each battery more than 10A.
More questions about your off-grid power system? Learn more from

Renogy Learning Center

!