Description
The Renogy E.Flex Series is ready to generate electrical power wherever sun rays land—offering a versatile charging solution for portable power stations or off-grid DC batteries.
The 120W EFlex portable solar panel is suitable for the new Phoenix 500/1000 power station and most solar generators on the market with the MC4 connector cable. The portable solar panel adopts PERC solar cell technology with a conversion efficiency of up to 22%. The ETFE-laminated case and IP65 water-resistant rating provide ultra protection and are durable enough to extend the panel's lifespan. It's ideal for a road trip, camping, RV, and over-landing.
If you have any questions regarding this product, please submit a case !
Key Features
Higher Energy Conversion Rate
Premium solar cells with an energy conversion efficiency of up to 22% guarantee sufficient power output in daylight conditions, which ensures the Renogy E.FLEX 120 performs better than similarly-rated polycrystalline solar panels in the market.
Superior Durability
The ETFE film provides long life and ultra protection again environmental stress. The IP67 water-resistant rating protects it from water splashing.
Portable & Foldable with Kickstand
120 watts solar panel is foldable and comes with a case, which is convenient to carry wherever you go. Adjust the angle of the stand slightly to get more sunlight. Kick-stand ready for angled cell position, allowing more power generation during day hours.
Compatibility
EFLEX portable solar panel is designed for the most portable generator power station on the market with connector cable(sold separately), include Phoneix 500/1000 or similar power station from other brand.
Package Includes
E.FLEX 120 portable solar panel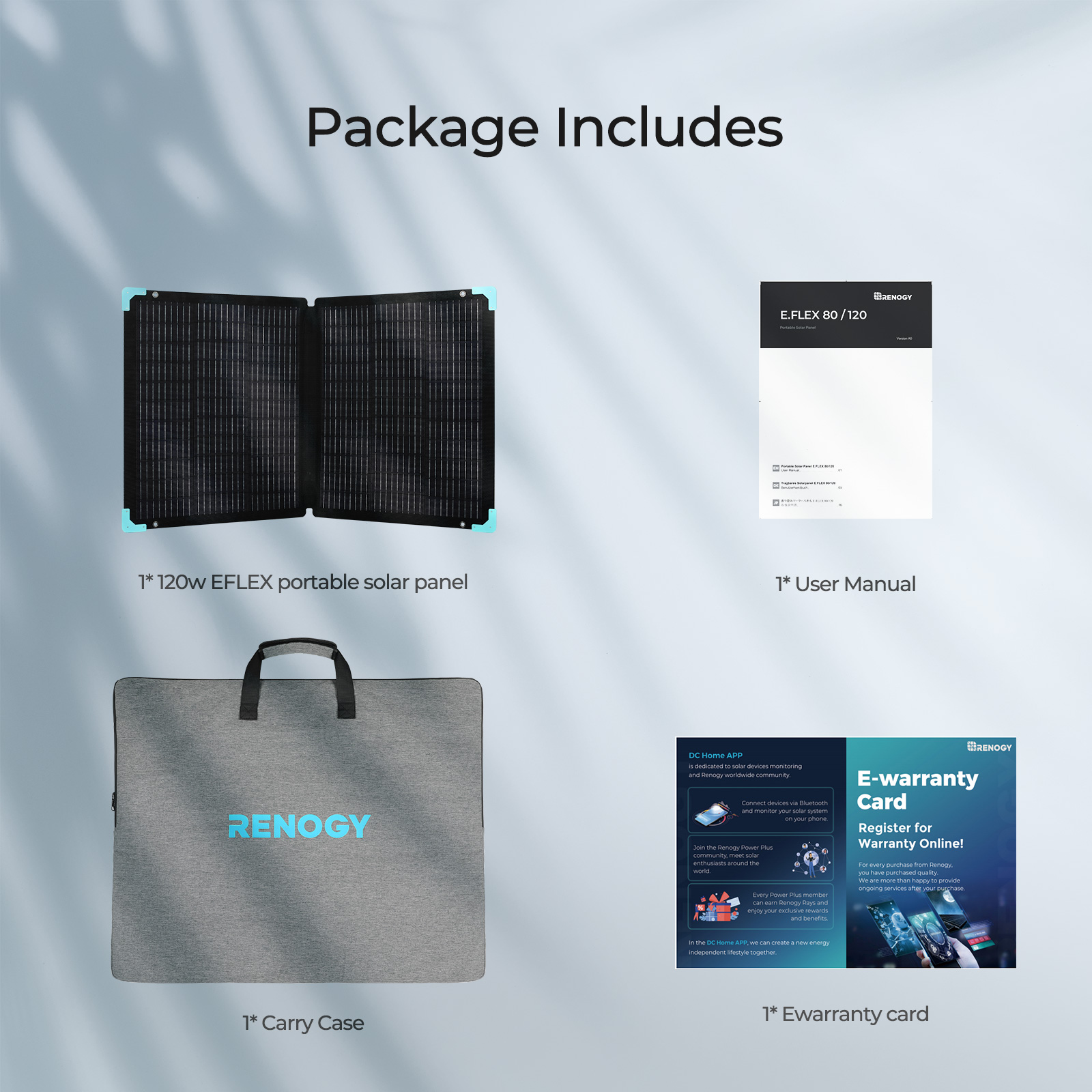 1 x
| Specifications | |
| --- | --- |
| Max Power at STC: 120W | Open Circuit Voltage (Voc): 23.8V |
| Short Circuit Current (Isc): 6.4A | Opitmum Operating Voltage (Vmp): 19.8V |
| Optimum Operating Current (Imp): 6.1A | Operating Temperature: -40°F to 149°F(-40℃ to +65℃) |
| Dimensions:26.4*21.7*1.0 in(fold), 26.4*43.4 *0.2 in(unfold) | Weight: 11 lbs (4.8 kg) |
| Panel Leads (Pair):2.5mm2(39.37in) | |
Warranty Information
| | |
| --- | --- |
| Panels | Material and workmanship warranty: 1 year |
Certification
Review
Hide Reviews
Very nice panel.
Nice quality, fast delivery, the output power is what I expected.