Description
Take your deep cycle battery experience to the next level by investing into Renogy's 12 volt battery Battery, combining superior lithium-iron phosphate technology to provide a better solution to solar energy storage. Weighing at just a bit over 14.8 lbs, Renogy's LFP battery surpasses expectation by being lighter, compact, and more powerful than its lead-acid battery counterparts of 50Ah. Designed to replace conventional solar battery storage units such as sealed Sealed, AGM, or Gel batteries, utilize your LFP battery in power-sport applications, off-grid applications, solar energy storage, and more! Take a step into the right direction by pairing your solar system with one of the safest and highest-cycle 12 volt battery chemistry yet.
The Renogy Adventurer Li and Rover charge controller are fully compatible with this battery.
Note: Please be aware that if the batteries' Battery Management System (BMS) is activated and the battery voltage shows 0V, you must use a compatible Li charger to reactivate our Li batteries.
Note: Make sure to tightly screw the battery terminals in, having loose battery terminals will cause the terminals to build up heat resulting in damage to the battery.
If you have any questions regarding this product, please submit a case !
Key Features
Lightweight
BMS protection
Low Self-discharge
Triplex Sealed Construction
Patent Designed Construction
Minimum 12V Lithium Battery Bank Sizing
The following are the minimum battery quantities to operate Renogy power inverters. This is ONLY for 12V applications.
| Battery Bank Qty/ Inverter Size | 50Ah | 100Ah | 170Ah |
| --- | --- | --- | --- |
| 1000W | 2 | 1 | 1 |
| 2000W | 4 | 2 | 2 |
| 3000W | 6 | 3 | 2 |
Package Includes
Renogy Lithium-Iron Phosphate Battery 12 Volt 50Ah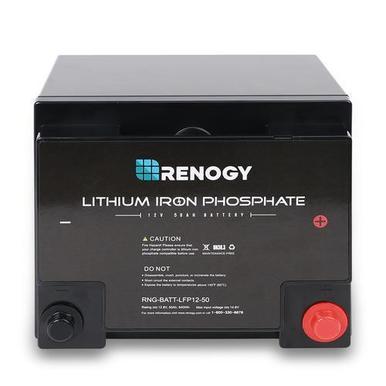 1 x
Electric Characteristics
Nominal Voltage: 12.8V
Energy Density: 114.4Wh/L
Rated Capacity (0.2C): 50Ah
Internal Resistance:

≤50mΩ

Minimal Rated Capacity (0.2C): 47.5Ah
Cycle Life (0.2C, 20±5°C): 80% DOD 2000 cycles
Energy: 640Wh
Specific Energy: 95.5Wh/kg
| Charging Parameters | Discharge Parameters |
| --- | --- |
| Charge Voltage: 14.4 ± 0.2V | Maximum Continuous Discharge Current: 50A |
| Maximum Charge Current: 50A | Discharge Cut-off Voltage: ≥10V |
| Charge Cut-off Voltage: 14.6V | |
| Temperature Parameters Operation Temperature Range | Temperature Parameters Storage Temperature Range |
| --- | --- |
| Charge:32~113℉ / 0~45℃ | Less Than 1 Year:32~77℉ / 0~25℃ |
| Discharge:-4~140℉ / -20~60℃ | Less Than 3 Months:23~95℉ / -5~35℃ |
| Recommended:73.4 ± 9℉ / 23 ± 5℃ | |
Mechanical Properties

Length:

197mm / 7.8 inch

Weight:

6.7 kg / 14.7 lbs.

Width:

166mm / 6.5 inch

Housing Material:

ABS+PC

Height:

171mm / 6.7 inch

Terminal Model:

M8x1.25x12mm

Cell Model:

IFR26650-3.4Ah

Assembly Method:

4S15P

Certifications:
EMC
YES
UKCA
YES
PSE
YES
Warranty Information
| | |
| --- | --- |
| Accessories | 5-year prorated warranty |