-UPS Function: Rapidly switches between battery and AC power in 50mS.
-Incorporates internal backup DC fuse for enhanced safety.
-Comprehensive electronic protections for ultra safety.
-Pure sine wave power gives you cleaner, smoother electricity.
-AC priority switch.
The perfect addition to any off-grid system, whether for a van or a cabin, the Renogy 3000W Pure Sine Wave Power Inverter acts as a DC to AC converter that allows you to power your household appliances. Unlike modified sine wave inverters, this 3000W inverter is a pure sine wave, capable of producing cleaner, smoother, and more reliable electricity to operate tools, fans, lights, and other electronics without interference. Many off-grid systems require a 12V solar inverter to power everyday electronics and this one includes multiple protections to help things run smoothly and safely.The AC priority switch function enables the inverter automatically switch from the battery (DC) to the mains (AC) and vice-vercer whenever the utility company takes/loses power! Click here to know more about the battery of the 2nd bundle option: Renogy 12V/24V/48V 200Ah Core Series Deep Cycle Lithium Iron Phosphate Battery! If you have any questions regarding this product, please submit a case !
Find your energy freedom with Renogy 3000W 12V Pure Sine Wave Inverter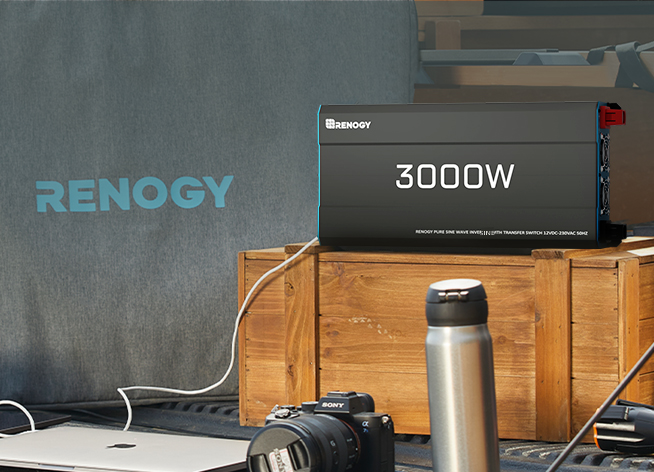 Easy-to-Use Remote Control
A 3-meter cable in the package helps you control devices remotely when installed in an inaccessible place.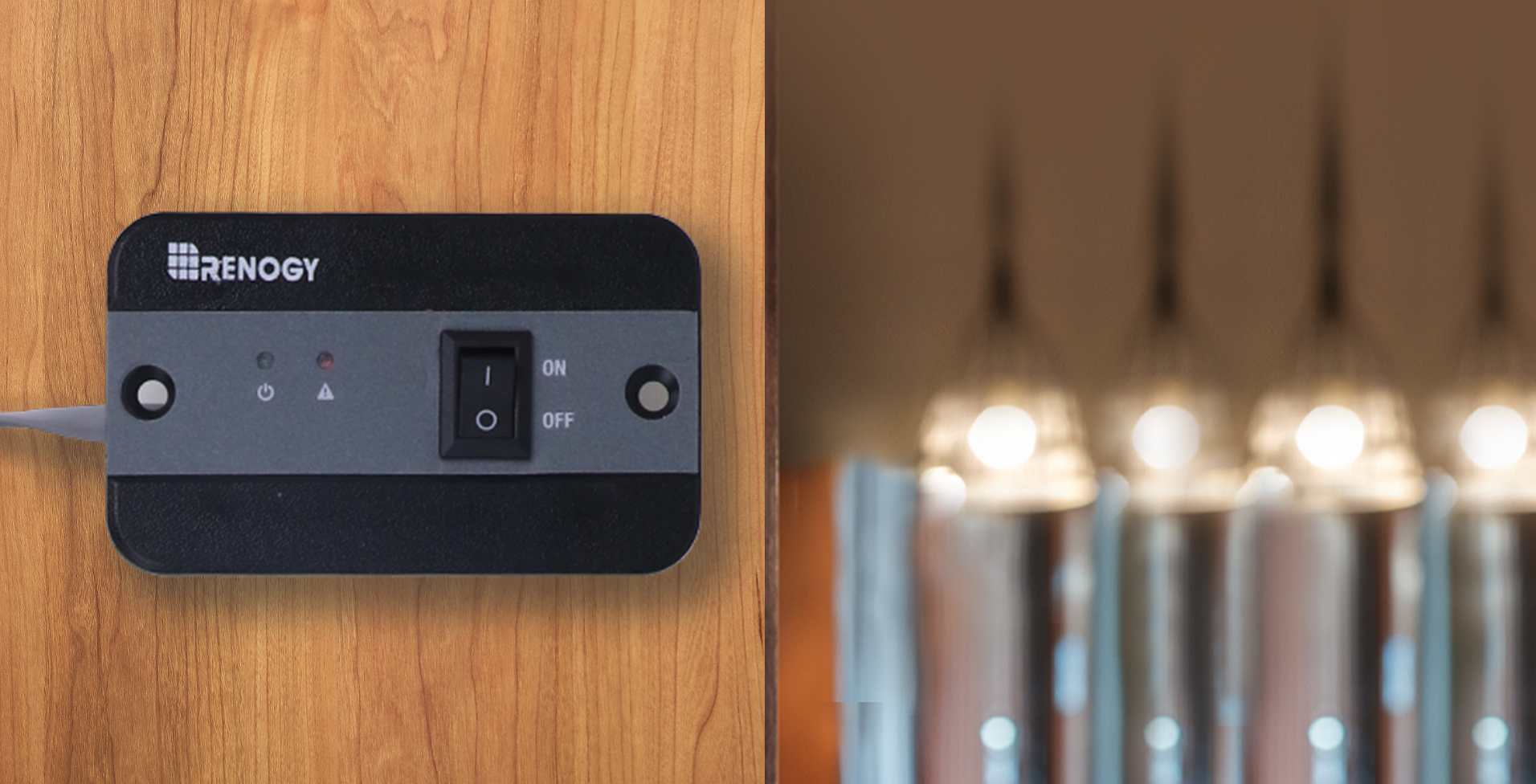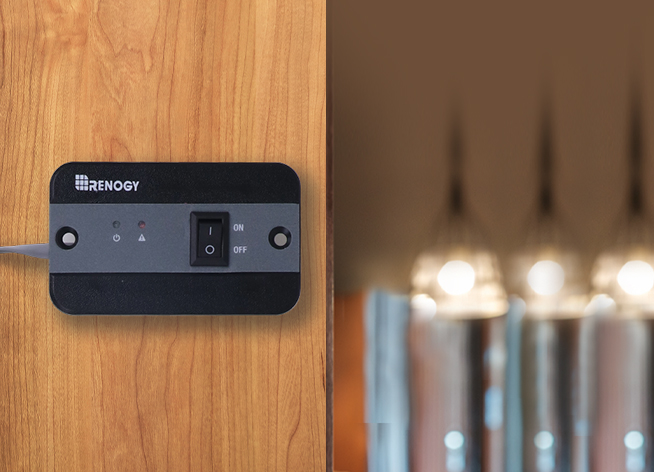 Effortless Installation
Package includes the necessary accessories to streamline the installation process.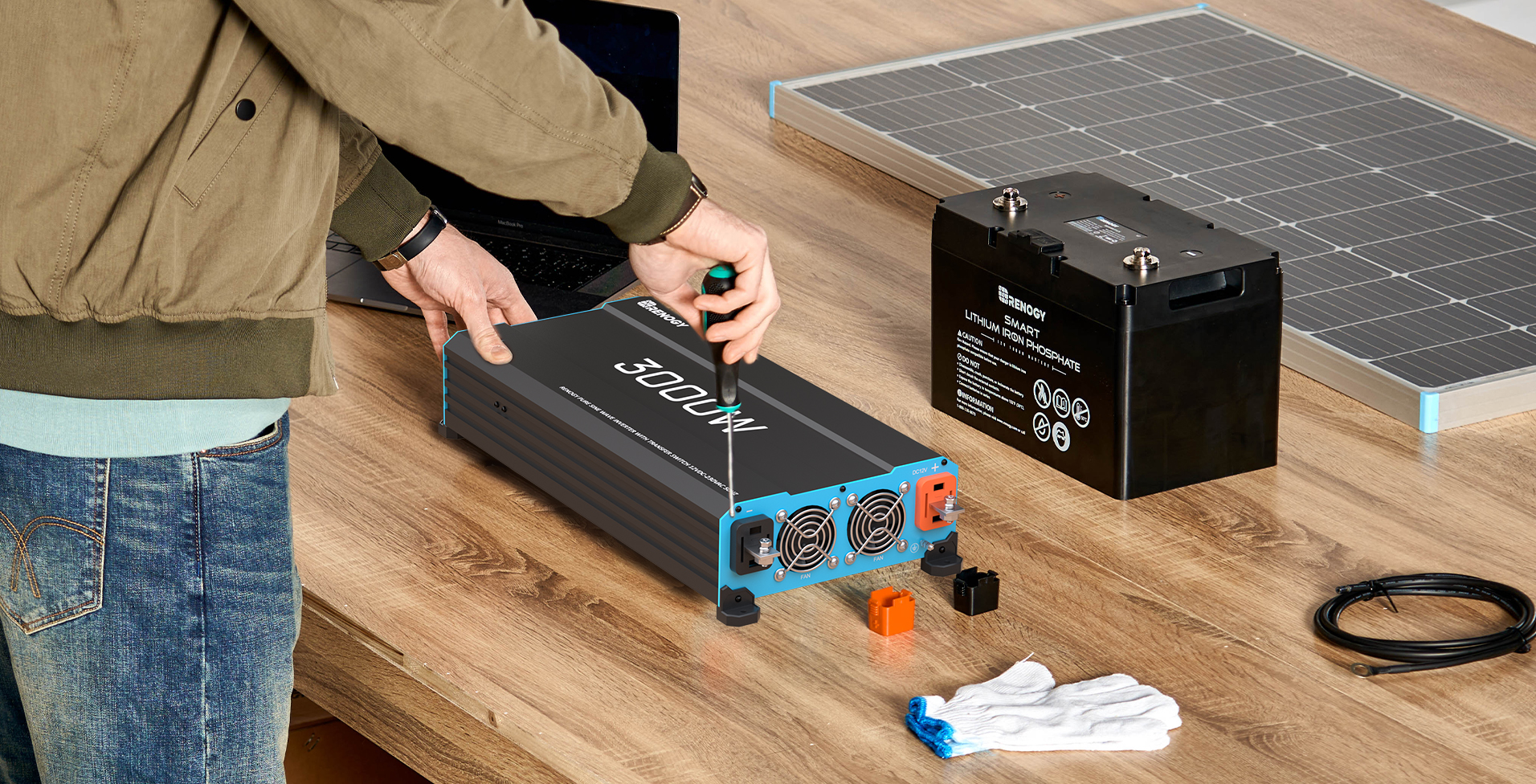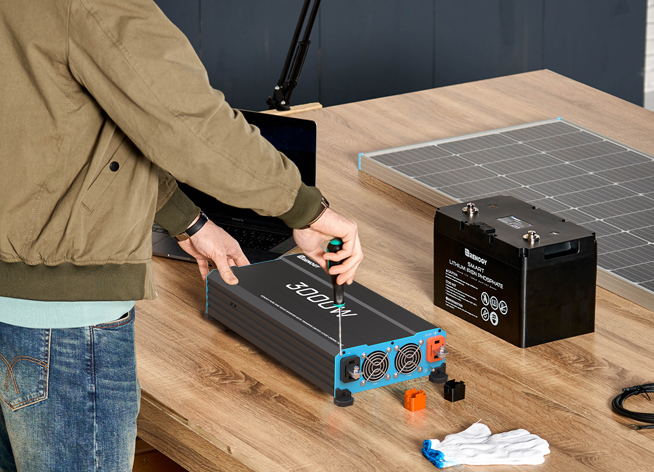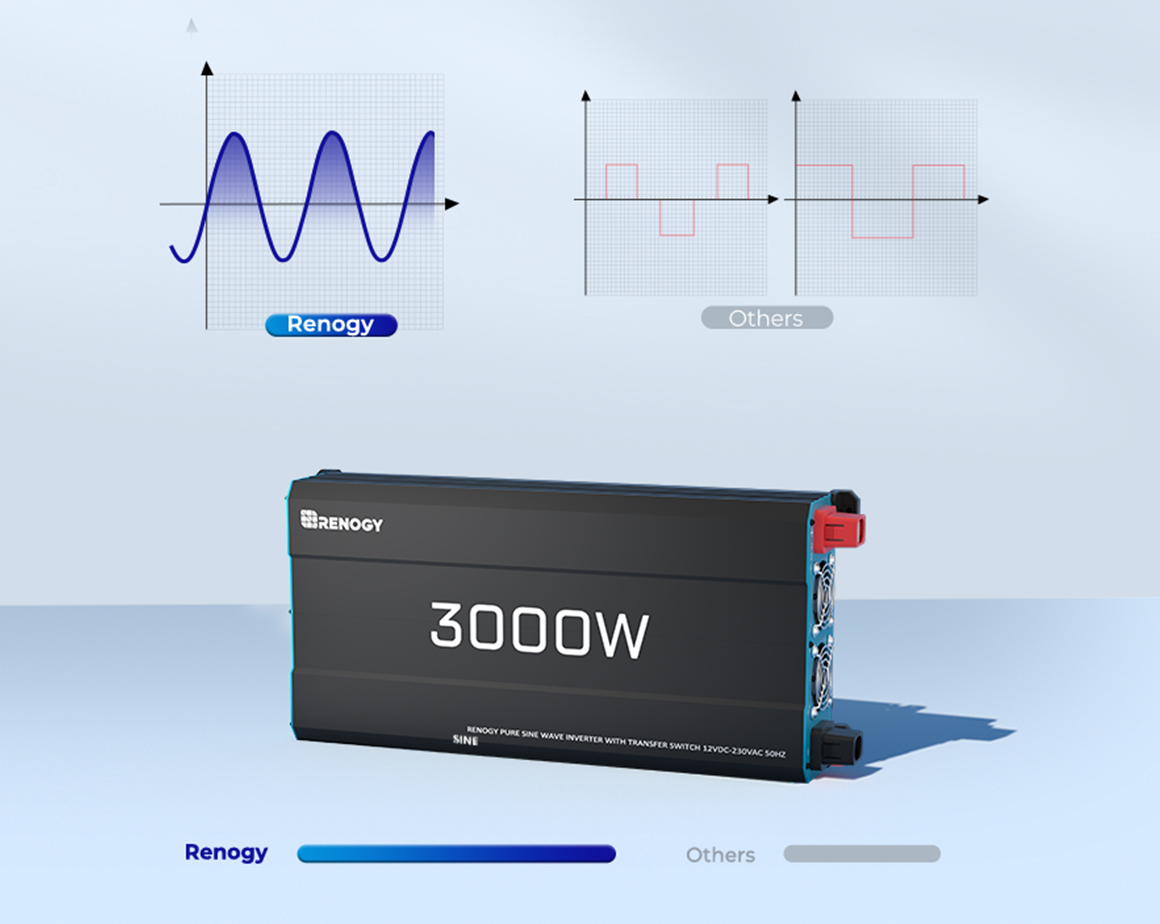 Stable Output Voltage at Full Load
Provide protection of connected devices, ensures efficiency and accuracy of sensitive devices, and improves your system performance.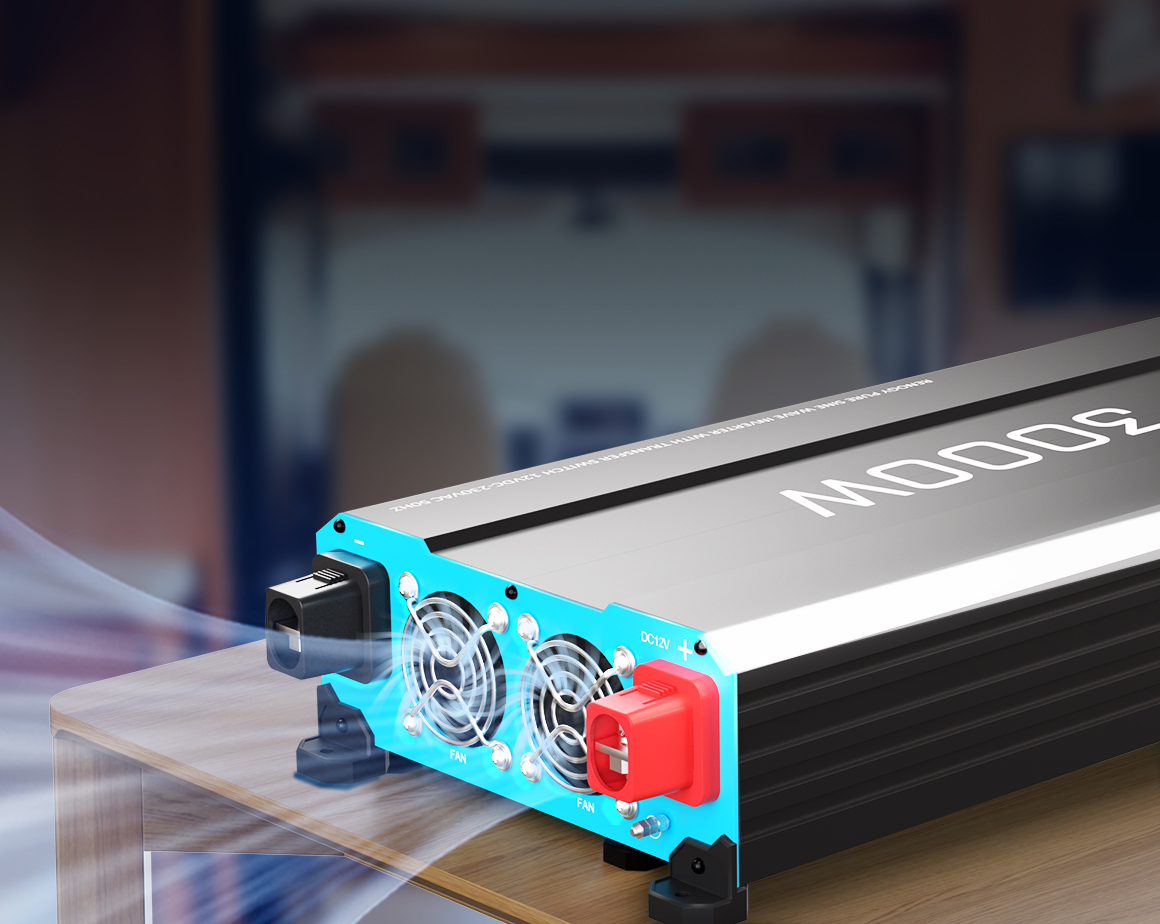 Intelligent Heat Dissipation
Optimize system performance to run smoothly and efficiently, even in extreme temperatures, ensuring consistent operation at its peak.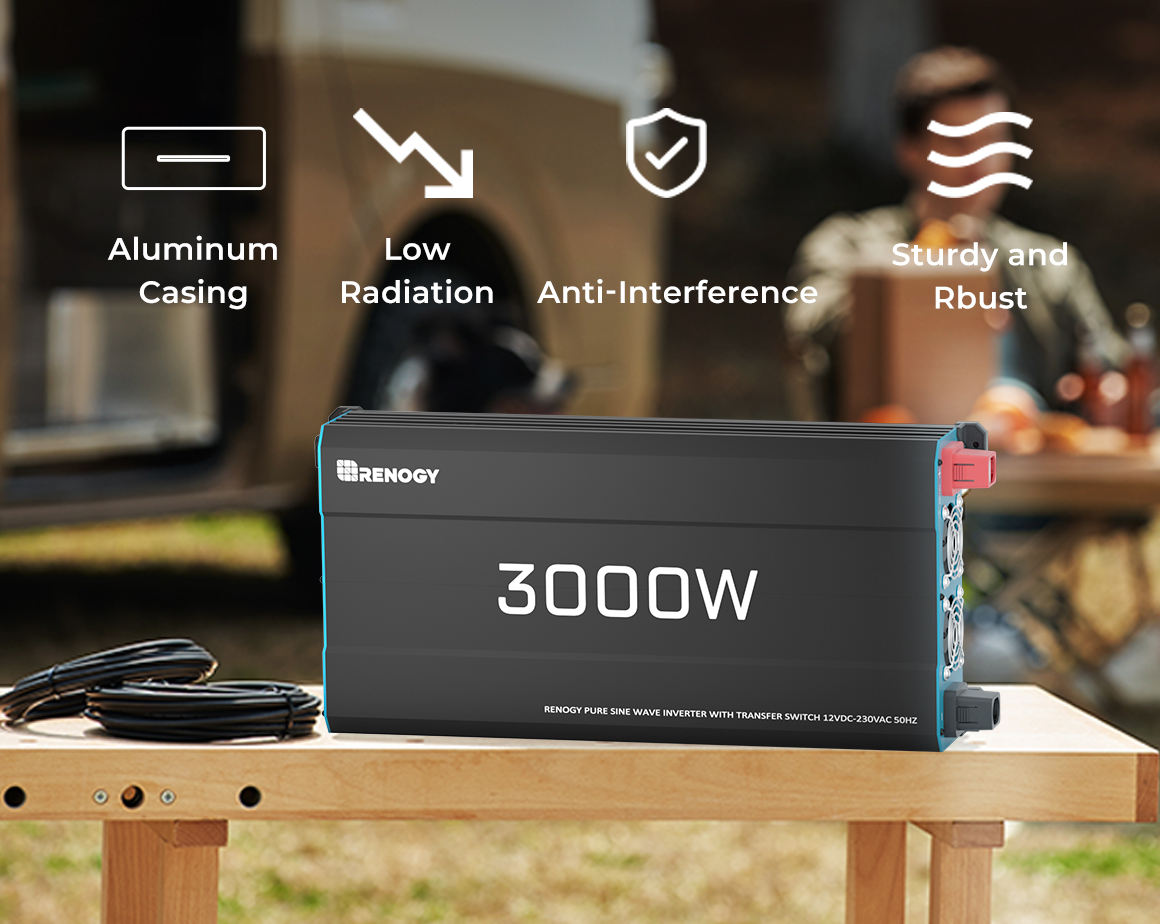 Durable and Reliable Aluminum Design
Durable aluminum casing with low radiation and anti-interference properties ensures reliable performance and sleek design.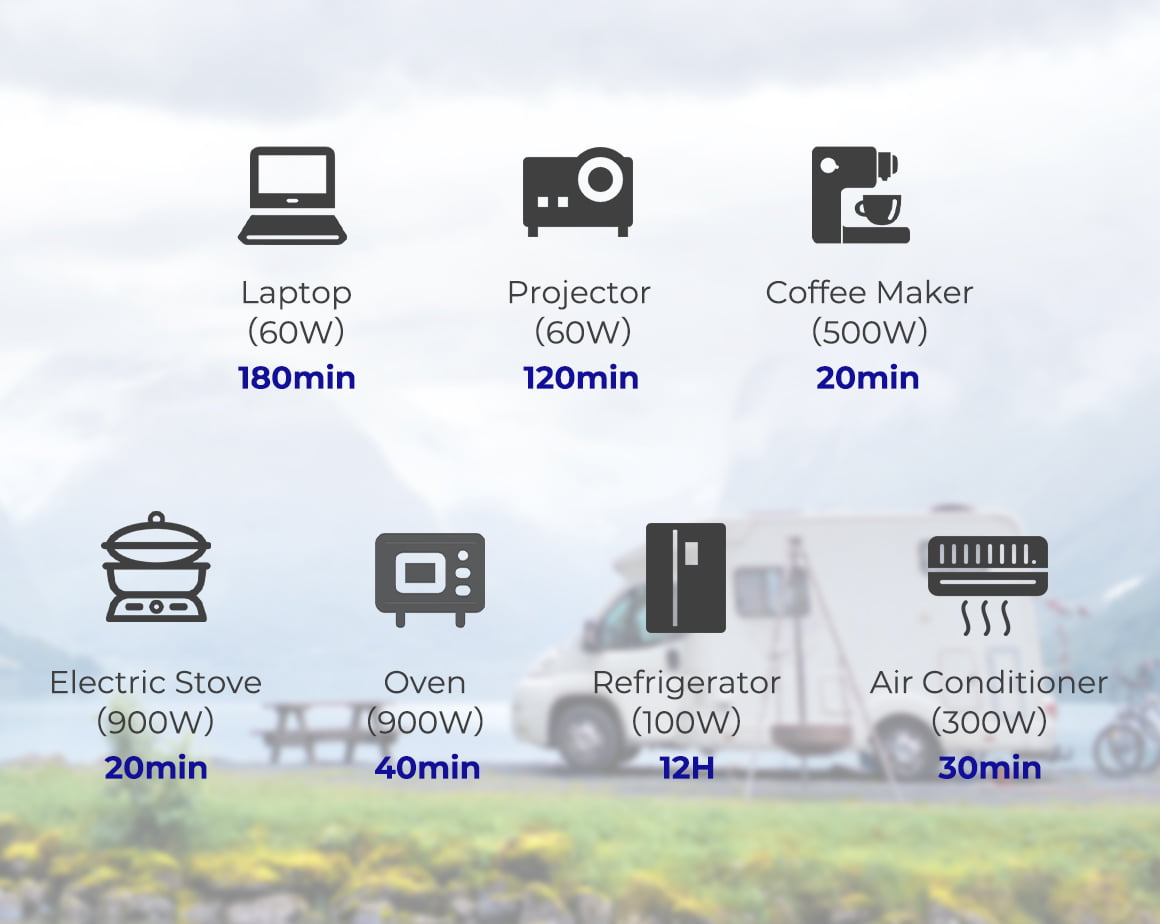 Versatile Pure Sine Wave Power
The pure sine wave output ensures a smooth and stable power supply that mimics the utility grid power, making them highly versatile and compatible with a wide range of electrical appliances. Renogy inverters work seamlessly with sensitive devices without causing compatibility issues or disruptions, prolonging their lifespan and ensuring reliable performance.
One-Stop Off-Grid Energy Solution
Seamless integration of Renogy solar panels, charge controllers, and batteries with the versatile pure sine wave output of the inverter. Reliable, efficient, and the ultimate one-stop solution for off-grid power needs.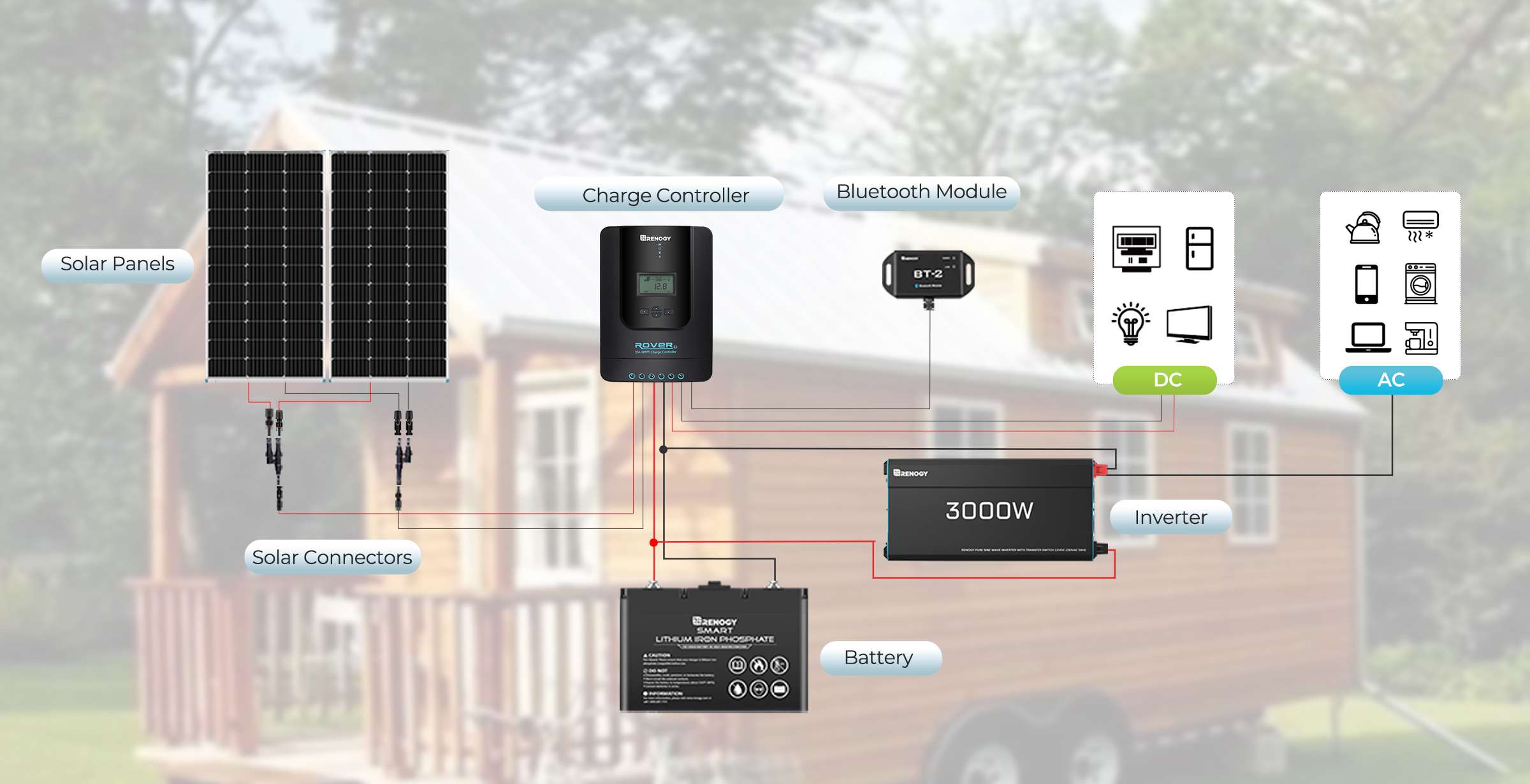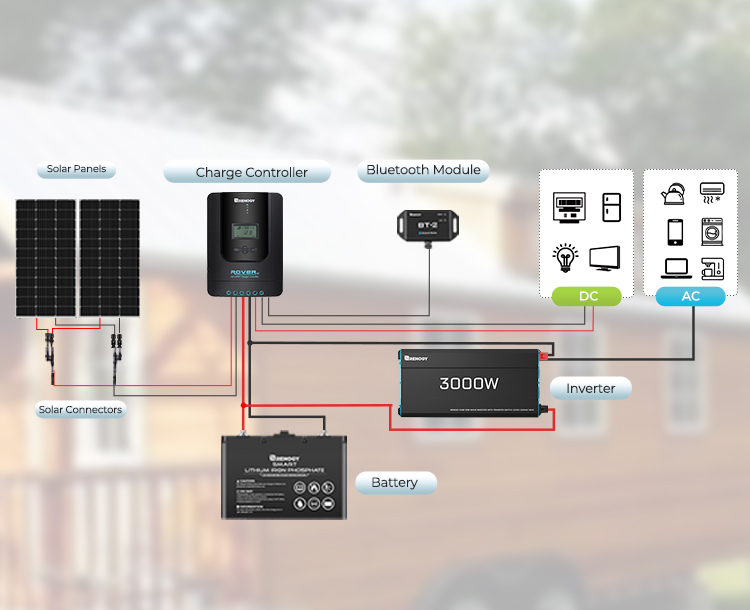 The Renogy Difference
Going solar is not that complicated. Renogy is here to help you build your system faster so you can roam further.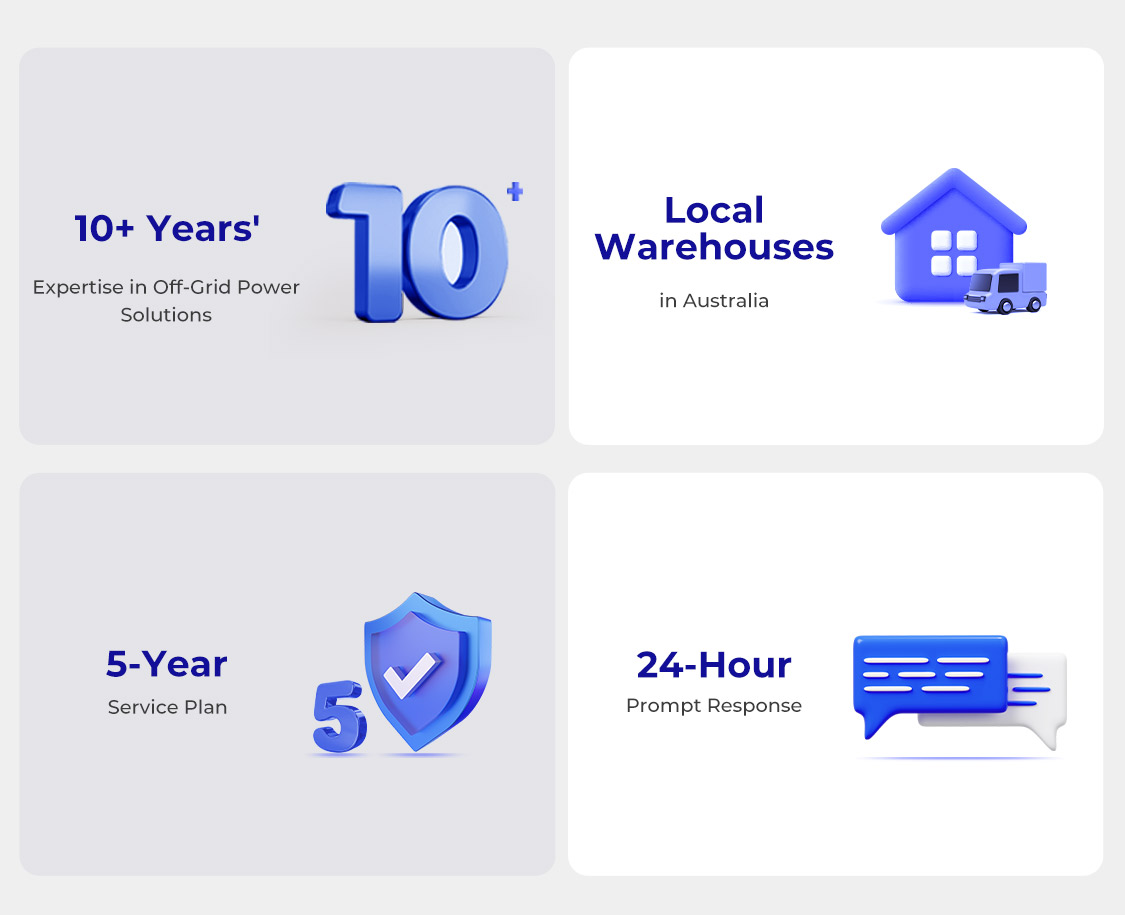 Connect with Renogy customers.
Go to Power Plus Community
Still have questions?
Ask our specialist
Package Includes
NOTE:
If you have any questions regarding this product, please call us at 1 (909) 287-7111 or

submit a ticket

for troubleshooting assistance.
More questions about your off-grid power system? Learn more from

Renogy Learning Center

!
Renogy ONE Core

1 x

Quick Guide

1x

Power Cable

5m

Mounting Screw

M3.5 x14mm x5
Renogy 2000W 12V Pure Sine Wave Inverter

Continuous Power: 3000W
Surge Power

(

Peak Power)

: 6000W
Input Voltage: 12VDC
Output Voltage: 220VAC±10
Input Voltage Range: 11-16Vdc
Static Current: 1.5A
Output Frequency (Nominal): 50Hz±0.3
Output Wave form: Pure Sine Wave
Low Voltage Shutdown: 10Vdc
Recover from low voltage protection
High Voltage Shutdown: 16.3Vdc
Battery supply & AC main transfer time within 50mS
Maximum Efficiency: 90%
Working Temperature: 0°C~40°C
Dimensions: 482*220*92 mm
Weight: 6.4Kg
Certifications:
CE: YES
Package includes:
The first option: battery inverter x1, remote control x 1 and cables (25mm²) x 1
The second option: the first option x1 and 200ah battery x1
Warranty Information
| | |
| --- | --- |
| Accessories | 1-year material warranty |
1. Can I use the inverter with a 24V system?
No. This is 12V inverter, so this model can only work with 12V battery system.
2. Can I use this 12V inverter to charge my batteries?
No. The Renogy 12VDC to 230/240VAC inverter can only convert DC power to AC power. Please check the Renogy Pure Sine Wave Inverter Charger, and we have 12V 2000W and 3000W for your options.
3. What size inverter should I buy?
1. Sizing the right power output. Inverters will be rated by a wattage value, telling you how many watts it can run at one time. For example, imagine you had a 500 Watt Fridge and 800 Watt Air Conditioning. These two items would be 1300 Watts and would require an inverter with a higher wattage than 1300W. Renogy 2000W and 3000W inverter will meet your power needs. 2. Check your battery voltage. The DC voltage rating on the inverter will tell you what battery bank it is compatible with. For example, a 12V battery bank will require an inverter that is compatible with 12V DC input. 3. Size your installation spaces. What area or space will you set your inverter? Make sure the inverter will fit in the space you have in mind with enough room around it for proper ventilation and no fire hazards.
4. Do I need Modified Sine Wave, or Pure Sine Wave?
Modified sine wave inverters are older technology and generally less expensive. They can be used for many standard appliances but may cause trouble with delicate electronics or audio equipment. Some equipment may work but run hotter than normal. Pure sine wave inverters are a bigger investment, but much more versatile. a) Output voltage wave form is pure sine wave with very low harmonic distortion and clean power like utility-supplied electricity. b) Inductive loads like microwave ovens and motors run faster, quieter and cooler. c) Reduces audible and electrical noise in fans, fluorescent lights, audio amplifiers, TV, Game consoles, Fax, and answering machines. d) Prevents crashes in computers, weird print out, and glitches and noise in monitors.
5. How do I hook up the 12V to 240V inverter? What size cable should I use, and is it included?
When connecting the power inverter 12V to 240V to the battery always use the thickest wire available, in the shortest length practical. 20mm²*6m cables with battery terminals is included in the pacakge.
6. Can I use this inverter to charge my batteries?
No. This inverter only provides 12V to 230/240V conversion. Please find more with Inverter Charger.
7. Can this 12V to 240V inverter work with lithium batteries?
Yes, as long as the lithium battery is rated for 12V applications.
8. Can I use the Bluetooth Module to monitor the inverter 12V to 240V from my phone? Which Bluetooth Module should I buy?
We apologize that there is No Bluetooth Module compatible with this power inverter.
More questions about your off-grid power system? Learn more from

Renogy Learning Center

!
Reviews
Hide Reviews
All good Thanks
All good Thanks
sent fast packaged well delivered in the allotted time thanks
sent fast packaged well delivered in the allotted time thanks
Took a while to arrive
Took a while to arrive. Well packaged, arrived in good condition.
Received thanks
Received thanks, top seller, fast delivery AAA+++
3000w inverter
Have installed 3 of these puppies now and extremely happy with them. Over the years I've tried different suppliers and brands and the Renogy ones are bullet proof. Well built and easily power my off grid house. They take spikes in electrical start up easily, unlike others. The 3000w units give plenty of headway to 6000w peak. Great units and appreciate the quality and service.
Great service and product
Great service and product
Have been away haven't installed yet
Have been away haven't installed yet.Have other Renogy products which l have been very happy with hope this will be the same. Would highly recommend their products.