Description
The 10A Rover Boost charge controller is a unique solution that allows you to charge 36V or 48V battery banks with 12V or 24V low voltage solar panels—specially designed for golf carts and electric vehicles. Increase your driving mile range and battery life using the power of solar and the Rover Boost.
Engineered to boost the panel's voltage while maintaining high-speed MPPT Technology Tracking, the Rover Boost is one of the industry's most powerful controllers perfectly suitable for limited spaces. With minimal configuration needed, the Rover Boost is preset to charge lead-acid and lithium batteries and supports the latest Renogy Bluetooth monitor giving you the option for remote monitoring and setting adjustments via smartphone.
If you have any questions regarding this product, please submit a case !
Key Features
Boosts the voltage of 12V or 24V solar panels to charge 36V or 48V batteries
Increasing driving distance includes: electric vehicles, golf carts, scooters, trikes, and more
99% MPPT Charging Efficiency
Advanced MPPT Technology with minimum 99% tracking efficiency and 90% charge conversion efficiency for 4-stage battery charging (Bulk, Boost, Float, and Equalization) with charging
AGM/Sealed, Gel, Flooded, and Lithium. User mode also available for customizing charging
Multiple Electronic Protections
Protect your battery, controller, and solar—including over-charge protection, reverse polarity protection, and more!
Add a Renogy Bluetooth Module (sold separately) and download the Renogy DC Home App for remote monitoring and customization.
Package Includes
36V/48V Rover Boost 10A MPPT Solar Charge Controller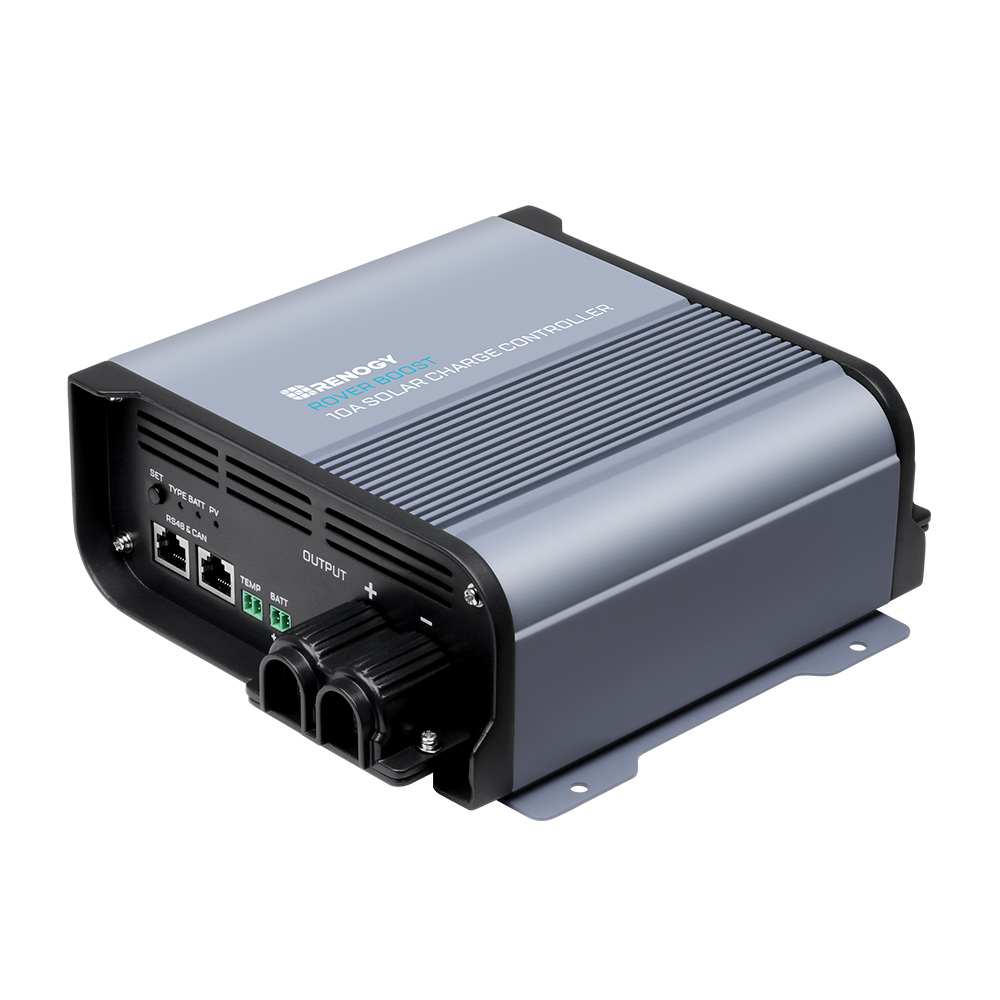 1 x
36V/48V Rover Boost 10A MPPT Solar Charge Controller
Rated System Voltage
36V / 48V, Auto Recognition (Non-Lithium)
Rated Charge Current
10A
Battery Operating Range
30 ~ 65 VDC
Battery Types
AGM/Sealed, GEL, FLOODED, LFP, USER*
Rated Max Charge Power
PV Input Power: 500W/36V; 650W/48V
Charging Power: 450W/36V; 600W/48V
Max Input Current (short-circuit, Isc)
35A
Power Limiting Protection
Up to 600W/36V; 800W/48V
Solar Input Voltage Range (VOC)
15 ~ 25VDC / 36V
15 ~ 40VDC / 48V
MPPT Voltage Range
15 ~ 25VDC / 36V
15 ~ 40VDC / 48V
MPPT Tracking Efficiency
≥ 99%
MPPT Charge Conversion Efficiency
≥ 90%
Idle Consumption
≤ 2W
Operating Temperature Range

-31°F ~ 149°F / -35

℃

~ + 65

℃

Storage Temperature Range

-40°F ~ 176°F / -40

℃

~ + 80

℃

Temperature Compensation

-3mV /

℃

/ 2V (Non-Lithium)
0mV /

℃

/ 2V; no compensation (Lithium)

Grounding Type
Common Negative Lug (M3)
Enclosure Rating
IP20
Humidity
0-95% RH
Electronic Protections
Battery overcharging, Battery over discharge, Battery reverse polarity protection, PV reverse polarity, PV Reverse flow, PV short-circuit protection, Controller internal over-temperature protection, Charging over-current protection
Communication
RS485 / CAN bus signal
Dimensions (L x W x D)
8.8 x 7.6 x 2.9 inch / 224 x 192 x 74.5mm
Weight
2.65 lbs / 1.2 Kg
Terminal Range
16 ~ 2 AWG
Terminal Size
M6-12x1
Certifications:
CE and RoHS compliant
Yes
FCC Class B Part 15 Compliant
Yes
Warranty Information
Certification