Description
Renogy 12V 20A AC charger is designed for lithium batteries (LifePO4 Battery). The charger has a 3-stage intelligent charging design (CC/CV/trickle) to ensure it charges the lithium battery quickly and efficiently. This battery charger has 5-layer protection functions to realize comprehensive monitoring and protection of the battery. This charger is suitable for RVs, motorbikes, boats, and camper-van.
Footy Frenzy Sale: Use code POWER50 to enjoy up to 50% off on any items. Click here to know more about Save big on September!
If you have any questions regarding this product, please submit a case !
KEY FEATURES
【Born for Lithium Batteries】
This battery charger is designed for lithium batteries. When the lithium battery triggers the low temperature/low voltage while charging, the BMS will turn on the protection, which means the lithium battery cannot be charged and needs to be activated. This charger provides a lithium battery activation function that quickly exits the protection mode and recharges. Along with CE and UKCA certification, it provides a safe and stable AC charging environment.
【Strong Adaptability】
This battery charger has a wide AC input voltage range, 100-240 VAC 50/60Hz, which is compatible with various needs. The charger comes with an alligater clip battery charging cable which is designed to allows users to quickly establish the connection between the battery and the charger.
【Smart Charging】
The charger has a 3-stage intelligent charging design: high current (cc), constant voltage (cv), trickle. It can accurately identify battery voltage and automatically switch charging mode and provide fast and efficient charging for lithium batteries; the charger's efficiency can reach up to 92%.
【Build-in Safety Protection】
The charger has five built-in protection functions to ensure charging safety, including short circuit protection, over-current protection, over-voltage protection, under-voltage protection, and reverse polarity protection. The charger's indicator light can remind the wrong charging status and achieves all-around monitoring and protection.
【Easy to Use】
3-quick-step to quickly establish the connection of battery and charger, the steps are as follows:
1. Connect the negative output terminal of the charger to the negative terminal of the battery

2. Connect the positive output terminal of the charger to the positive terminal of the battery

3. Connect the AC Charger Power Adapter Cable to the AC port of the charger
Package Includes
20A AC-to-DC LFP Portable Battery Charger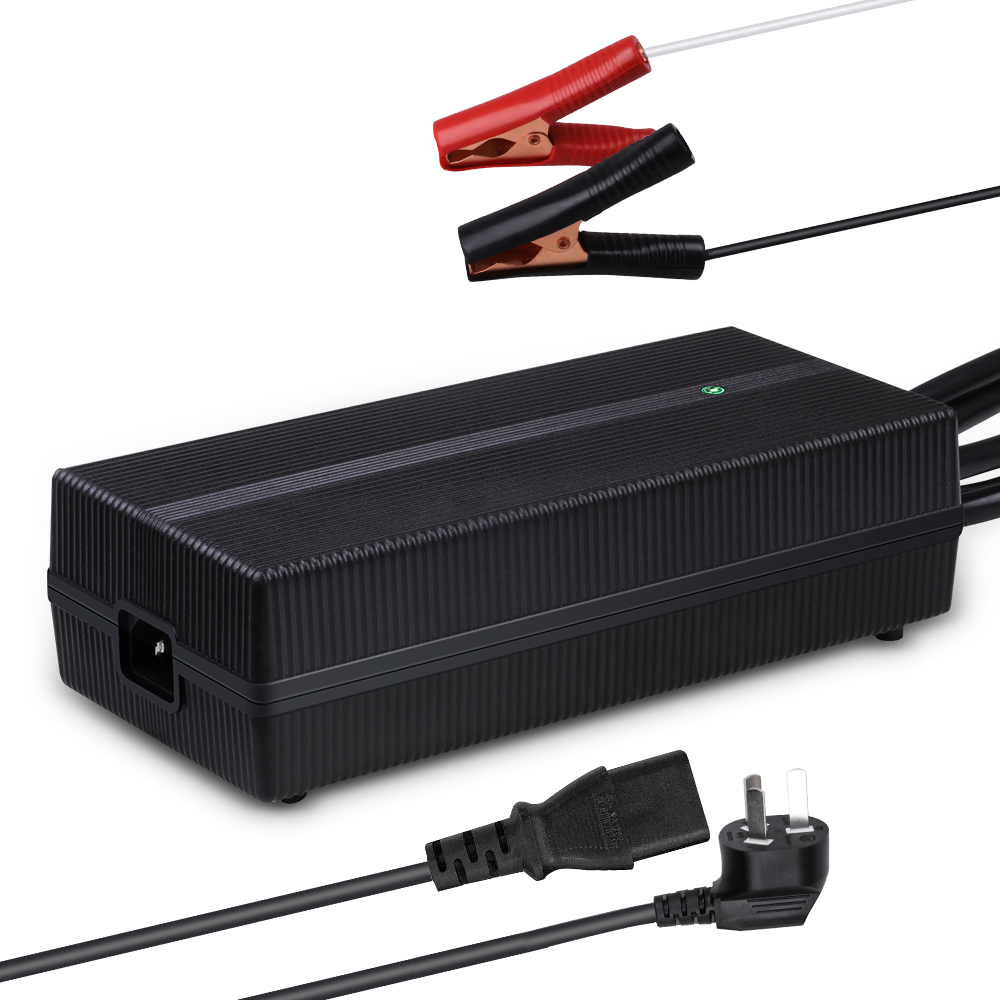 1 x
| Electrical Specifications | Mechanical Specifications |
| --- | --- |
| Input Voltage: 100-240 VAC ~ 50/60Hz | Input Amps: 5A Max |
| Output Voltage: 14.5 ± 0.1 VDC | Output Amps: 20A |
| Minimum Battery Voltage: 8V | Efficiency: 93% |
| Operating temperature range: -29°C~45°C / -20°F~113°F | Storage Temperature: -40°C~75°C/ -40°F ~ 167°F |
| Self-Consumption: 50mA | Current Protection: 250V 10A Fuse built in |
| Dimensions: 9.20 x 4.30 x 2.52in / 233 x 108 x64mm | Weight: 3 .8lb/1.7kg |
| Cable Length: Approx 39in / 99cm | Cable Gauge: 12 AWG |
| Protection: Overcurrent Protection (Fuse 250V 10A), Short Circuit Protection | Certifications: CE, ETL, FCC, TUV |
Warranty Information
| | |
| --- | --- |
| Accessories | 2-year material warranty |
Reviews
Hide Reviews
PROMPT SERVICE AND ALTHOUGH I HAVE NOT USED IT YET
PROMPT SERVICE AND ALTHOUGH I HAVE NOT USED IT YET, THE PRODUCT SEEMS GOOD QUALITY
Excellent products & service
Excellent products & service
As expected
As expected, great service and express delivery! Item works as described.
Delivers the goods
Silent in operation and puts in 18-20amps.
Simple charger, maybe too simple
This charging block is very simple and shows either a red light solid, flashing or a green light. Maybe its too simple and you cannot tell what smart charging profile its on or if you are on the wrong angle even if its turned on.  Its small and not too heavy, and although the outlet wire is plenty long enough the sheath has very heavy insulation and makes manipulating the wire quite difficult.The Alligator clips are a little old hat and it would be better if they ended in ring terminals and then screwed to the alligator clips, because for security and safety around an open system you are going to put the wire on the battery terminals..Its at a good price and has good infeed so this AC charger will just sit in a box and offer quiet cool shore charging of your battery. 
Simple and effective charger
Bought this for our Renogy 200AH LiFePo battery - and it worked fine. The user interface is the simplest you can imagine, one LED, so not a lot of indications of what is happening, unlike chargers with complex lcd displays. However, the BMS can tell you what is coming in, or not, and mine saw nearly 20A at the peak as expected. I also added a power monitor to the mains side to confirm. The unit is larger/weightier than I expected, and conversely the wiring to the battery clamps is finer than I'd expect for a 20A rating (with a nice 30A inline fuse), but all works well (and I checked with an IR camera). Overall very happy with it.