-MPPT: tracking efficiency up to 99%, peak conversion efficiency 98%
-Automatically detects 12V/24V/36V/48V system (non-lithium batteries)
-Comprehensive system protection designed to secure your system.
-Safe and efficient charging with the 4-stage charging feature.
-Diverse load control & remote monitoring
Robust Charging. Serious Value.
Rover 60A MPPT Solar Charge Controller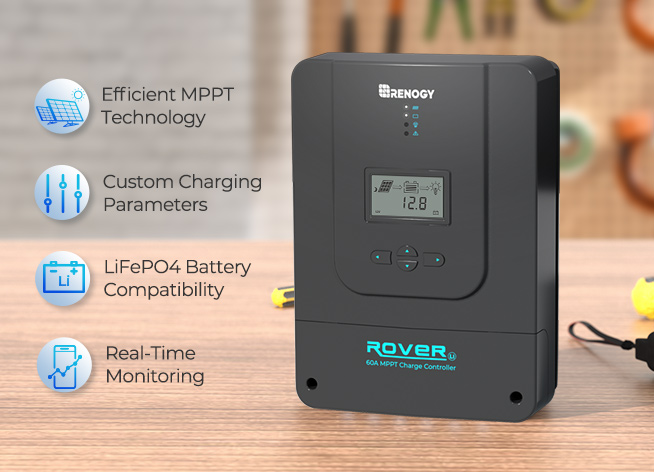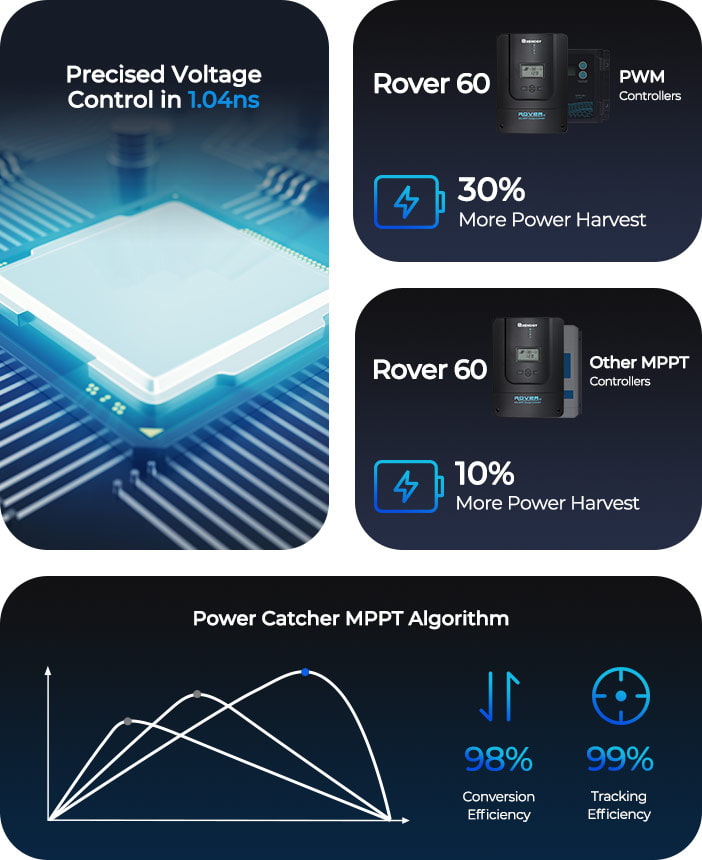 Real-time Monitoring
Get a clear and intuitive view of your solar system's performance, enabling smarter energy management.
Versatile Load Control
Rover 60A Charge Controller features Auto-On/Off Mode, Timer Mode, Manual Mode, Test Mode, and Always-On Mode, further maximizing your system flexibility.
Bring Dead Batteries to Life
Activates dead batteries with small current to get it out of protection mode triggered by the battery management system (BMS).
Insulated Casing for Enhanced Safety
High-quality insulation materiales ensure maximum protection against electrical hazards, providing a secure and reliable charging solution.
Certified Protections
The Renogy Rover 60A Solar Charge Controlle features 8 electronic protections to actively monitor changes of voltage, current, and load for efficient and safe battery charging.
Stay Cool, Stay Empowered
Made of robust die-cast aluminum, the heat sink that comes with the Rover 60A Solar Charge Controller allows the heat flow away through tubes to ensure maximum charging efficiency and safety of critical components.
Charging with Precision
The included external temperature sensor helps Rover 60A Solar Charge Controller track the battery's temperature all year round, avoiding under-charging in cold climates down to -40°F, and overcharging in blazing weather up to 149°F.
Up to 6400W for a 48V System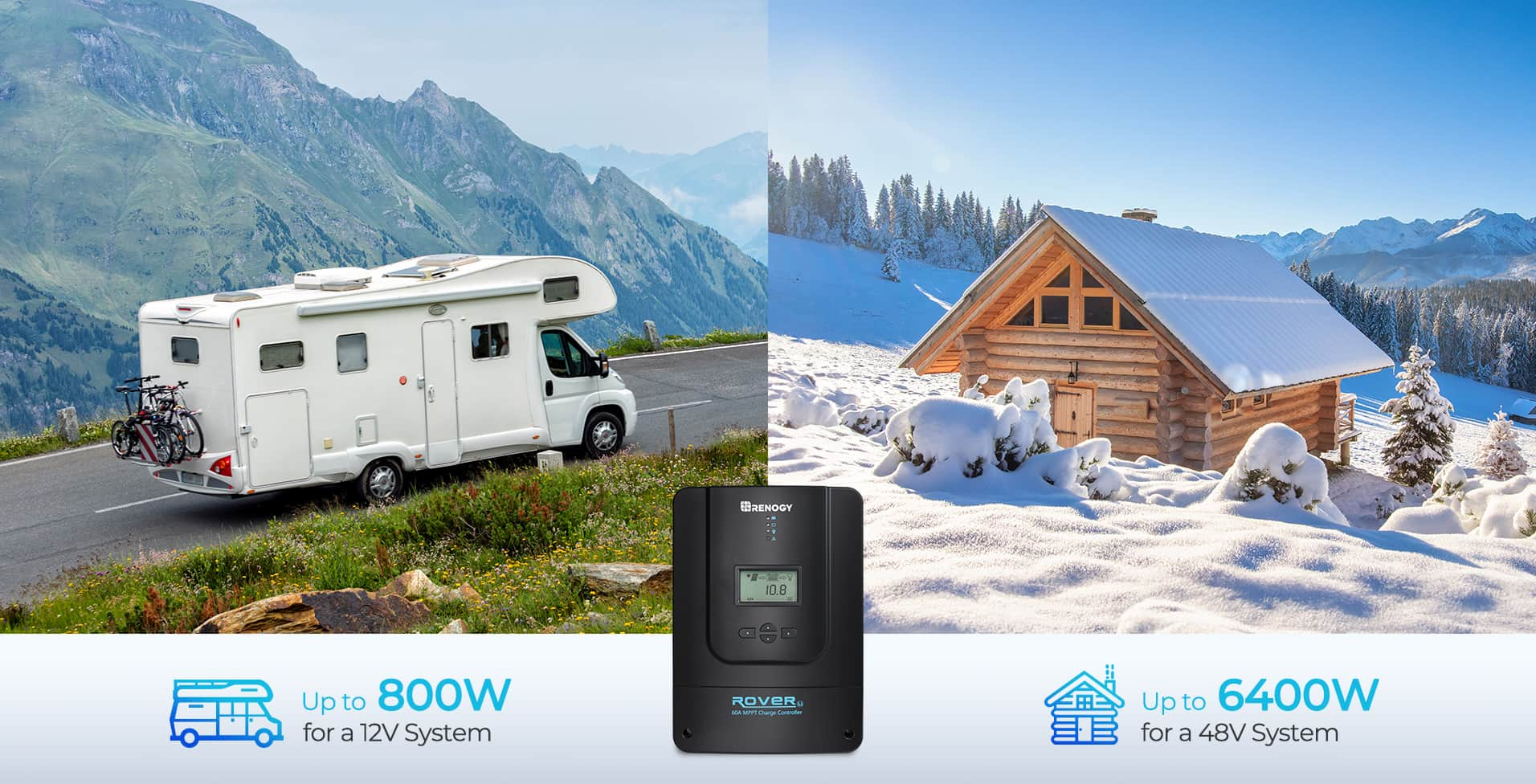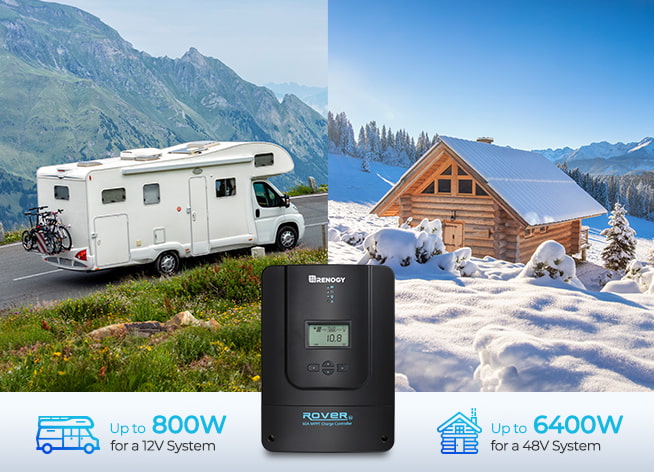 Control Your Energy From Distance
Rover 20A Charge Controller features Auto-On/Off Mode, Timer Mode, Manual Mode, Test Mode, and Always-On Mode, further maximizing your system flexibility.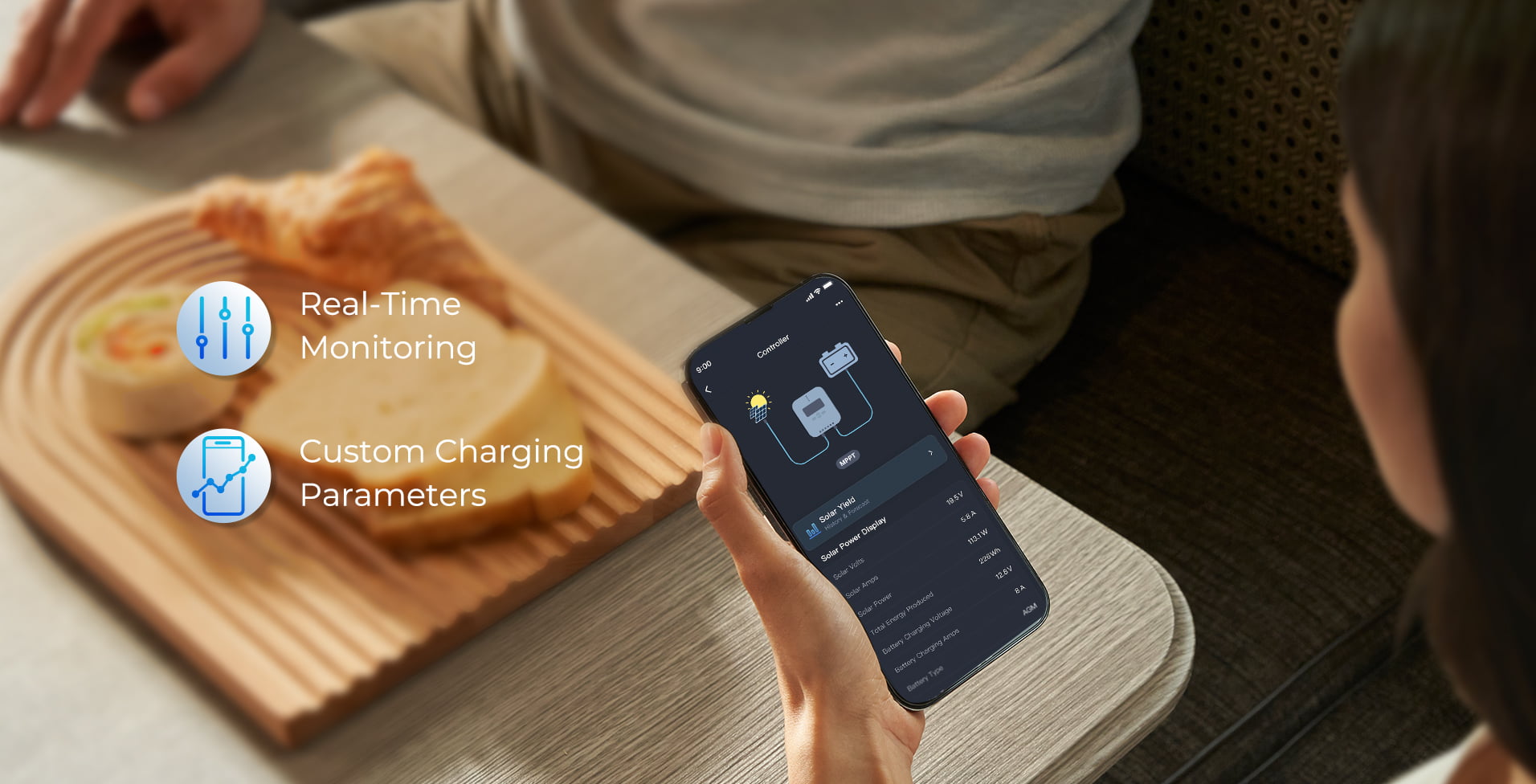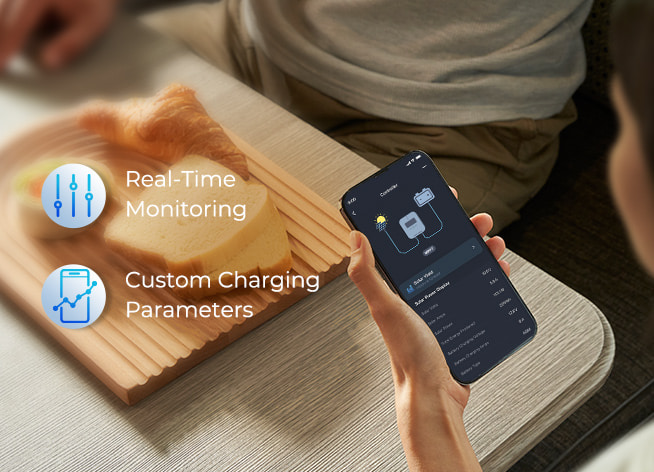 Ready-to-Install
Package includes a Rover 60A Solar Charge Controller, a temperature sensor, a set of mounting brackets, and a user manual.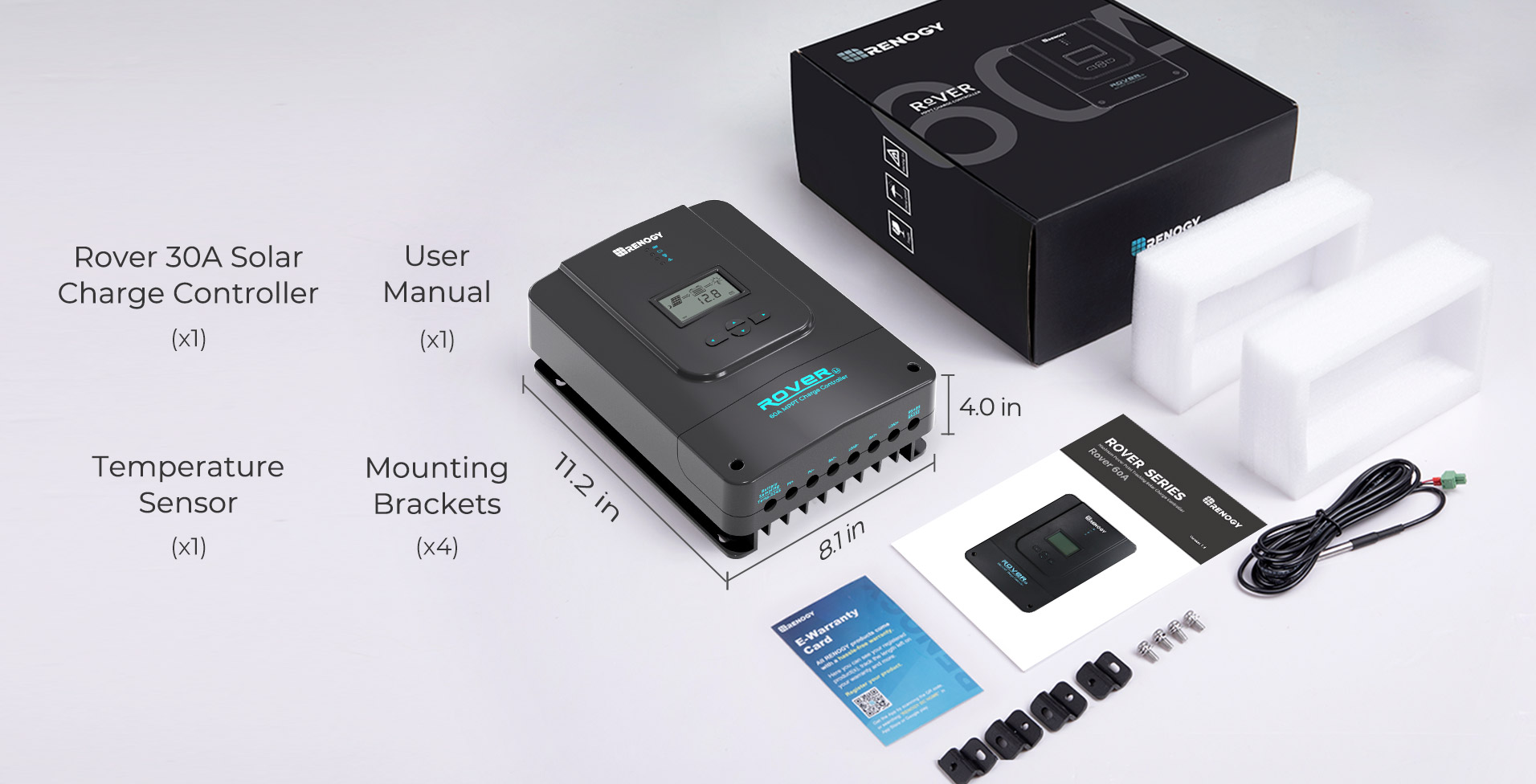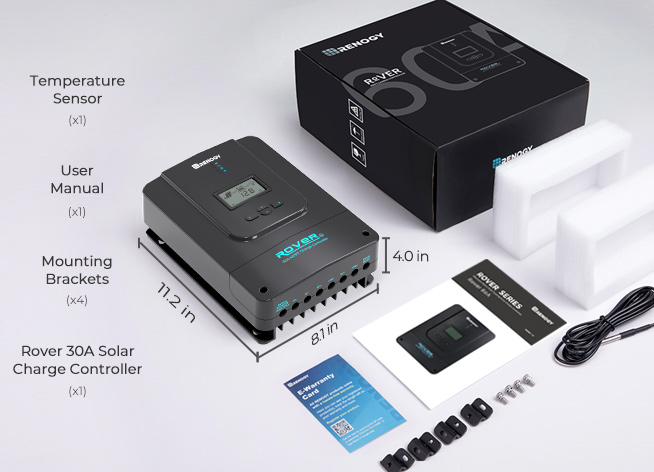 Learn more
Package Includes
1 x Rover Li 60 Amp MPPT Solar Charge Controller
1 x Remote Temperature Sensor
4 x Mounting Brackets
RENOGY ROVER 20 AMP MPPT SOLAR CHARGE CONTROLLER (RNG-CTRL-RVR20)

Electrical Parameters
Environmental Data
Nominal System Voltage
12/24V (Auto-Detect for Non-Lithium Batteries)
Protection Level
IP32
Rated Charge Current
20A
Operating Temperature Range
-35°C to 45°C; -31°F to 113°F
Max. PV Input Voltage
100 VDC
Storage Temperature Range
-35°C to 75°C; -31°F to 167°F
Max. PV Input Power
12V/260W, 24V/520W
Operating / Storage Humidity
≤ 90%, No Condensation
Power Consumption
<100mA/12V; <58mA/24V
Temperature Compensation
-3mV/°C/2V
Max Battery Voltage
32V
Accessories
Ground Type
Negative
Temperature Sensor
9.8ft cable length
Electrical Protection
Overcharging, over-discharging, overload, and short circuit.Capable of charging over-discharged lithium batteries.
Certifications
Mechanical Specifications
CE
YES
Dimensions

210 x 151 x 68 mm

; 8.27 x 5.95 x 2.69 in

FCC Class B Part 15 Compliant
YES
Weight
Warranty
Max. Terminals Size
8 AWG 10mm2
Material and workmanship warranty
2 Year

RENOGY BT-1 BLUETOOTH MODULE (RCM-BT1)

Compatibility
Operation Specifications
Compatible PWM Charge Controller

RNG-CTRL-WND10/RNG-CTRL-WND30-LI/RNG-CTRL-ADV30-LI

Communication Protocol
RS232
Compatible MPPT Charge Controller

RNG-CTRL-RVR20/RNG-CTRL-RVR30/

RNG-CTRL-RVR40/RNG-CTRL-RVR60S/

RNG-CTRL-RVR100

Port Type
RJ12
Compatible App
Renogy DC Home App available in both the App Store and Google Play
Input Voltage
5V
Protection Grade
IP54
Standby Power Consumption
0.04W
Mechanical Specifications
Operating Power Consumption
0.05W
Communication Range
≤82ft (25m)
Serial Baud Rate
Fixed Baud Rate 9600bps
Cable Length
16.4 ft (5.00m )
Certifications
Dimensions
2.65 X 1.38 X 0.55 in (67.3 X 35 X 14 mm)
FCC Class B Part 15 Compliant
YES
Weight
4.58oz (130g )
Warranty
Operation Temperature
-4°F to 185°F (-20℃~85℃)
Material and workmanship warranty
1 Year
1. How should I wire my panels with an MPPT charge controller?
The panels can be wired either in series or parallel or a combination of series/parallel.
2. What are the advantages of Renogy MPPT technology?
Renogy Rover Series solar charge controllers use Power Catcher MPPT algorithm to always ensure the charge controller converts most energy by locking to the most optimal maximum power point.
3. What is a Solar Charge Controller and what is MPPT?
The Charge Controller takes the power made by the solar panels and transform the 'solar panel power' into a form of power that the batteries can use. MPPT stands for Maximum Power Point Tracking, and it relates to the solar cell itself. Each solar cell has a point at which the current (I) and voltage (V) output from the cell result in the maximum power output of the cell. MPPT ensures that you get the most power possible from your solar panels at any point in time. It is particularly effective during low light level conditions.
4. What would the connections for "Load(optional)" be used for? Also what would it rated for(amps/watts). The way I read the wiring diagram the batteries should get connected to inverter, would these get connected to inverter under certain conditions?
In the load terminal, you can connect any12v or DC appliances in Rover's case any load that does not exceed 20 amps. Even our Rover 60Amp. Also, the charge controller requires to be connected to a battery bank which an inverter is required if we will consume the charge from the battery. For further concerns, you can respond to this email or you can give us a call at (909) 287-7100. We're open Monday through Friday from 8:30 am to 3 pm PST.
5. If I buy & hook up the 300 watt 24v solar panel to this controller - will it convert the 24v
The Rover 60 amp controller's designed to handle 800 watts with a 12 volt battery bank. This charge controller will take the excess voltage coming from the 300 watt/24 volt panel and convert it to amperage. As for your inverter, as long as you do not exceed the max rated voltage of your Inverter (12 volts) , it wil be fine.