Description
See your next adventure unfold with Renogy E.FLEX 220W portable solar panels. Ergonomic handles make these foldable panels easy to take with you when you're on the go! They're powered with PERC monocrystalline solar cells that boost conversion efficiency to 22%. E.FLEX 220W solar panels are super durable and scratch resistant with ETFE film and rugged corner guards – they last 3 times longer than panels made with PET. With IP67 waterproof rating and rugged corner guards, E.FLEX solar panel can deliver plenty of reliable power in the most demanding weather conditions. They'll charge your portable power stations and batteries wherever your journey takes you.
Solar connectors and charge controllers may be required. Sold separately.
If you have any questions regarding this product, please submit a case !
Key Features
Efficiency Meets Durability
PERC monocrystalline solar cells deliver a 22% efficiency rating, generating more power in a smaller frame than polycrystalline panels. The ETFE film coating further boosts the power output with up to 95% light transparency and reduces the risks of microcraks & deterioration, giving E.FLEX 220W solar panels a lifespan of over 10 years compared with PET-coated solar panels.
Adjustable Support Legs
Capture more sunlight with adjustable support legs that provide a wide range of tilt angles. Adjustable tilt means you get up to 30 percent more power generation than panels lying flat on the ground. With E.Flex you can charge deep-cycle batteries and portable power stations with confidence.
Made for the Outdoors
Robust corner guards and ETFE film protect E.FLEX 220W Portable Solar Panels (IP67-rated) against splashes, dirt, and scratching that can impact power generation. Easy-to-grip handles and a pack-and-go storage case mean you're ready whenever adventure calls.
Compatible with Generators & Batteries
Plug-and-play solar connectors make E.FLEX 220W portable solar panels the perfect addition to portable solar generators PHOENIX 500 and PHOENIX 1000. It can also be connected to solar charge controllers to charge deep-cycle batteries.(The solar connectors and charge controllers are sold separately.)
Package Includes
E.FLEX 120 portable solar panel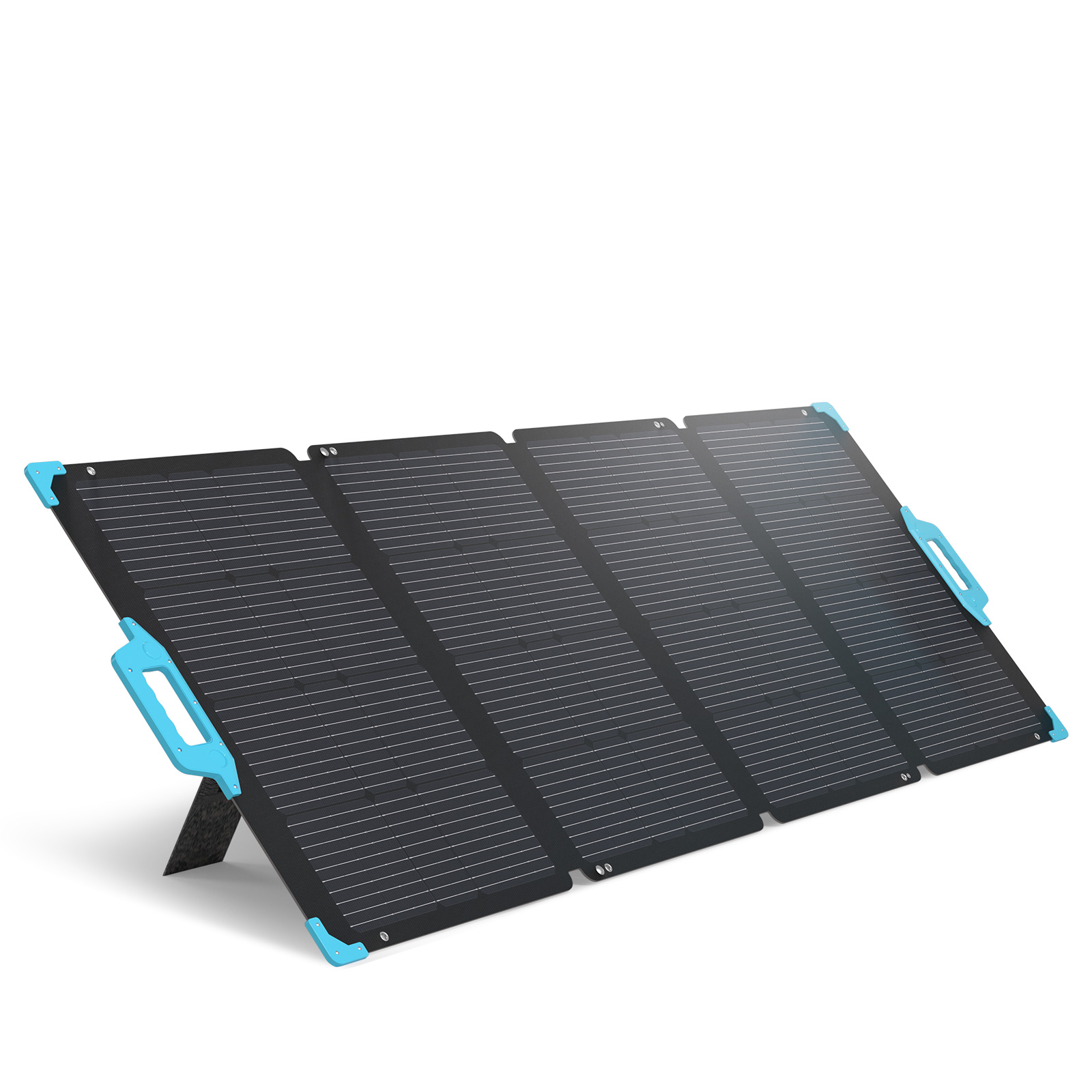 1 x
Specifications
Max Power at STC: 220W
Open Circuit Voltage (Voc): 26.8V
Short Circuit Current (Isc): 10.2A
Opitmum Operating Voltage (Vmp): 22.7V
Optimum Operating Current (Imp): 9.1A
Operating Temperature: '-4°F to 149°F / -20°C to 65°C
Dimensions:29.1 x 22.9 x 1.6in / 738 x 581 x 40mm (folded)
29.1 x 84.1 x 0.2in / 738 x 2135 x 4mm (unfolded)
Weight:20.4lb / 9.23kg
Panel Leads (Pair):2.5mm2 / 39.37in
Warranty Information
| | |
| --- | --- |
| Panels | Material and workmanship warranty: 1 year |
Certification
Reviews
Hide Reviews
So far so good!
I can't say too much about this panel since I only had it for a week. But so far it's been great, with the 5 in 1 cable that comes with the unit can charge my Renogy Phoenix 1000 or charge my goal zero yeti 1000! The only complain I have for this unit is the kickstand. I wish they Renogy would have put a more sturdy kickstand.
Well made, light weight and good output
Bought to supplement the 800 watts on the roof of my RV for those times we camp under the trees. Coupled this panel with as Victron 100/20 controller and 30 feet of 12AWG cable. Getting 187 watts on the first outing. About what I expected. If I shortened the cable probably get a little better result. Construction is very good. I expect this panel to hold up for some time.
Very nice, good power.
Got 2 of these 2 months ago when they were on sale. Just finally installed another victron 100/50 charge controller to accommodate 440 watts. Hooked them up in the southern California sun and got 360 watts or 180 each at 3pm. I would assume they would top out at 190 to 200w or so in full sun. Either way, 80%+ efficiency is fantastic. They seem stable enough and easy to maneuver around. Good quality and carrying case seems durable. Nice product.