Description
The Renogy 200W Lightweight Monocrystalline Solar Panel enhances module efficiency while minimizing its weight. It is the perfect option for any off-grid solar system, especially for transportation applications such as RVs and boats. This solar panel frame features a lightweight substrate and laminate, perfect for outdoor applications.
This solar panel combines high efficiency (PERC) monocrystalline solar cells with half-cut cell technology to improve electrical performance and power generation efficiency. This panel comes with pre-drilled mounting holes, solar connectors, and a junction box that allows easy and fast installation.
If you have any questions regarding this product, please submit a case !
Key Features
【High Power Output】
The Renogy 200W Flexible Monocrystalline Solar Panel can provide an average of 1000 Watt-hours of electricity per day (caculates with 5 hours sunlight).
【Easy to Transport, Carry and Install】
The solar panel suits most curved surfaces as it is bendable within 240 degrees. It weighs only 1/2 of the rigid panel and presents an all-black glare-free appearance.
【Industry-leading Tech】
It is equipped with half-cut PERC cell technology that enhances solar light capture and electrical performance, therefore improving the output efficiency.
【
Reliable and Durable】
This solar panel accomplishes with IP67 rated waterproof junction box and solar connectors. Withstand up to 5400 Pa of heavy snow load and up to 2400 Pa of high wind.
【Ready for Installation】
The panel comes with pre-drilled mounting holes and 12 AWG 27.6 inch long solar connector cables for quick and easy installation.
Package Includes
RSP200DB-72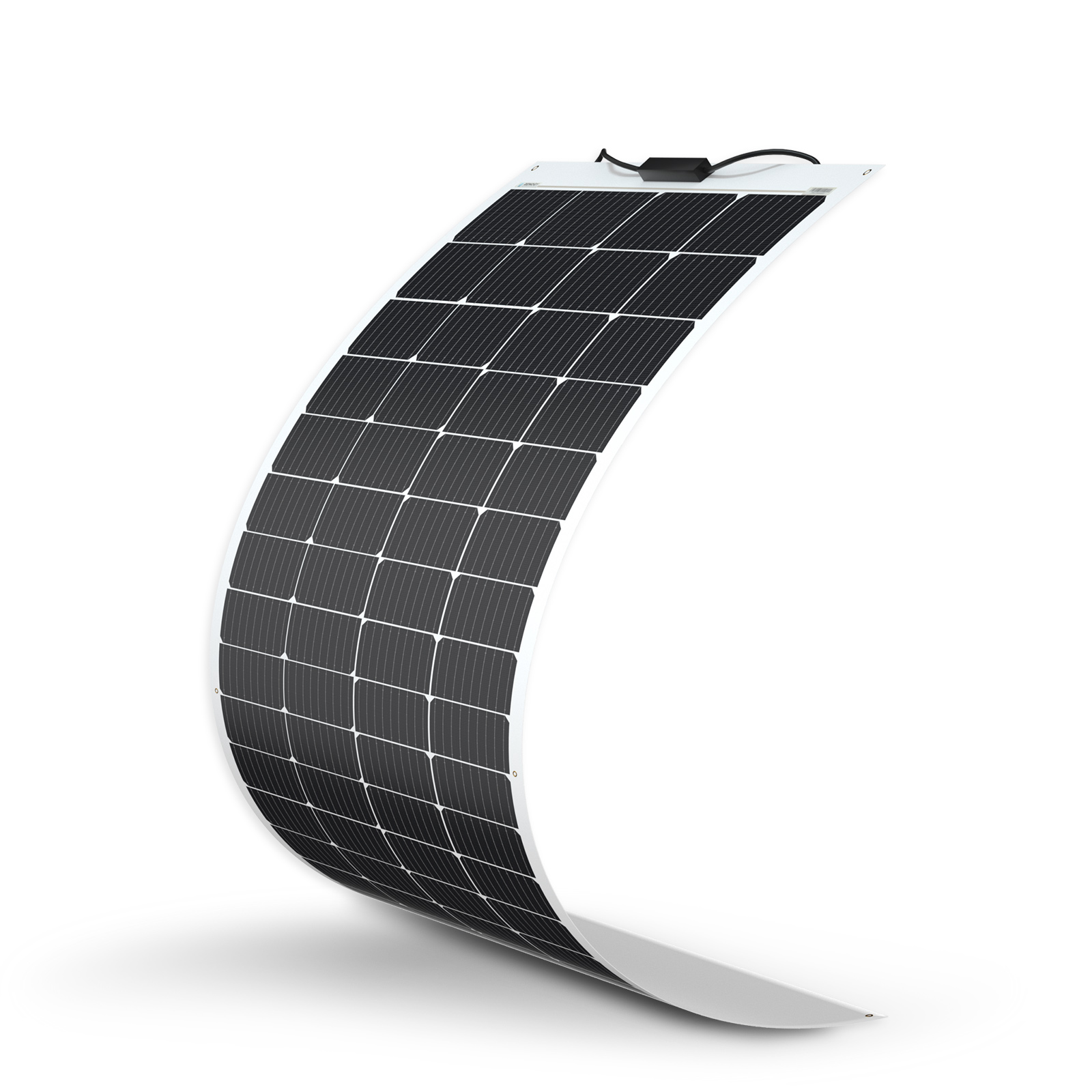 1 x
| Specifications | |
| --- | --- |
| Maximum Power at STC: 200W | Module Efficiency: 16.7% |
| Optimum Operating Voltage (Vmp): 20.1V | Open-Circuit Voltage (Voc): 23.9V |
| Optimum Operating Current (Imp): 10.02A | Short-Circuit Current (Isc): 10. 74A |
| Operating Temperature: -40°F to 176°F (-40ºC to +80ºC) | Maximum Series Fuse Rating: 15A |
| Maximum System Voltage: 600V DC (UL) | Dimensions: 1605*748*3mm/63.2x29.4x0.1in |
| Weight: 10.8lbs(4.9kg) | Output Cables: 12AWG, 27.6 inch |
| Junction Box: IP68 | Number of Cells: 72(18x4) |
| Cell Type: Monocrystalline(6.5x3.3) | Solar Connectors: IP67 |
| | |
| --- | --- |
| Performance Warranty: | 5 year 95% output warranty 10 year 90% output warranty 25 year 80% output warranty |
| Material and workmanship warranty | 5 years |
Reviews
Hide Reviews
Great to deal with I wish all my orders from other companies were that quick
Great to deal with I wish all my orders from other companies were that quick
good to deal with
good to deal with
Produces
Great fit on my airstream, pumps out the ah. Very easy to install
Great Product
These panels charge my generators very fast and I never have any worries. I love my new panels from Renogy and would definitely recommend them.
FLEXING WITH MY FLEXIBLE SOLAR PANELS.
I bought this panel as additional dolar on my boat. I wanted a panel that i could move around b on the foredeck to give me extra power at anchor. I stow the panel when sailing. It is up and running and giving great output. I would buy another one if needed. Renogy were great to buy from. Easy b to orxer and fast and efficient delivery.
Performs to spec, will check back in a few years
Good to see the panel reach it's rated 200w without an issue. Build quality seems good, time will tell
200 watt flexible solar panel
I have reviewed this item before but cannot find the post so I will review again now I have had a chance to use the panel. This is a top of the line sturdy well built efficient flexible light weight solar panel and I couldn't be happier with my purchase. Although it is rated at 200 watts I have personally seen it generate 228 watts being nearly 17 amps at charging voltage - extremely impressive. I will be purchasing more of these 200 watt panels based on my experience so far. Good job Renogy. Jon
Renogy 200 watt semi flexible panel
Great panel and light weight but well made and sturdy - stores under mattress on bed in van. Have tried it and seen 197 watts output on Victron 100/20 mppt regulator - would recommend where weight is an issue.