All-in-one solution
Renogy ONE Core is a comprehensive solution that combines energy monitoring, RV leveling, and smart automation features in one convenient package. This makes it easy for you to manage your RV systems without the need for multiple devices.
24/7 Energy Monitoring
Renogy ONE Core offers 24/7 energy monitoring through Bluetooth (BLE & Mesh) and RS485 connectivity. This allows you to keep track of your energy usage and identify areas where you can reduce consumption.
Worldwide Remote Monitoring
With the DC Home App and Renogy ONE Portal, you can remotely monitor your RV systems from anywhere in the world. This feature allows for greater flexibility and convenience when it comes to managing your RV systems.
RV Leveling Assistant
Renogy ONE Core comes with an RV leveling assistant that makes it easy to level your RV without the need for manual adjustments. This feature saves time and effort, making it easier for you to set up camp and get on with your adventures.
Smart Automation
Renogy ONE Core is compatible with a range of smart accessories that allow for automations of your off-grid life. This feature offers greater convenience and peace of mind, as you can set up automated scenes to make your life easier.
Excellent Design and Installation
Renogy ONE Core features an excellent design that is both functional and aesthetically pleasing. This ensures that it not only works well but also looks great in any RV.Renogy ONE Core is designed for easy installation, allowing you to set up your RV systems quickly and easily without the need for professional installation.
System Update (OTA)
Renogy ONE Core is continuously updated with new features and improvements through OTA updates. This ensures that you always have access to the latest and greatest features to make your RV experiences even better.
【Auto-Balance】State-of-the-art battery cells ensure a lifespan of more than 4000 cycles, 100A continuous discharge current, and a wide range of operation temperature.
【Reliable BMS System】The state-of-the-art battery management system (BMS) with high-performance dual-processors provides short circuit, over charging and over-temperature protection while maintaining a balanced voltage across all cells.
【Activation switch】The battery with an activation switch will allow you manually get into the shelf mode, the battery will have a very low self-discharge rate in the mode and can hold the charge for a longer period. To better protect your battery when not in use.
【Auto-balancing Function】Easily connect multiple batteries in parallel with the auto-balancing function to improve the average charging efficiency for your batteries in the long term.
【Real-time monitor】The battery features RS485 communication ports—enabling communication between batteries, external devices (BT-2 Bluetooth Module or Monitoring Screen) and host computers for you to monitor the charging status in real-time in Renogy DC Home APP.
【Footy Frenzy Sale】: Use code POWER50 to enjoy up to 50% off on any items. Click here to know more about Save big on September!
The Renogy Smart Lithium Deep Cycle Battery enables auto-balance among parallel connections and provides more flexibility for battery connection. The integrated smart battery management system (BMS) not only protects this 12V 100Ah LiFePO4 battery from various abnormal conditions, but monitors and manages the charging/discharging process. The state-of-the-art battery cells ensure a long cycle life and exceptional discharge performance. Suppose you're searching for a deep cycle battery for caravan, cabin, or marine use. In that case, this lightweight, auto-balanced, ultra-safe, long-cycle-life lithium-ion battery is the perfect plug-and-play solution for you!
Now you can unlock monitoring features exclusively using the Monitoring Screen for smart lithium batteries or the BT-2 Bluetooth Module and Renogy DC Home App!
Note:
● Please secure all cable connections to the proper specification in order to ensure good contact between the cable lugs and the terminals. Over-tightening cable connections can cause terminal breakage, and loose cable connections can cause terminal meltdown or fire.
● DO NOT string the battery in series. ONLY connect batteries of the same manufacturer and model in parallel.
● Please avoid too high a voltage difference between paralleled batteries, despite the auto-balancing function, to avoid triggering the over-current protection.
Ultra-safe Battery for Off-Grid Living
Renogy 12V 100Ah Smart Lithium Iron Phosphate Battery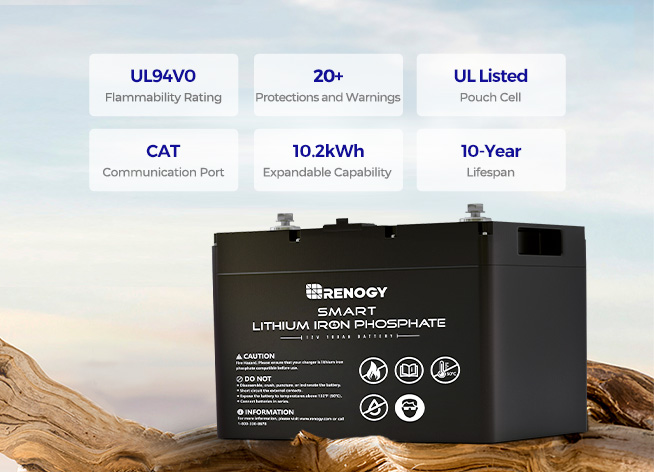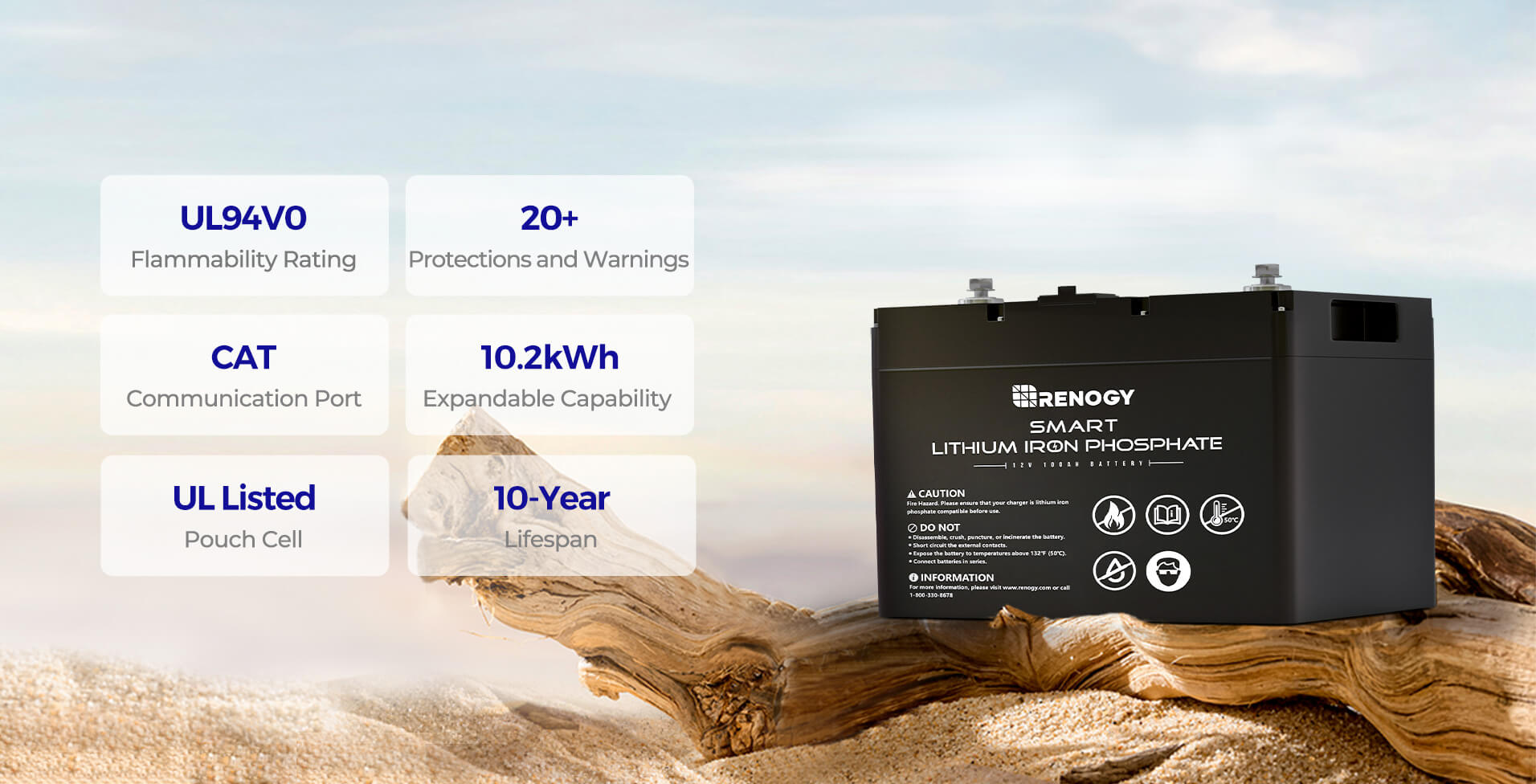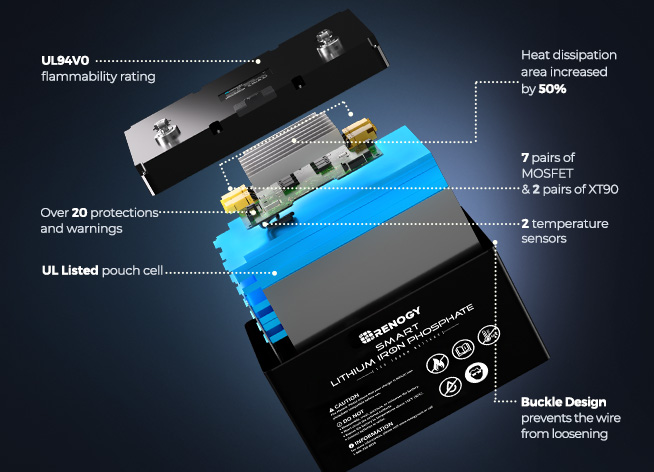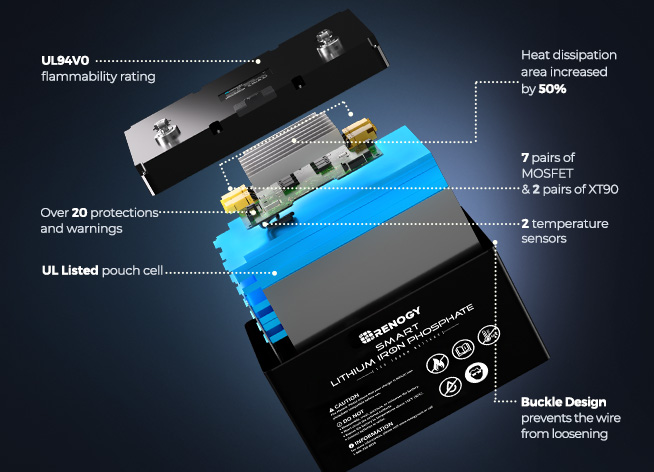 Unprecedented Safety Design
Designed with safety in mind for a reliable charging experience.
Stable, Long-lasting Performancee
The 12V 100Ah Smart Lithium Iron Phosphate Battery can go through over 4000 cycles with an 80% depth of discharge (DOD).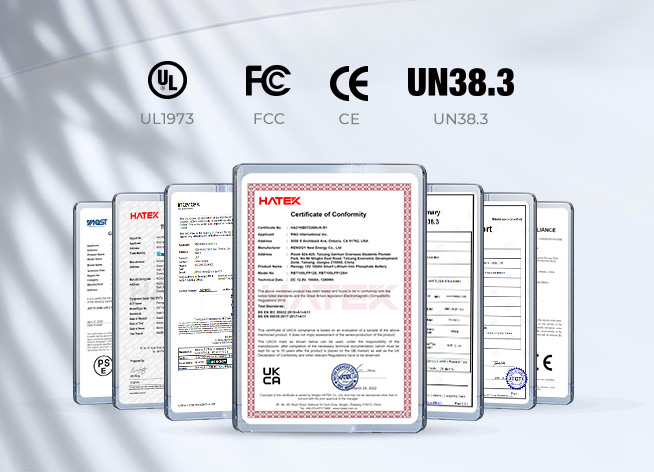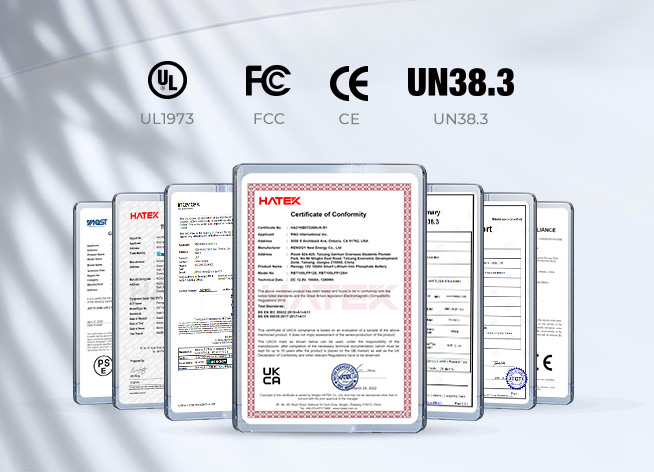 Every Nuance & Details Matter
Strictly tested and certified to provide peace of mind and confidence.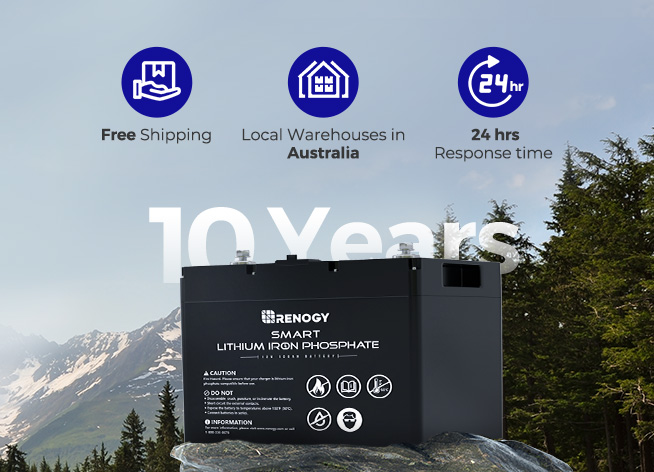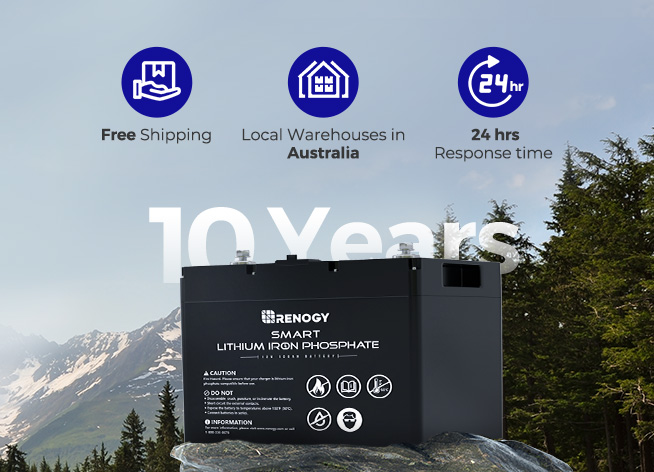 Up to Ten Years' Lifespan
As a pioneer in energy solutions for over 12 years, Renogy fuses expertise with professional services into every product delivered worldwide.
Save Every Drop of Power
Losing power on the go is painful. This 12V 100Ah Smart LiFePO4 Battery can provide lasting power for you with a smart ON/OFF switch and hibernation mode wherever the road leads you.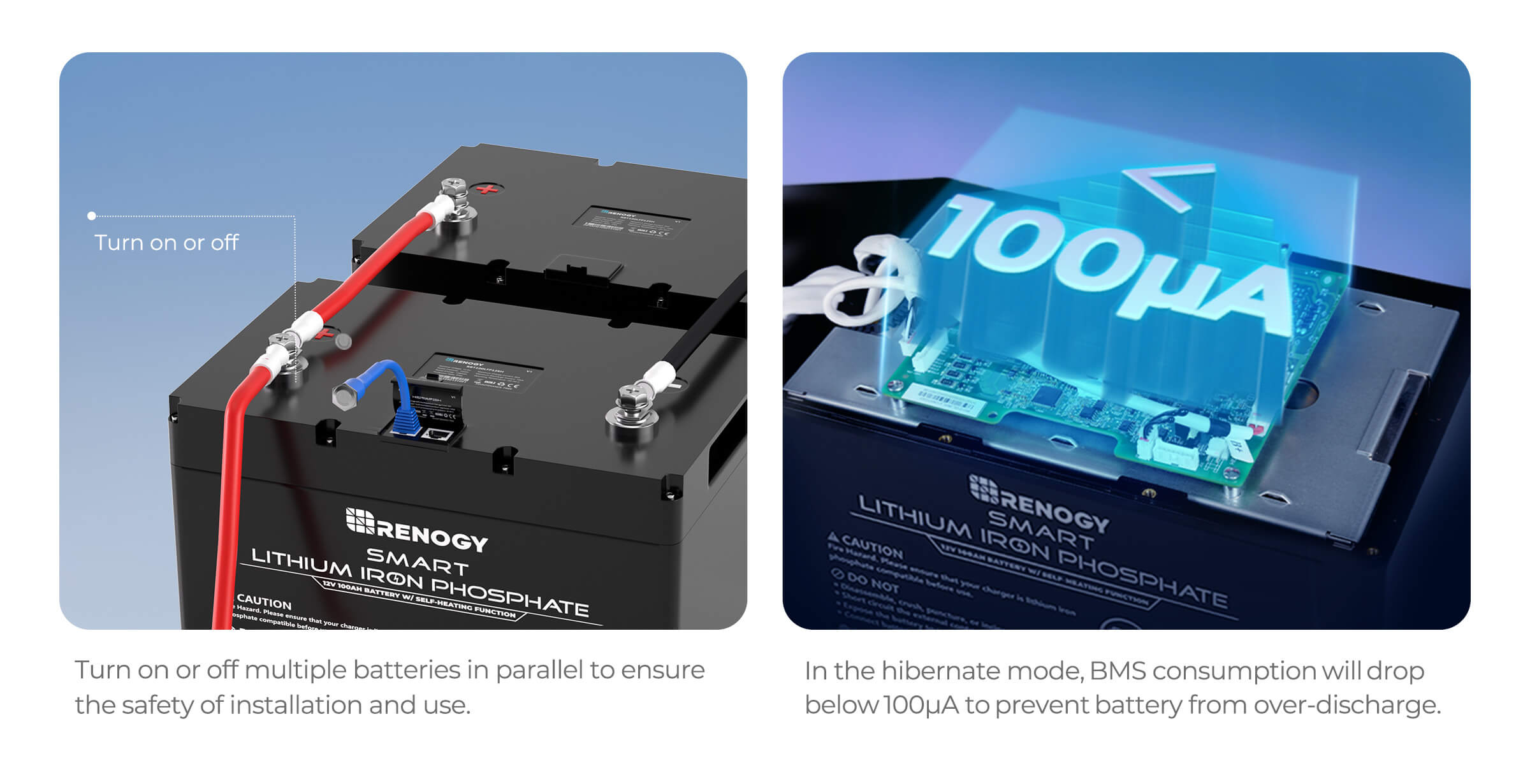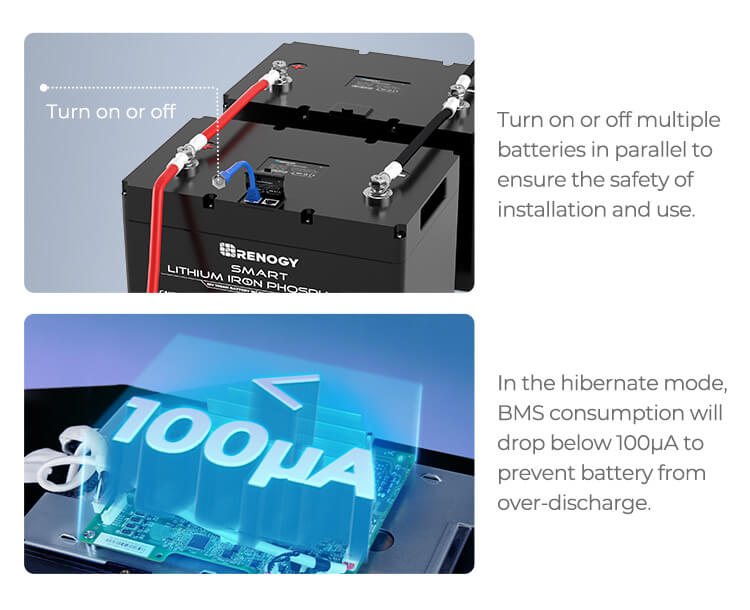 Monitoring via Bluetooth
You can use the BT-2 Bluetooth module to monitor multiple battery status in real time with the DC Home app.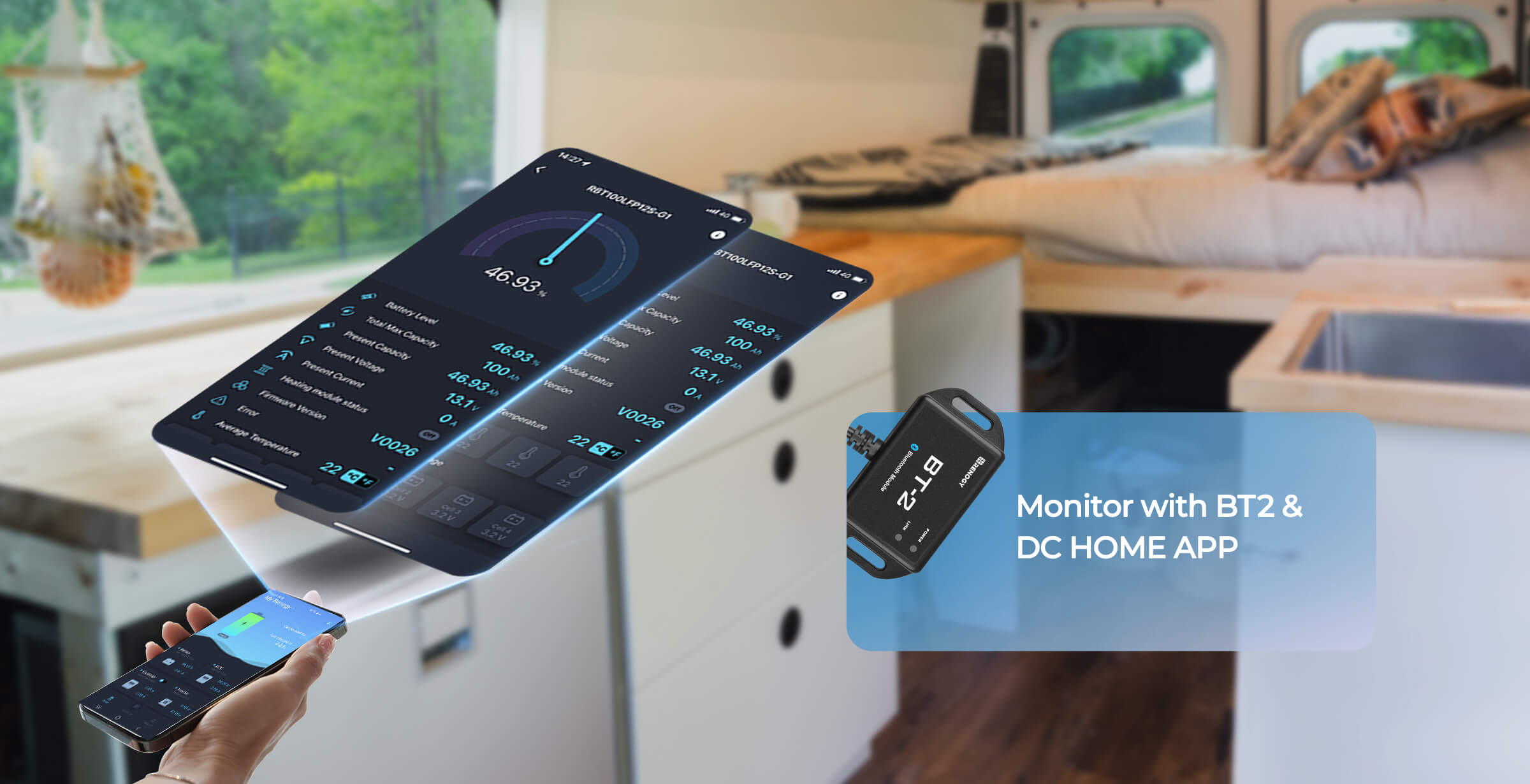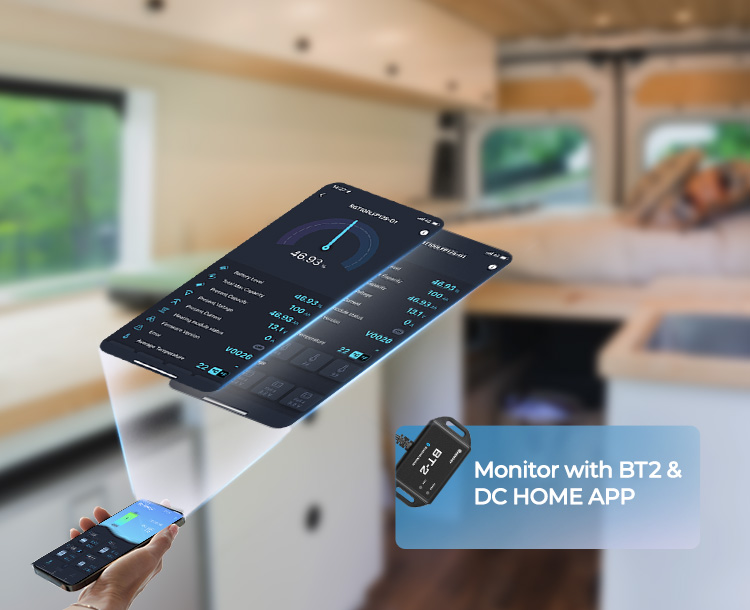 At-a-Glance Monitoring
You can connect the battery monitor directly via CAT cable without purchasing an additional coulometer.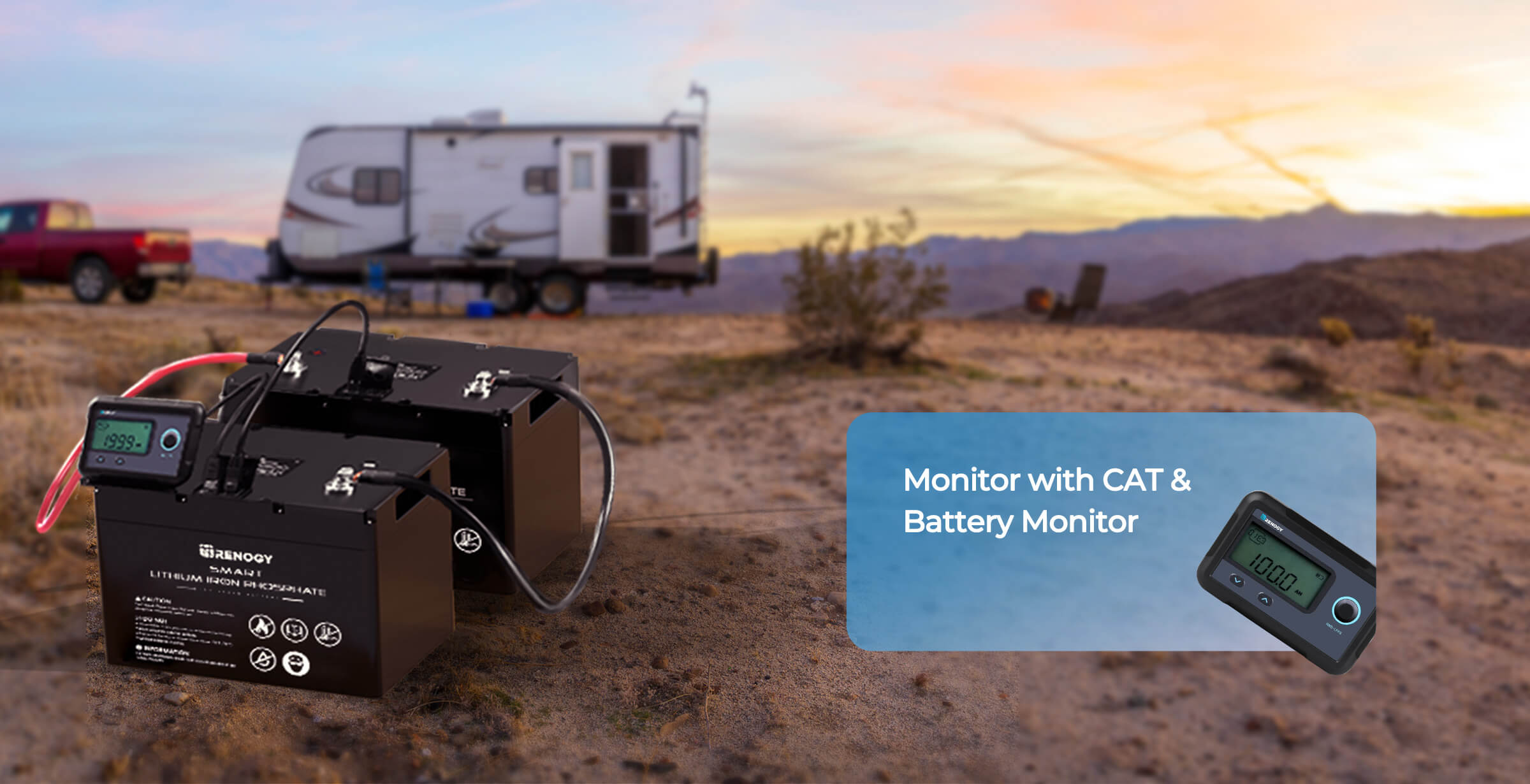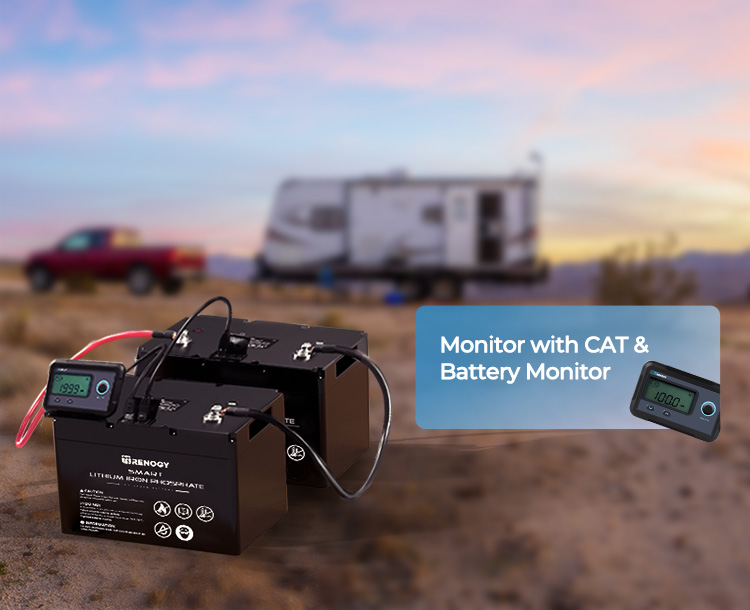 Save up to 15% Space
High-density pouch cells and improved cable structure ensure battery quality and a smaller battery volume.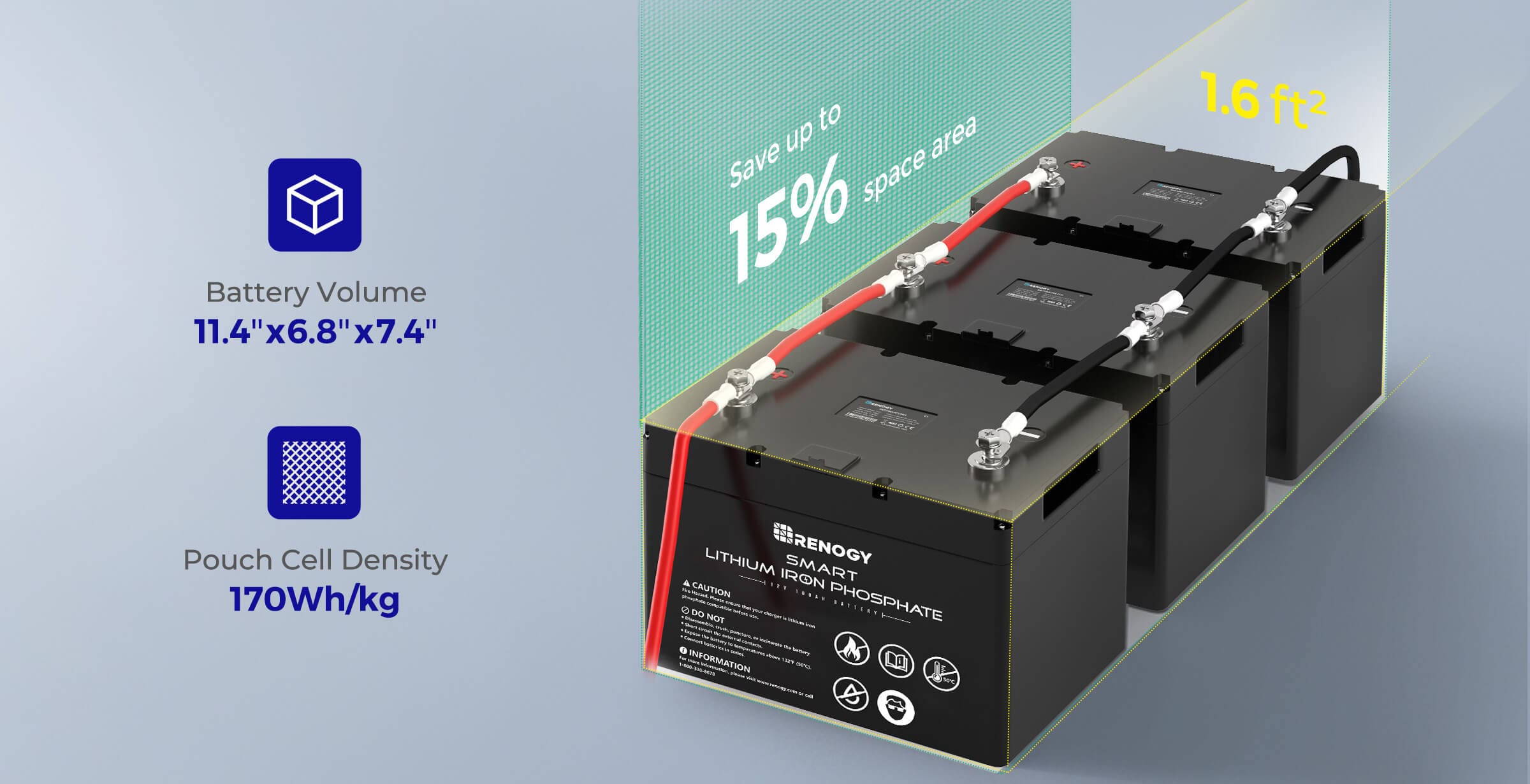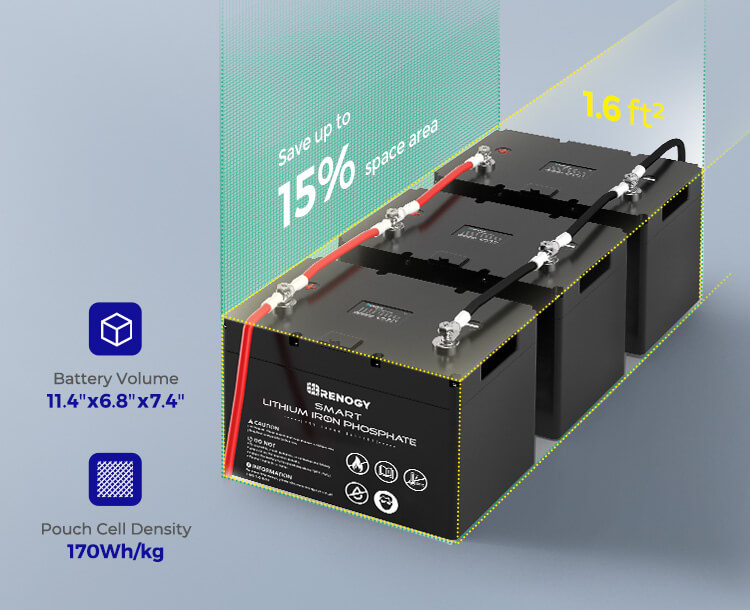 Bundle up for Power Independence
Wire up batteries seamlessly to expand usable power for RVs, cabins, houses, boats, and more off-grid living spaces you call home.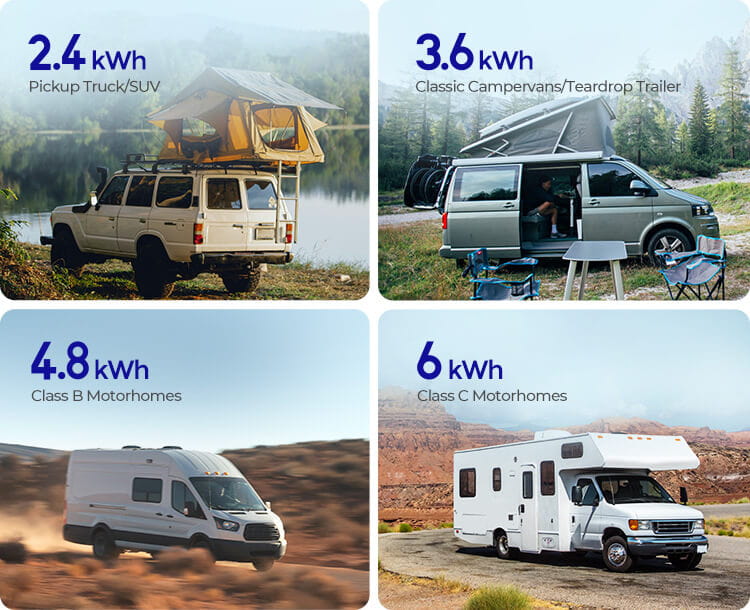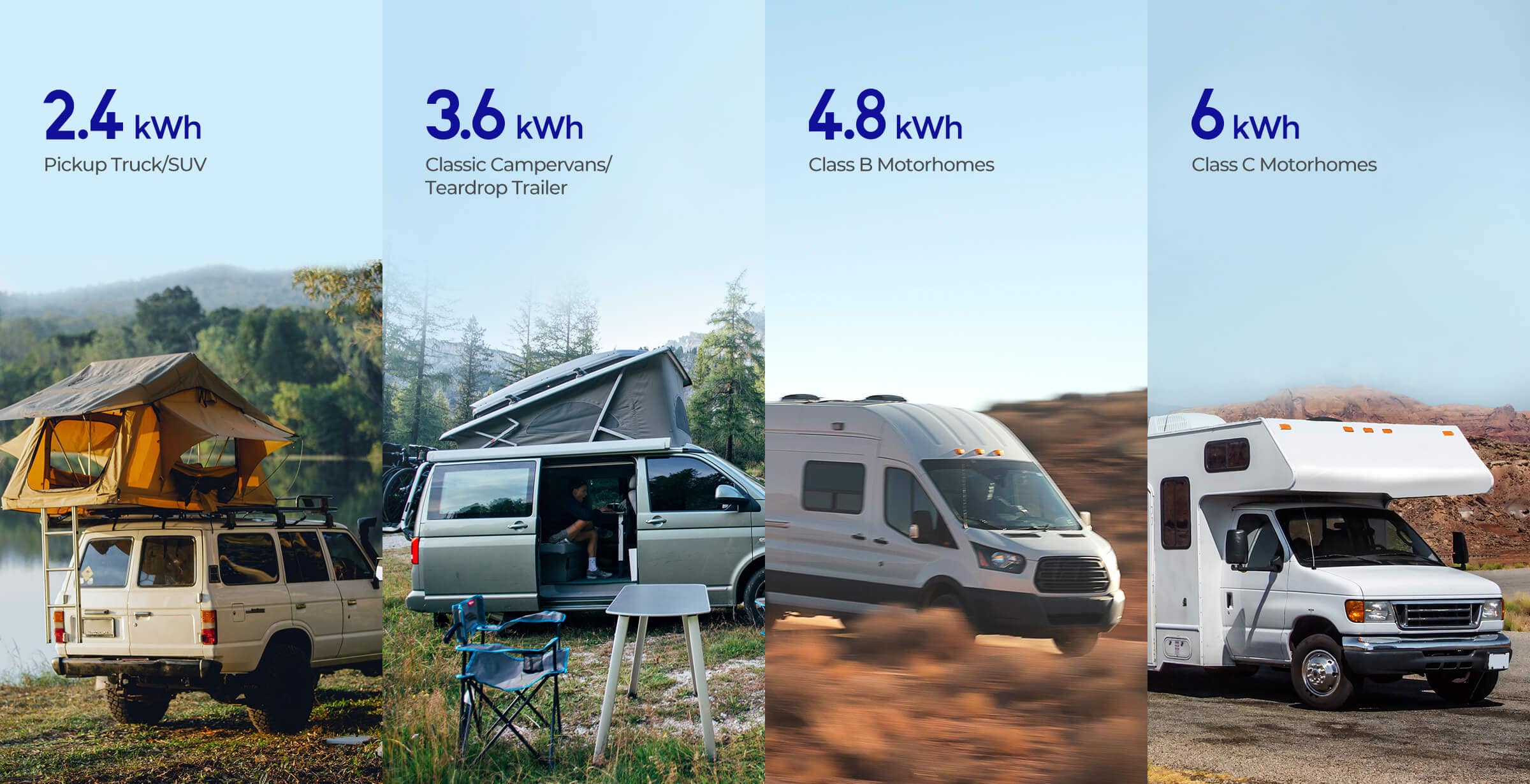 The Renogy Difference
Going solar is not that complicated. Renogy is here to help you build your system faster so you can roam further.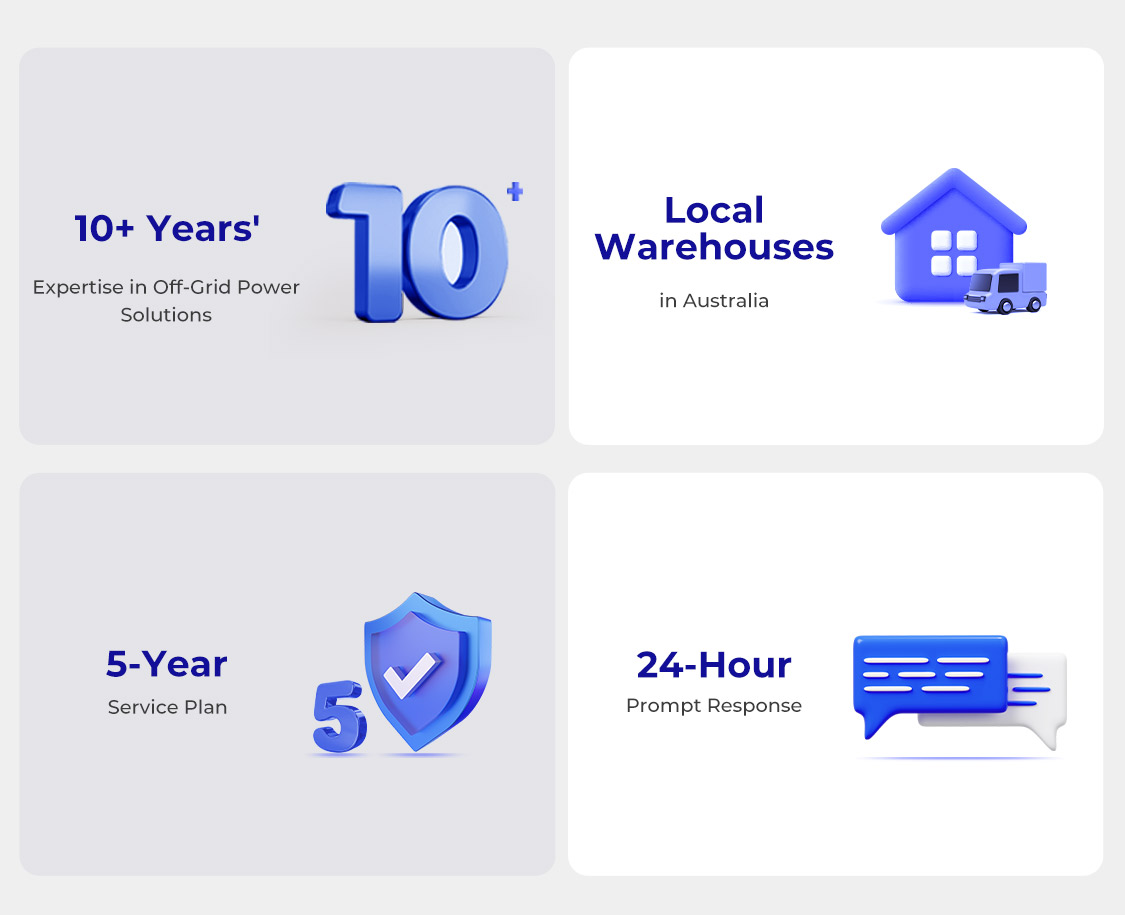 Connect with Renogy customers.
Go to Power Plus Community
Still have questions?
Ask our specialist
Package Includes
NOTE:
If you have any questions regarding this product, please call us at 1 (909) 287-7111 or

submit a ticket

for troubleshooting assistance.
More questions about your off-grid power system? Learn more from

Renogy Learning Center

!
Renogy 12V 100AH SMART LITHIUM IRON PHOSPHATE BATTERY

Electrical Specifications
Temperature Parameters
Rated Capacity (0.5C, 25°C)
100 Ah
Operation Temperature Range
Charge: 32~131°F/ 0~55°C
Nominal Voltage
12.8 V
Operation Temperature Range
Discharge:-4~140°F/ -20~60°C
Energy
1280Wh
Storage Temperature Range
-13~149℉ / -25~65℃
Cycle Life(0.5C/1C, 25℃)
4000 Cycles (80% DOD 80% EOL)
Standard Operation Temperature
25℃±5℃
Charging Parameters
Mechanical Specifications
Charge Voltage
14.4 V
Dimension (L x W x H)
11.4 x 6.8 x 7.4 inch /289 x 172 x 188 mm
Maximum Continuous Charge Current
50 A
Weight
26 lbs. / 11.8 kg
Discharging Parameters
Terminal Bolt Size
M8 x2
Maximum Continuous Discharge Current
100A
Protection Rating
IP54
Discharge Cut-off Voltage
10V
Communication Port
RJ45 (Modbus Protocol)
Certifications
Warranty
UN38.3, MSDS, CE, FCC, PSE, UL (Battery Cell), TUV (Battery Cell)
YES
5-year material Warranty
1. What are Renogy battery's greatest advantages?
Firstly, our batteries use the most up to date pouch cell technology. Currently, there are a few battery brands on the market using pre-used battery cores, these have a negative impact on the battery's life span and present safety risks. In addition, Renogy batteries feature, self-heating functions, an auto-balancing system and an advanced and efficient BMS system. Finally, we provide a 5 year industry leading warranty on all Renogy batteries.
2. What is the specific soft package cell mentioned just now?
Soft package cell refers to the use of aluminum-plastic film as the packaging material of the cell. At present, the vast majority of lithium-ion batteries on the market still use metal shell cells. Compared with the metal shell of the same capacity, the soft pack battery is light in weight and has good cycling performance. When safety problems occur, gas and heat can be released through the sealing mouth to avoid the further triggering reaction. Steel and aluminum cells have the possibility of explosion.
3. What does the external battery switch do?
Our battery is connected with a battery switch, which can turn off the battery and the BMS system with one key when the battery is not needed to work, reducing the self-consumption of the battery, making it safer to store, and protecting the battery life.
4. How long will your battery last?
Our battery is capable of 4000 cycles of perfect charge and discharge, after which the efficiency of the battery will drop to 80% of the factory performance, but it is still very good for your use. If you live a completely off-grid life, calculated at the rate of a full charge and discharge per day, you will be able to use it for more than 10 years.
5. How many batteries can I connect to at most?
Please connect your batteries in parallel, we recommand a maximum of 4 batteries in parallel, and our automatic battery balancing system allows you to achieve parallel safely.
Reviews
Hide Reviews
Fast delivery
Fast delivery of 2 lithium batteries one cardboard box damaged at the top but battery well protected with packaging
Posted quickly
Posted quickly, item as described. Appears to be working fine.
12V 100Ah Smart Lithium Iron Phosphate Battery Review
This is the second battery I have bought - and love them both! So easy to set up and both are operating within advertised specifications. Both are being used in a camper setup with a Renogy DC-DC charger and Renogy 2000W inverter with UPS function. Would recommend to anyone!
love your products and i will buy more of these batteries when the price is right
love your products and i will buy more of these batteries when the price is right, post is terrible
Can be totally discharged with out
Can be totally discharged great value