Description
The Renogy Wanderer 10A solar charge controller integrates efficient PWM charging to increase battery life and improve system performance. Designed with a simple interface for ease of use the controller uses an LCD to notify users of battery information. This advanced charge controller is designed for off-grid solar applications and can be used with a 12V/24V battery or battery bank. The compact size of the controller makes installation a breeze. The controller comes equipped with fully comprehensive self-diagnostics and electronic protection functions to prevent damage from installation mistakes or system faults.
If you have any questions regarding this product, please submit a case !
Key Features
Optimized for a 12V/24V system; Deep cycle Sealed (AGM), Gel, Flooded and Lithium battery option ready.
Smart 4 Stage PWM charging (Bulk, Boost, Float, and Equalization). Intelligent protection against reverse polarity, overcharging, short-circuit, and reverse current.
Backlit LCD screen for displaying system operation, diverse load control and error codes.
Integrated 5V 2A USB ports to charge USB devices.
Compact in size makes it easy to install virtually anywhere.
Capable of charging over-discharged lithium batteries.
Integrated RS232 port allows communication with BT-1 Bluetooth module and usage of Renogy BT smartphone app.
Package Includes
Wanderer 10A PWM Charge Controller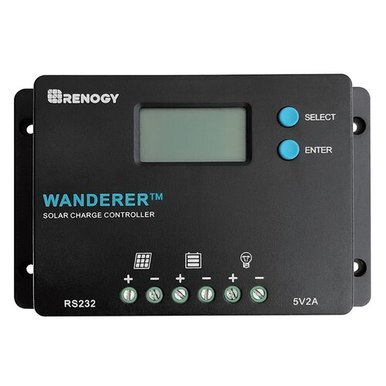 1 x
| Wanderer 10A PWM Charge Controller | |
| --- | --- |
| Nominal Voltage: 12V/24V Auto Recognition | Rated Charge Current: 10A |
| Max Gauge Size: Up to 12AWG | Max. PV Input Voltage: 50 VDC |
| Self-Consumption: <10mA | USB port:5V, 2A max |
| Working Temperature: -31°F - 113°F / -35°F - 45°F | Temperature Compensation: -3mV/°C/2V |
| Dimensions: 4.7 x 3.0 x 1.1 in / 119x75x27.5mm | Weight: 0.27 lbs / 122.47g |
Warranty Information
| | |
| --- | --- |
| Accessories | 1-year material warranty |
Certification