Description
Traditional solar panels are rigid and often enclosed in tempered glass. The Renogy 50W Flexible Solar Panel is anything but traditional. Perfect for marine use or placement on top of a van or vehicle, the Renogy 50W Lightweight Solar Panel is thin and capable of flexing up to 248 degrees. At 2.87 pounds, this flexible solar panel weighs only a quarter of its traditional 50W counterpart. Highly flexible, this lightweight panel can easily be installed on curved surfaces. This panel can also be used for other various applications, including providing power on a boat or teardrop trailer.
Mounting Recommendation: Modules may be mounted using silicon structural adhesive on the backside of the panel. For detailed installation methods, please consult a local contractor for guidance.
If you have any questions regarding this product, please submit a case !
Key Features
Extremely Flexible
This panel is capable of meeting a wide range of applications where standard panels can be inconvenient to mount, such as on the curved roof of an airstream
Ultra Lightweight
Thanks to advanced polymer materials, this product weighs 70% less than conventional solar panels, making transportation and installation a breeze
Super Thin Lamination
Hardly noticeable, the Renogy 50W Lightweight Panel laid flat is only a tenth of an inch tall making it ideal for a stealthy solar setup.
Highly Durable
Rigorously tested, the 50W panel was designed to withstand extreme wind of up to 2400 Pa and snow loads of up to 5400 Pa
Package Includes
50W Flexible Solar Panel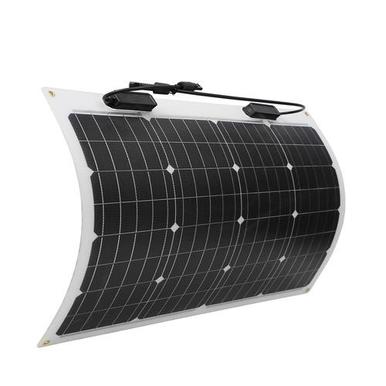 1 x
| Specifications | |
| --- | --- |
| Maximum Power at STC*: 50 W | Operating Temperature: -40°F to 185°F / -40°C to 85°C |
| Optimum Operating Voltage (Vmp): 18.5V | Optimum OperatingCurrent (Imp): 2.71A |
| Open-Circuit voltage (Voc): 22.6V | Short-Circuit Current (Isc): 2.92A |
| Dimensions: 26.5x20.0x0.16 in | Weight: 2.87 lbs(1.3kg) |
| Cables: 12AWG | Cables length: 17.7In(Negative Cable), 5.9In(Positive Cable) |
Warranty Information
Panels

25-year power output warranty: 5 year/95% efficiency rate, 10 year/90% efficiency rate, 25-year/80% efficiency rate

5-year material and workmanship warranty
Certification
1.What do I need to complete my off-grid solar power system ?
A solar panel has to be connected a charge controller to regulate current, and a battery to store the electrical power. You will need adapter kit cables to wire the solar panel(s) and charge controller, and tray cables connecting the charge controller to a deep-cycle battery.
2. What does off-grid and on-grid mean ?
On-grid simply means solar power equipment (array or solar panel) is connected to the electrical grid, while off-grid refers to systems that are not connected to the grid and therefore store the generated power for later use. Off-grid systems are not affected by grid blackouts.
3. Why is my solar panel under producing ?
Solar panel performance may be hindered for a number of reasons. Most commonly environmental conditions such as indirect sunlight, temperature rise, cloudy sky, and dirt and stain build up on the top glass will cause a reduced power output.
4. How should I connect solar panels in my electrical circuit (series vs parallel)
Solar panels can be connected in series or in parallel to meet your electrical circuit size and power demand. Connecting solar panels in series will have the effect of adding up their operating voltage output, while system current output will be the same as that for one panel. While, connecting solar panels in parallel will have a different effect; individual panels operating current output will add up to be the system output current, while system output voltage will be the same as the output voltage of one solar panel. To meet the optimum power output and system rating for your power system, you can use both parallel and series connections.
5. How many solar panels do I need ?
The best way to gauge how many solar panels you need, is to understand and define the power load needed from this system. Power is measured in Watts, and capacity is commonly measured in Watt-hours (multiplying power output in watts by the required number of hours of operation multiplied by a safety factor of 1.5-2). Therefore, it is wise to size your battery bank first based on the minimum required capacity, and accordingly decide how many panels or how much power input is needed.
Reviews
Hide Reviews
fast shipping but item had messy gluing on the front
fast shipping but item had messy gluing on the front, makes it look less quality
Good panel
The panel is better made than the one it replaced. Initially the wrong product was shipped, but Renigy was responsive and shipped the correct product.
Does the job
This panel is installed on the pilot house roof and easily powers our electronics and house battery.
Awesome product
Very nice flex panel. Its light wieght and easy to use.