Description
The Renogy 100 Watt 12 Volt Monocrystalline Solar Panel is the perfect item for off-grid applications! High in power but compact in size, this 100W solar panel is a favorite for RVs, boats, campers, and similar applications, providing excellent efficiency per space. Ideal for starting a new project or expanding an existing one, Renogy 100W Monocrystalline Solar Panels will not disappoint.
If you have any questions regarding this product, please submit a case !
Key Features
Reliable
Advanced encapsulation material with multi-layered sheet laminations enhance cell performance and provide a long service life
EL tested solar modules; no hot-spot heating guaranteed
Bypass diodes minimize power drop caused by shade
TPT back sheet ensures smooth performance over a long period of time
Durable
Guaranteed positive output tolerance (0-3%); withstands high winds (2400Pa) and snow loads (5400Pa)
Corrosion-resistant aluminum frame allows extended outdoor use; the panels can last for decades
Anti-reflective, high transparency, low iron-tempered glass with enhanced stiffness and impact resistance
IP65 rated junction box provides complete protection against environmental particles and low pressure water jets
Versatile
Can be used for many different applications
Ground mount compatible
Compatible with on-grid and off-grid inverters
Installation Ready
Pre-drilled holes on the back of the panel allow for fast mounting and securing
Pre-drilled holes included for grounding
Compatible with different Renogy mounting systems such as Z-Brackets, Pole Mounts and Tilt Mounts
Package Includes
100W 12V Mono Solar Panel (black frame)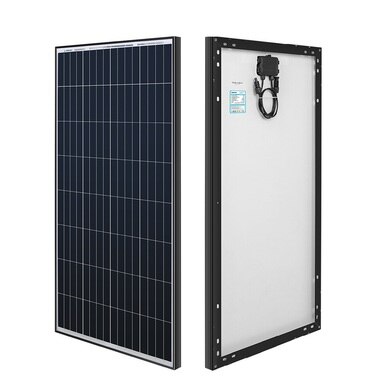 1 x
| Specifications | |
| --- | --- |
| Electrical | |
| Maximum Power : 100W | Open Circuit Voltage: 24.3V |
| Short Circuit Current: 5.21 A | Opitmum Operating Voltage: 20.4V |
| Optimum Operating Current: 4.91A | Module Efficency:17.8% |
| Maximum System Voltage:600 VDC | Maximum Series Fuse Rating: 15A |
| Mechanical | |
| Cell Type:Monocrystalline (6.5 x 3.3 in) | Number of Cells: 32 Cells |
| Dimensions: 41.8x20.9x1.38 in/1062x530x35mm | Weight:14.1 lbs / 6.4 kg |
| Front Glass:Tempered Glass 0.13 in (3.2 mm) | Frame:Black Anodized Aluminum Alloy |
| Connectors:Solar Connectors | Fire Rating:Class C |
| Thermal Characteristics | |
| Operating Temperature: -40°F to 185°F / -40℃ to 85℃ | Nominal Operating Cell Temerature (NOCT):47±2ºC |
| Temperature Coefficient of Pmax:-0.37%/C | Temperature Coefficient of Voc:-0.28%/C |
| Temperature Coefficient of Isc:0.048%/C | |
| Solar Connectors | |
| Rated Current:30A | Maximum Voltage:1000VDC |
| Maximum AWG Size Range:10AWG | Temperature Range:-40ºF to 194ºF / -40℃ to 90℃ |
| IP Rating:IP 67 | |
| Junction Box | |
| Diode Type:15SQ045 | Number of Diodes:2 |
| IP Rating: IP65 | Output Cables: 14 AWG (1.97ft long) |
| Cell Efficiency: 21.00% | |
Warranty Information
Panels

25-year power output warranty: 5 year/95% efficiency rate, 10 year/90% efficiency rate, 25-year/80% efficiency rate

10-year material and workmanship warranty

Accessories
1-year material warranty
Certification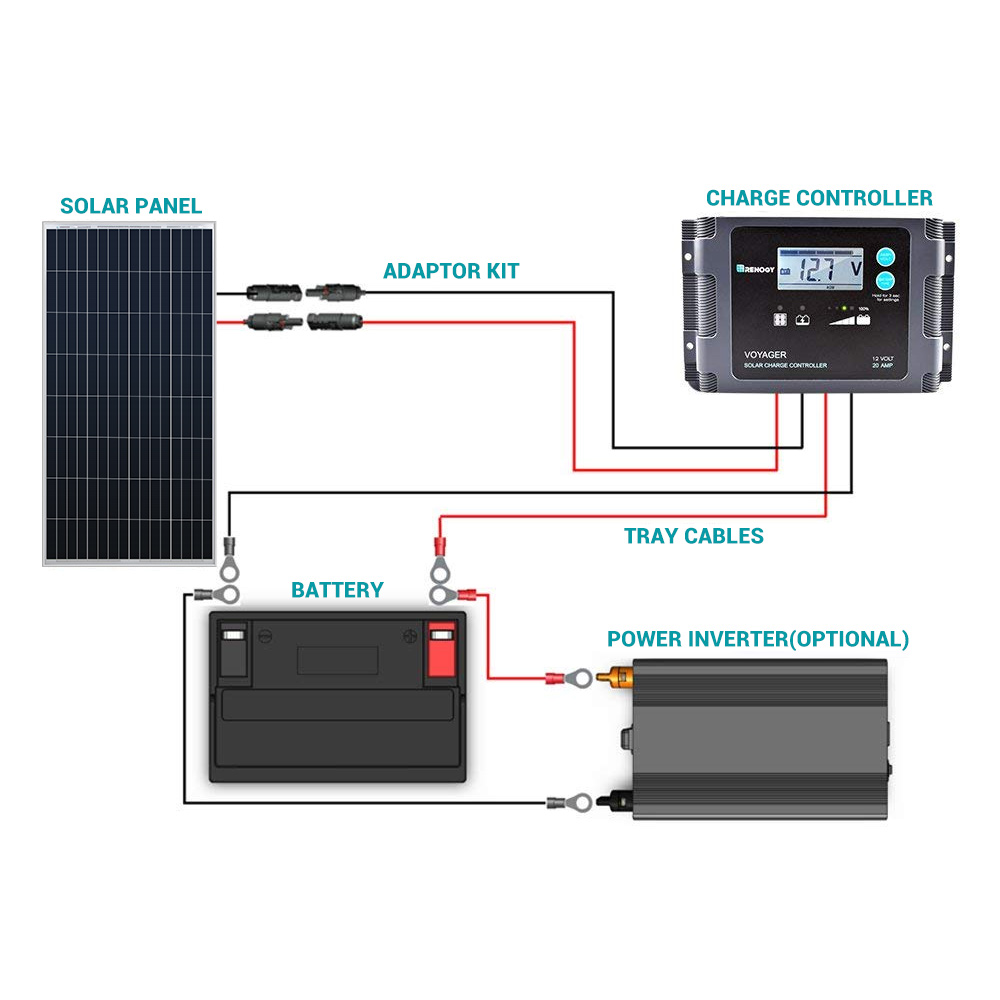 Reviews
Hide Reviews
Happy with product and service
Happy with product and service
A great value for a wonderful solar unit 4th one.
This is my 4th one of these added to my solar power for communications needs as well as other required needs. They are constructed as a very fine well-built unit. On I am proud to say that I incorporate in and my solar need expand.
Great Panel
Recently purchased this 100W panel for use on my truck to keep my RENOGY 100ah Bluetooth battery charged for running my Truma C69 DZ fridge/freezer. If I'm running both zones at fridge temp, this 100w panel is perfect. If you intend to run the freezer for several days, you need a larger watt panel or it will gradually drain the battery and the panel isn't enough to keep the battery topped off.
Solar cells
I put these in use about 6 months ago n have no trouble with them I have them on off grid cabin n they run entire cabin except ac They also run shallow well 1 half horse pump
Great product!
Seems great, sleek modern design and upgraded module from my previous Renogy panel.
Solar Panel
Good to deal with fast shipping thanks very much