All-in-one solution
Renogy ONE Core is a comprehensive solution that combines energy monitoring, RV leveling, and smart automation features in one convenient package. This makes it easy for you to manage your RV systems without the need for multiple devices.
24/7 Energy Monitoring
Renogy ONE Core offers 24/7 energy monitoring through Bluetooth (BLE & Mesh) and RS485 connectivity. This allows you to keep track of your energy usage and identify areas where you can reduce consumption.
Worldwide Remote Monitoring
With the DC Home App and Renogy ONE Portal, you can remotely monitor your RV systems from anywhere in the world. This feature allows for greater flexibility and convenience when it comes to managing your RV systems.
RV Leveling Assistant
Renogy ONE Core comes with an RV leveling assistant that makes it easy to level your RV without the need for manual adjustments. This feature saves time and effort, making it easier for you to set up camp and get on with your adventures.
Smart Automation
Renogy ONE Core is compatible with a range of smart accessories that allow for automations of your off-grid life. This feature offers greater convenience and peace of mind, as you can set up automated scenes to make your life easier.
Excellent Design and Installation
Renogy ONE Core features an excellent design that is both functional and aesthetically pleasing. This ensures that it not only works well but also looks great in any RV.Renogy ONE Core is designed for easy installation, allowing you to set up your RV systems quickly and easily without the need for professional installation.
System Update (OTA)
Renogy ONE Core is continuously updated with new features and improvements through OTA updates. This ensures that you always have access to the latest and greatest features to make your RV experiences even better.
【Uncompromising Quality】The exceptional lifespan of 3500 cycles (80% DOD), is about 10 times longer than lead-acid batteries. 100% usable capacity, 2 times of lead-acid counterpart. Wide discharging temperature ranges from -4°F to140°F (-20°C~60°C). Fearless of extreme climates, back up your wild adventures.
【Easy Upgrades】A space-saving choice for your 24V power system. Upgrades from lead-acid to lithium seamlessly with a greater energy density, 100% usable capacity, and a faster-charging speed.
【Smart Energy Saving Mode】Automatically switch to energy-saving mode in 30s. The self-discharge rate is as low as 3% per month. Offers better performance on storage and endurance. No need to charge the battery constantly during storage.
【Powerful Output】Up to 8 batteries can be easily connected in parallel, providing expandable power capacity. Auto-balancing function, improve the average charging efficiency of your batteries over extended use.
【Certified Performance】Reliable output and ultra safety. Performance certified with MSDS, UN38.3, FCC, PSE, CE, and UKCA. IP65 waterproof, protected against water and dust with the fully sealed housing.
【Footy Frenzy Sale】: Use code POWER50 to enjoy up to 50% off on any items. Click here to know more about Save big on September!
Take your deep cycle battery experience to the next level by investing into Renogy's LFP Battery, combining superior lithium-iron phosphate technology to provide a better solution to solar energy storage. Weighing at just a bit over 14.8 lbs, Renogy's LFP battery surpasses expectation by being lighter, compact, and more powerful than its lead-acid battery counterparts of 50Ah. Designed to replace conventional solar battery storage units such as sealed Sealed, AGM, or Gel batteries, utilize your LFP battery in power-sport applications, off-grid applications, solar energy storage, and more! Take a step into the right direction by pairing your solar system with one of the safest and highest-cycle battery chemistry yet.
Note:
● Please be aware that if the batteries' Battery Management System (BMS) is activated and the battery voltage shows 0V, you must use a compatible Li charger to reactivate our Li batteries.
● Make sure to tightly screw the battery terminals in, having loose battery terminals will cause the terminals to build up heat resulting in damage to the battery.
●DO NOT string these batteries in series. They are made ONLY for wiring in parallel using identical batteries.
Renogy 24V 50Ah Deep-Cycle LiFePO4 Battery
Fish all day long with no worries.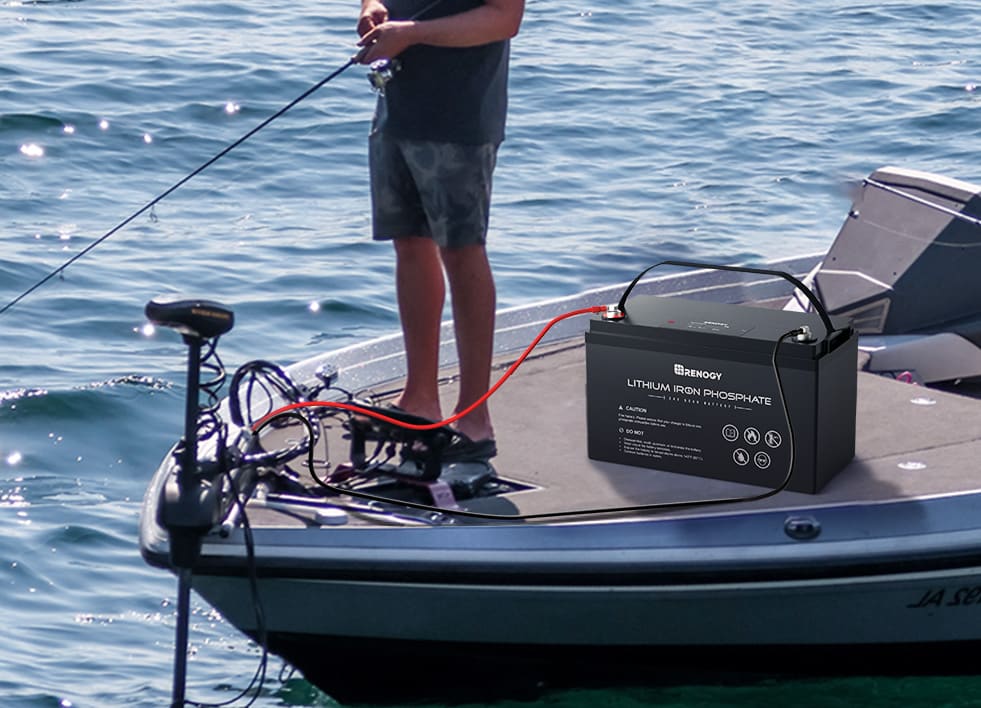 Reasons to Love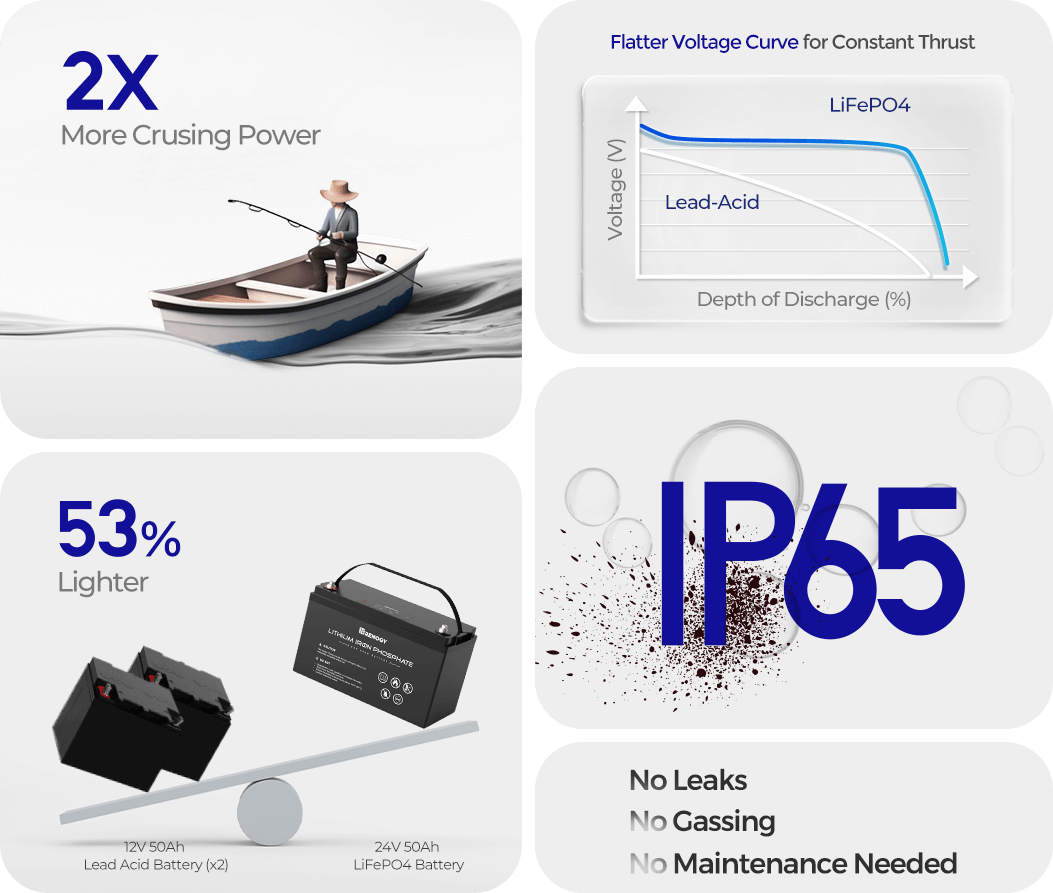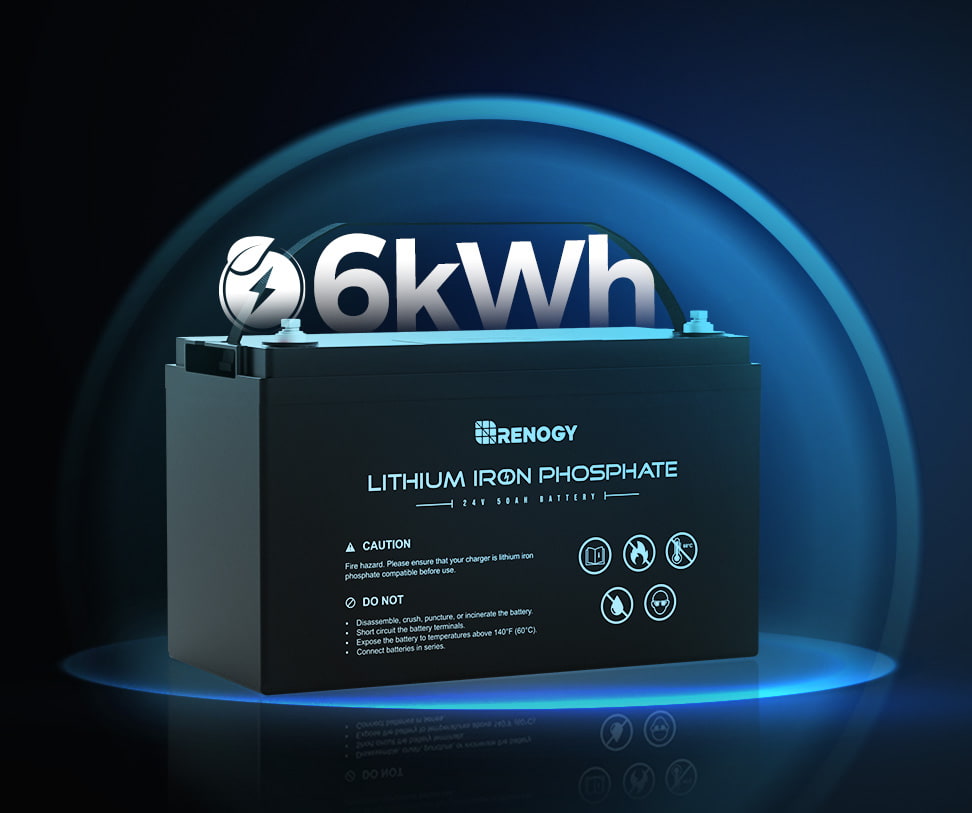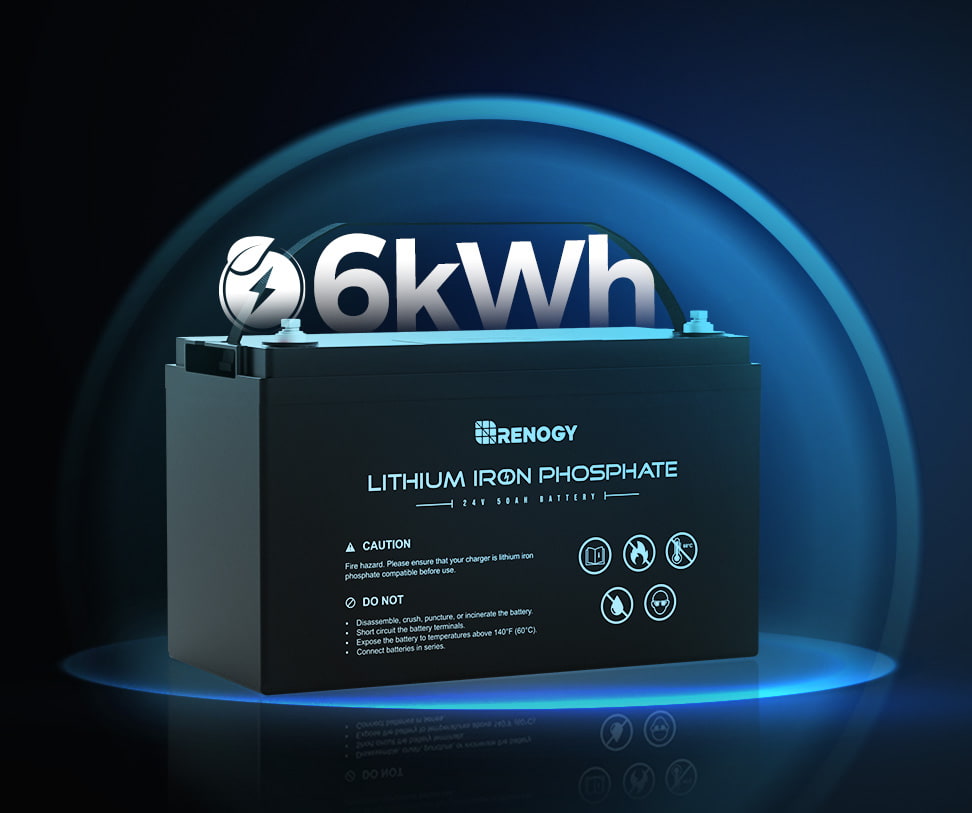 Every Drop Matters
Save approx. 6kWh of power saved a year4 thanks to its low self-discharge rate of 3%.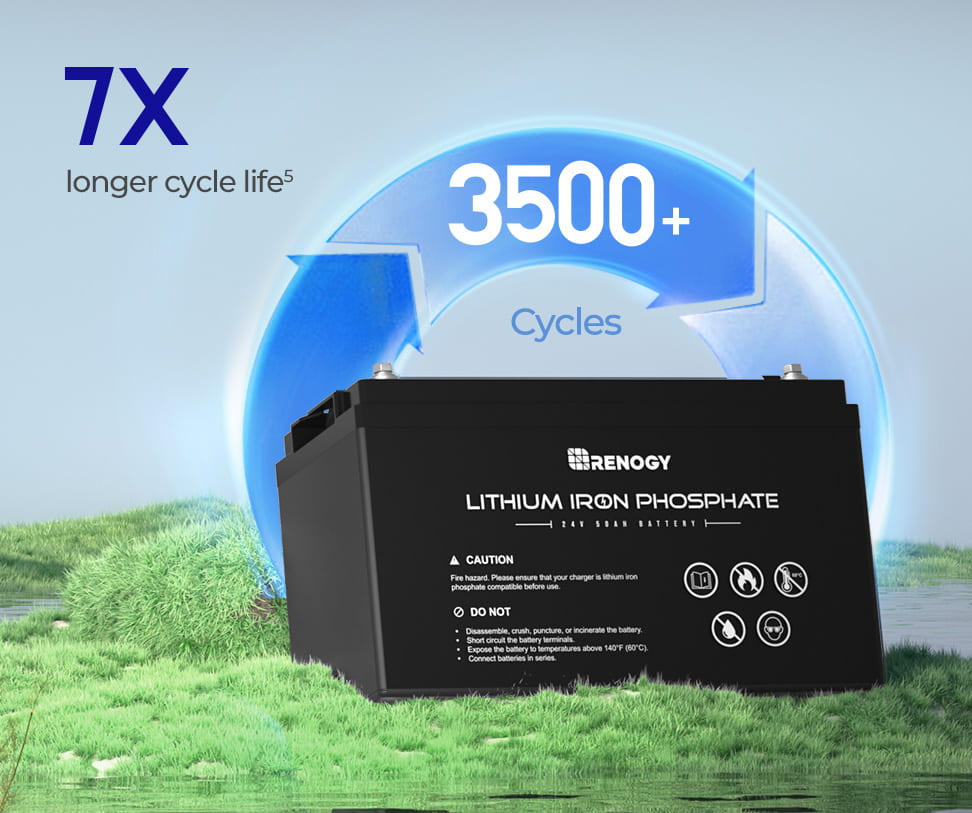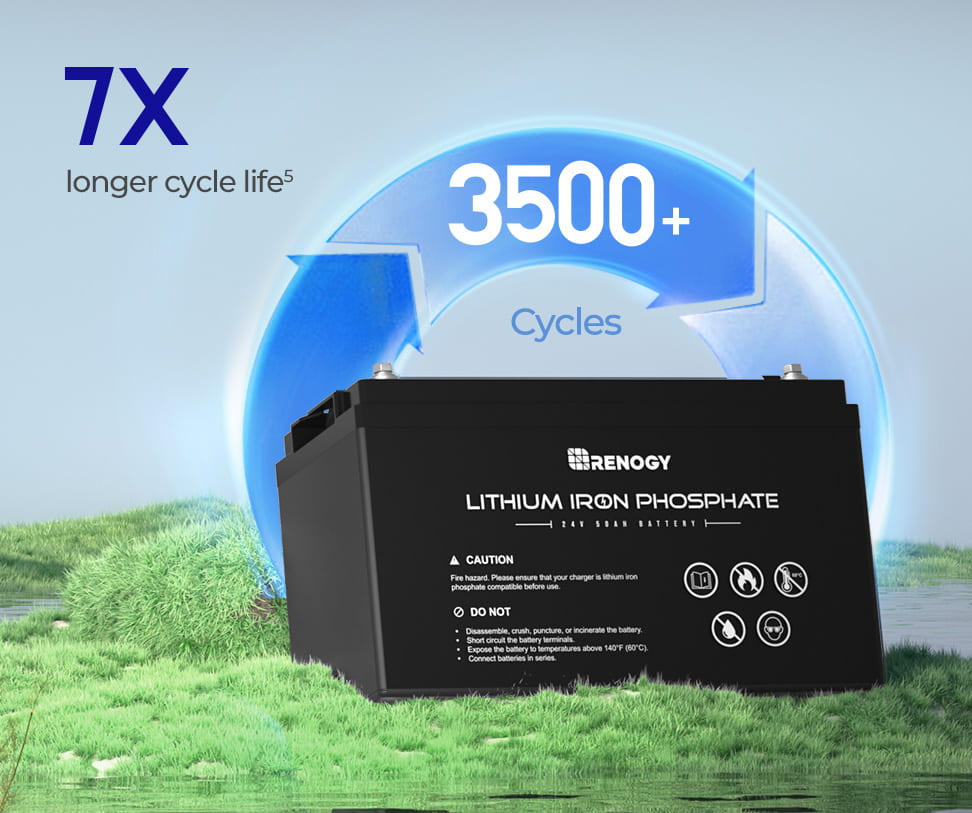 Performance That Lasts Over a Decade
Get almost 7 times of battery life5 from LiFePO4 batteries than your old lead-acid ones. No more frequent maintenance.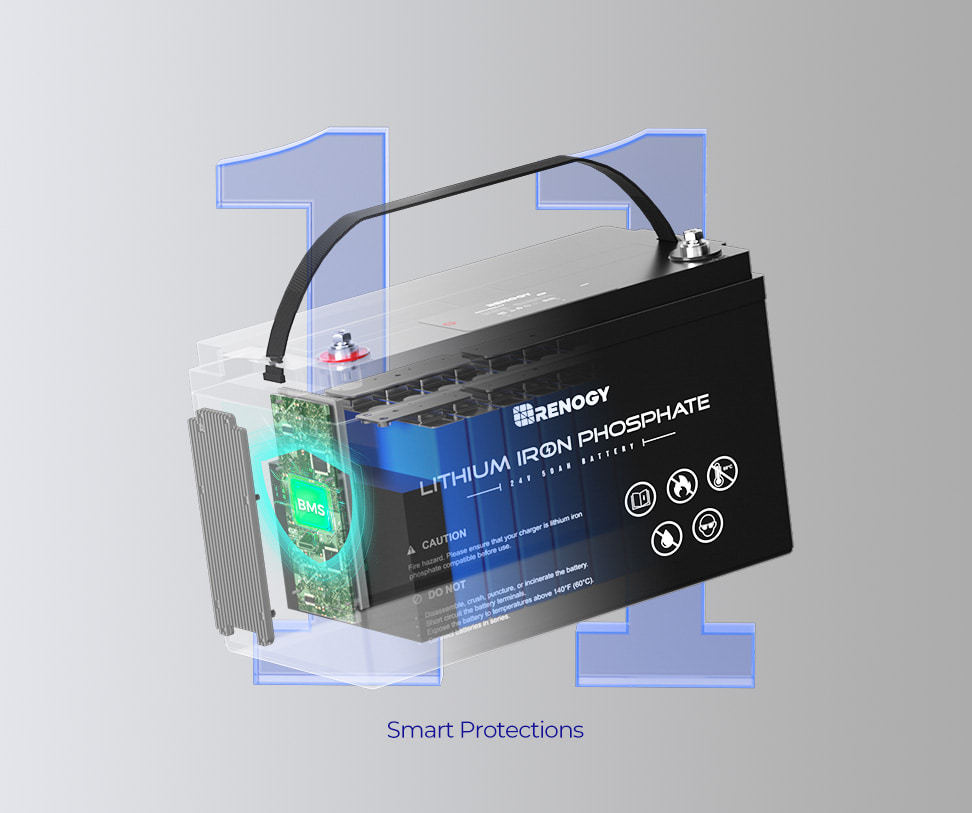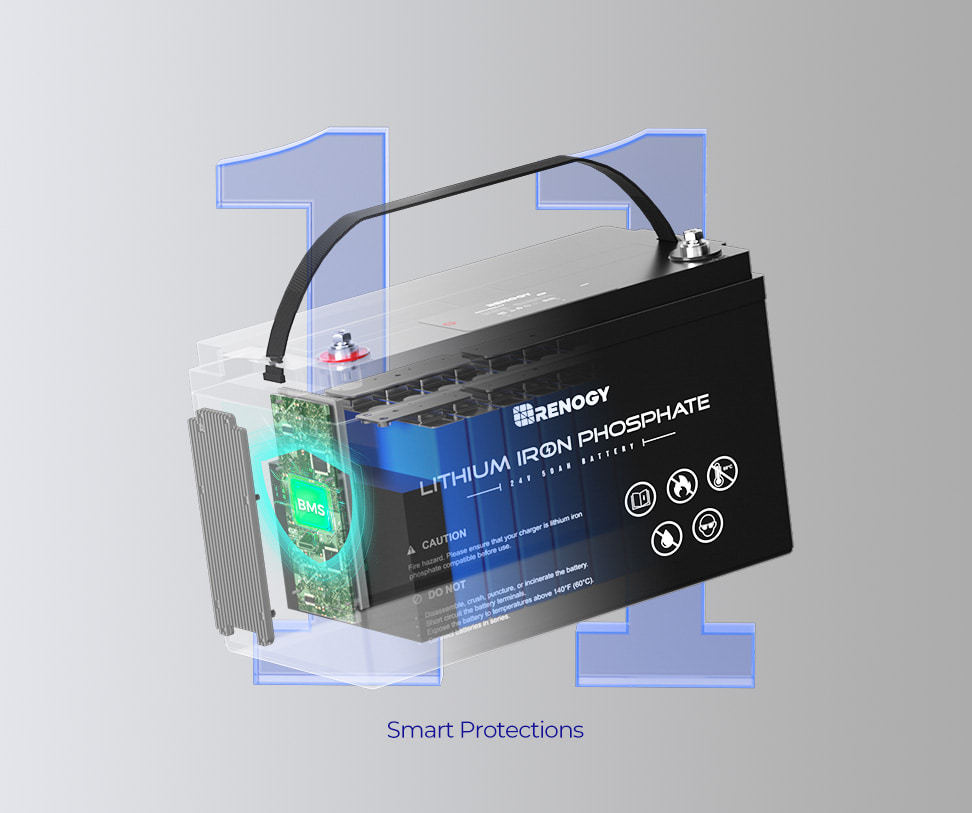 Complete Protections
Engineered with safety in mind, Renogy 24V 50Ah LiFePO4 battery comes with all-round protections to reduce risks during charging & discharging and promote longevity.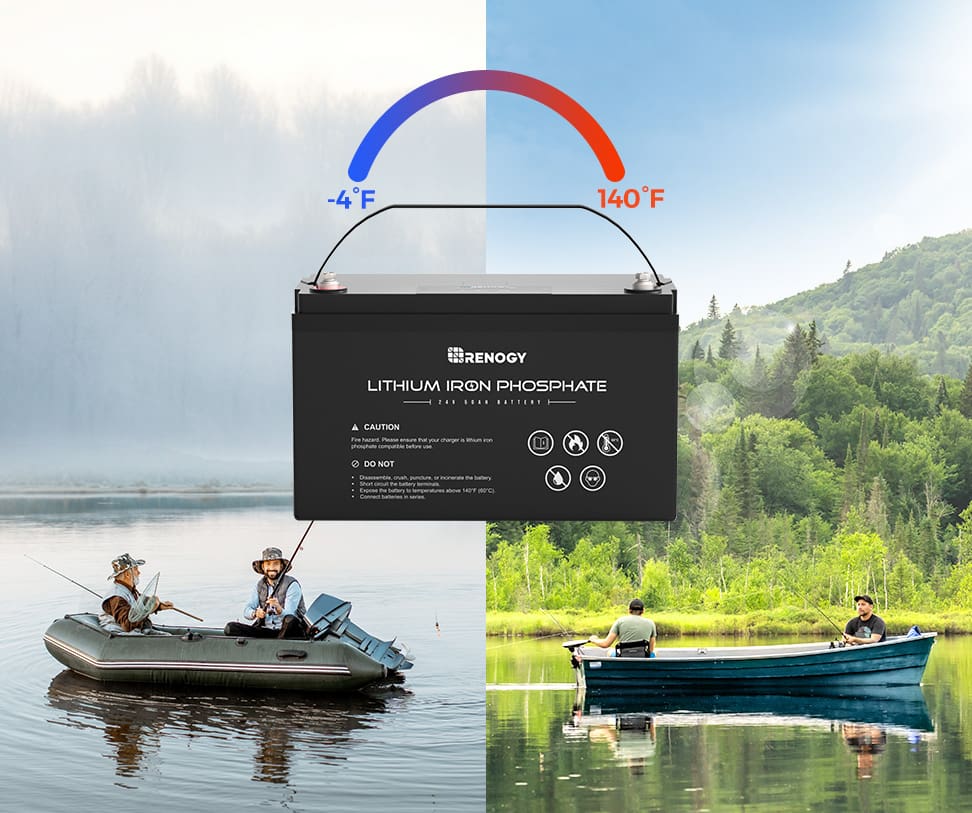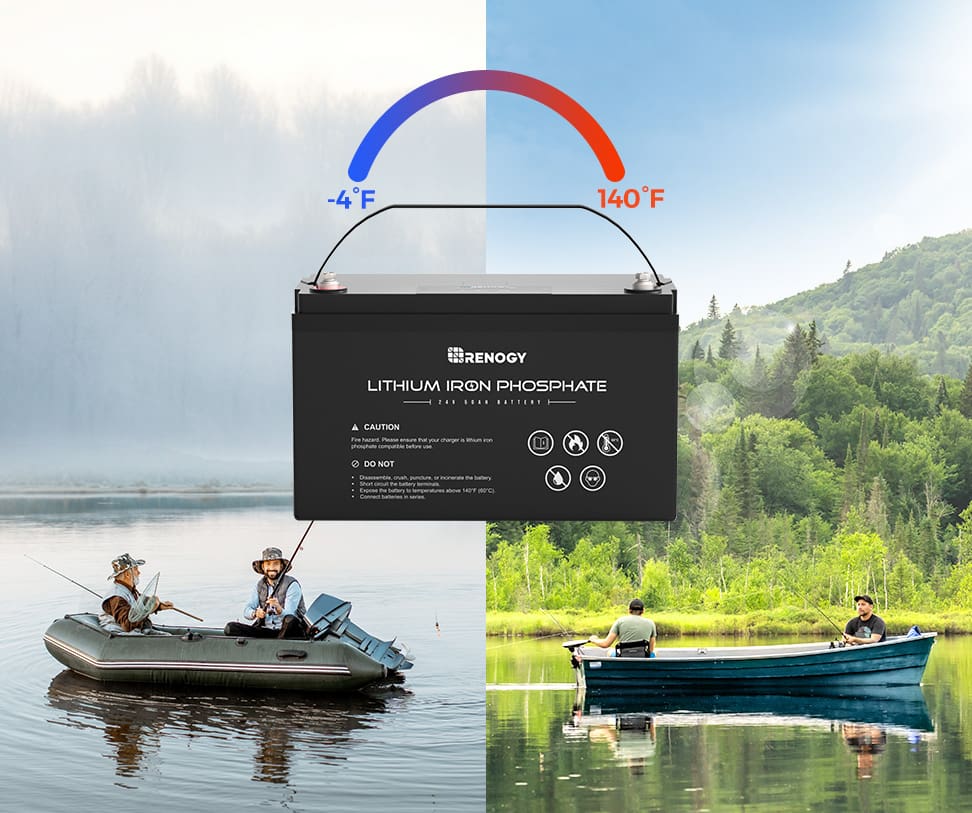 Tough in the Cold
Happy fishing even in freezing winter days down to -4°F with Renogy 24V 50Ah LiFePO4 Battery. It can still discharge consistently to power up your gear just fine as it does in warmer weather.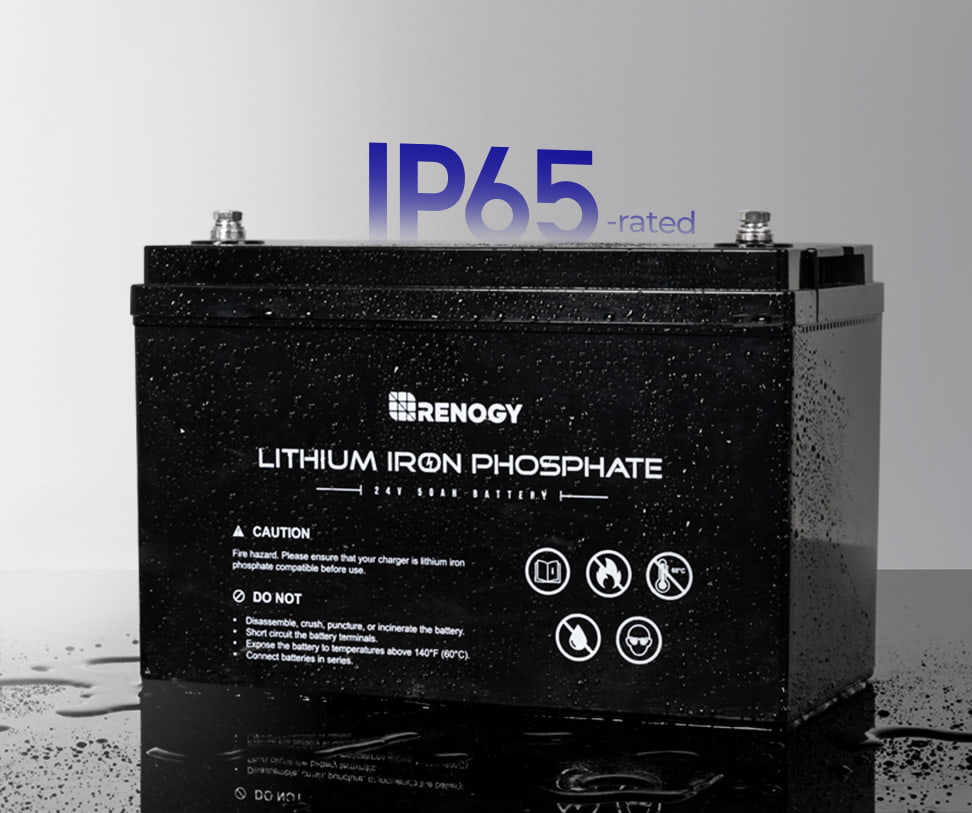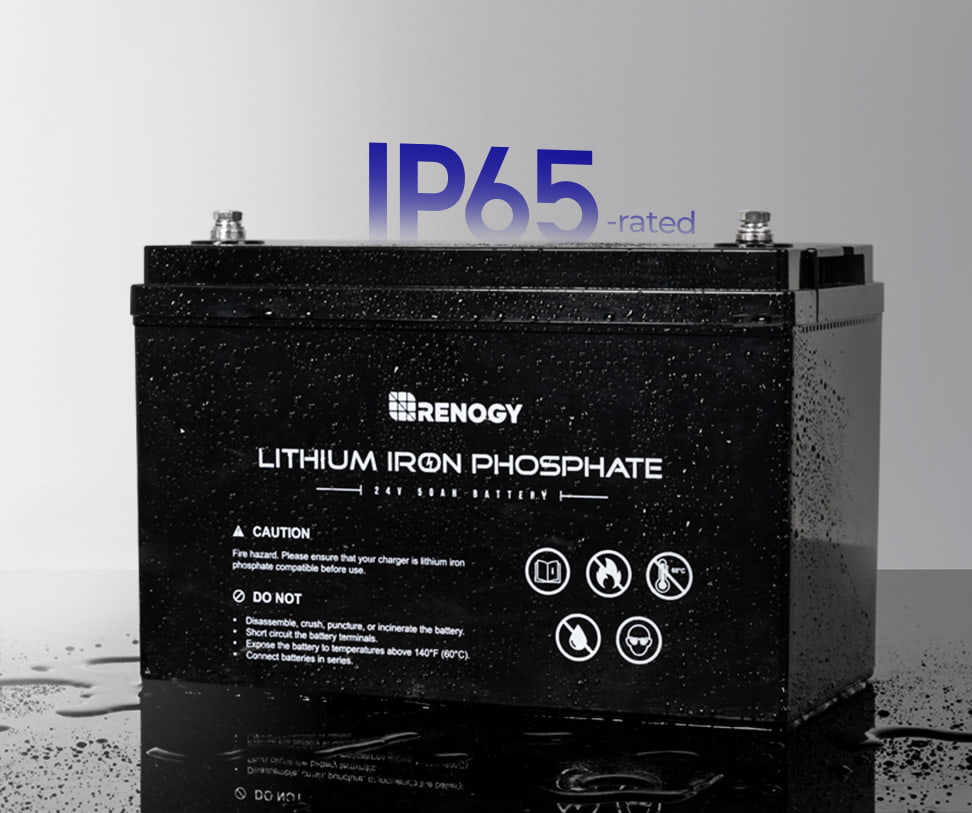 Splashes Are Fine
From lakes to rivers, from reservoirs to coast, this IP65-rated lithium iron phosphate battery is your go-to power that resists splashes & dust for pure fishing fun.
Fishing (And Outdoor) Experiences. Elevated.
Works seamlessly in your kayak, pontoon boat, skiff, cabin, and wherever you need 24V off-grid power.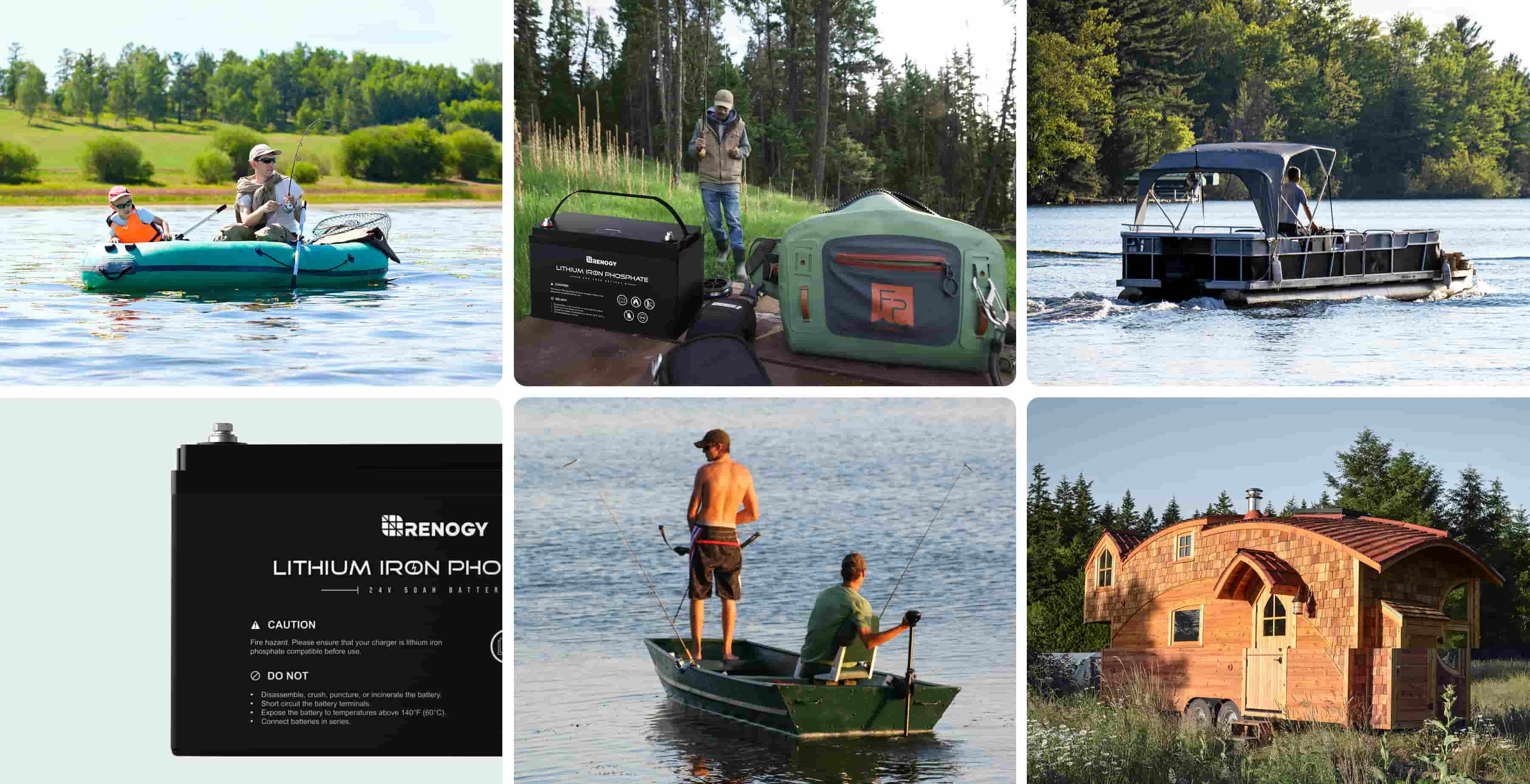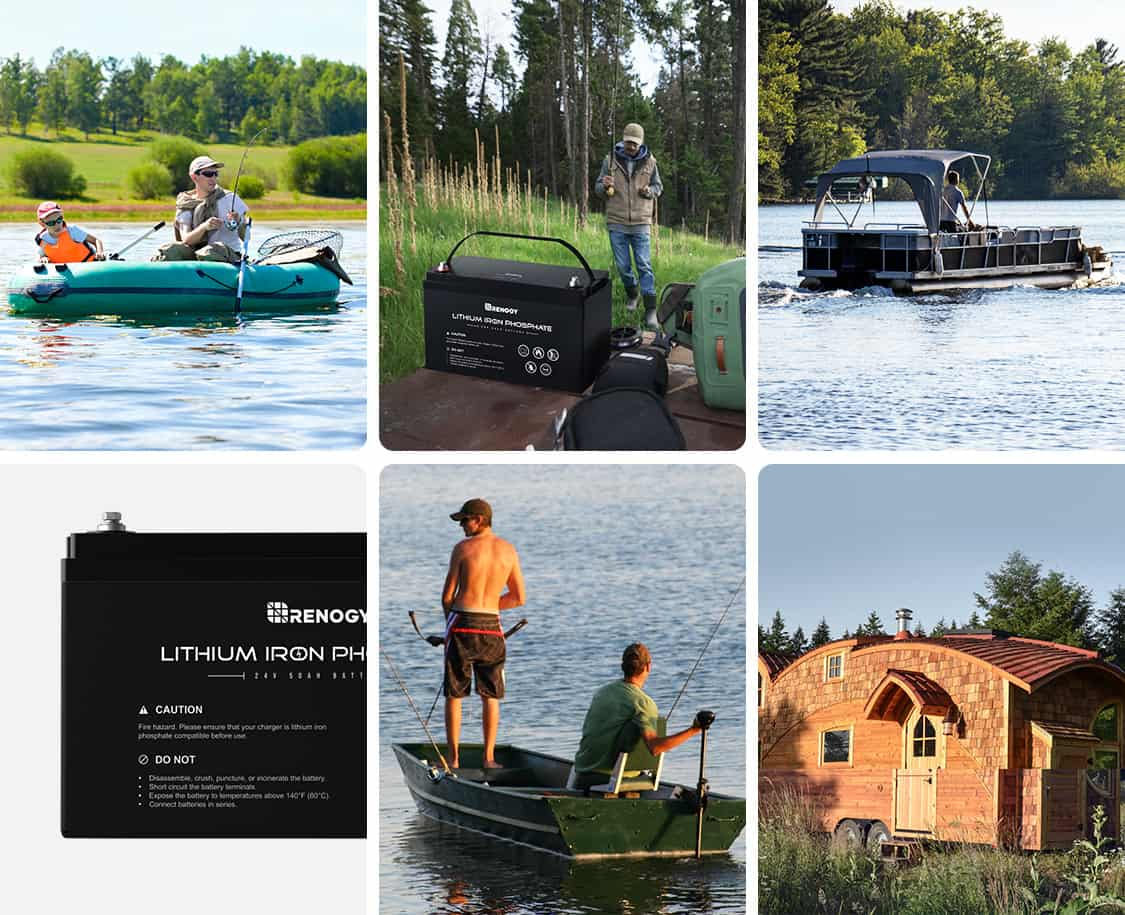 Get More for Less
With only about half the weight of lead-acid batteries, Renogy 24V 50Ah Lithium Iron Phosphate Battery boasts more power & longer cycles in a similar frame, resulting in a much lower cost throughout the whole lifetime.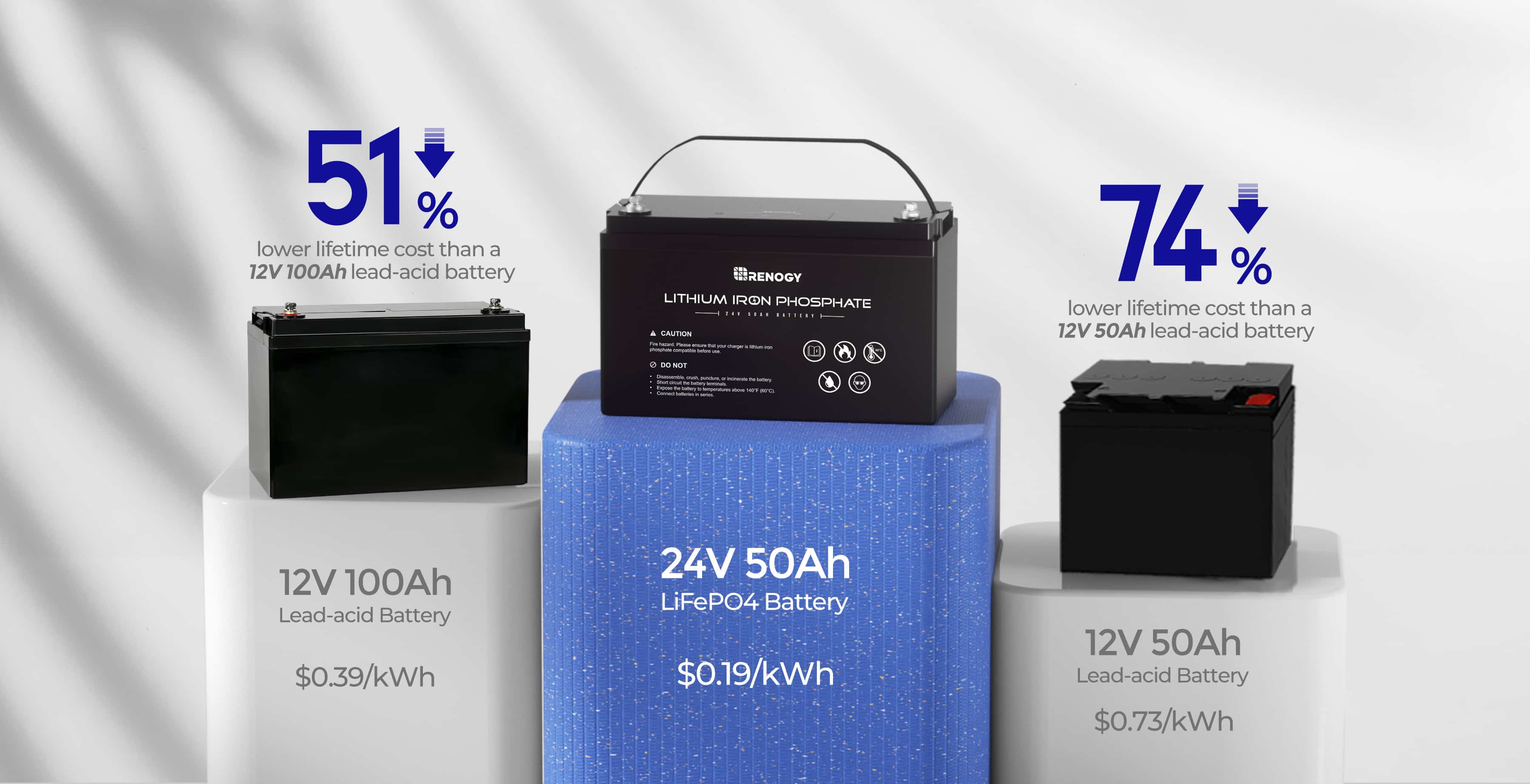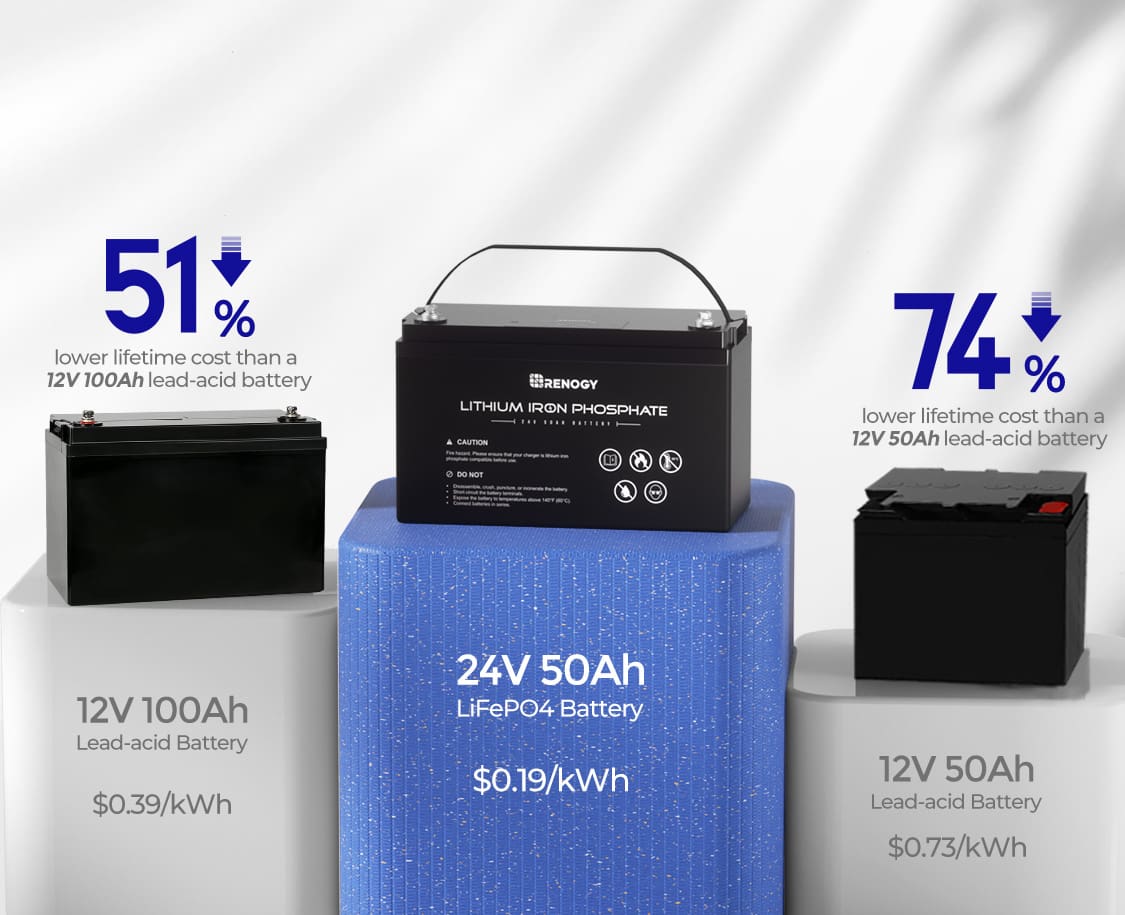 Designed to Work Together
Renogy delivers an extensive products and solutions, including solar panels, solar charge controllers, etc., to help you get the most out of off-grid life easier.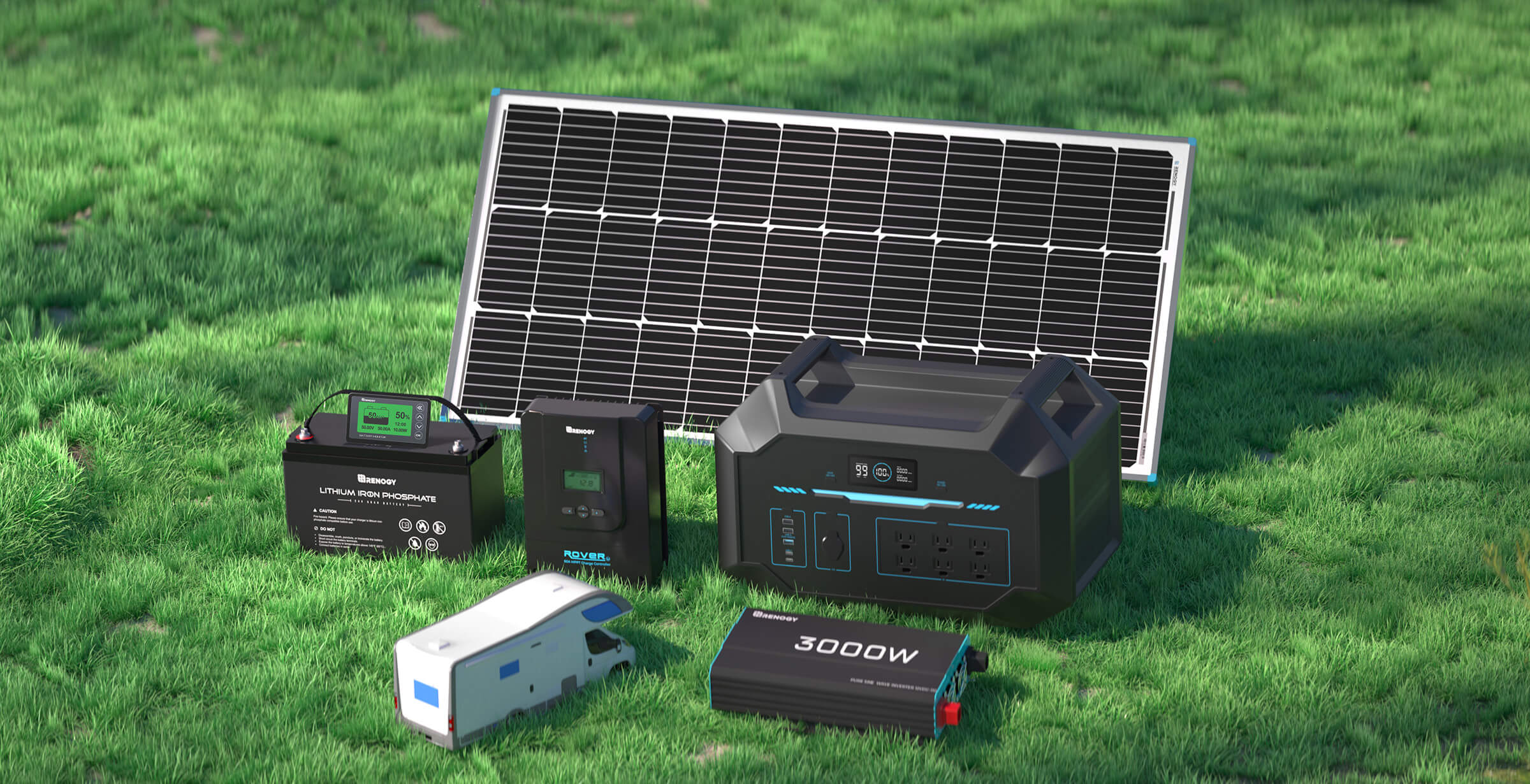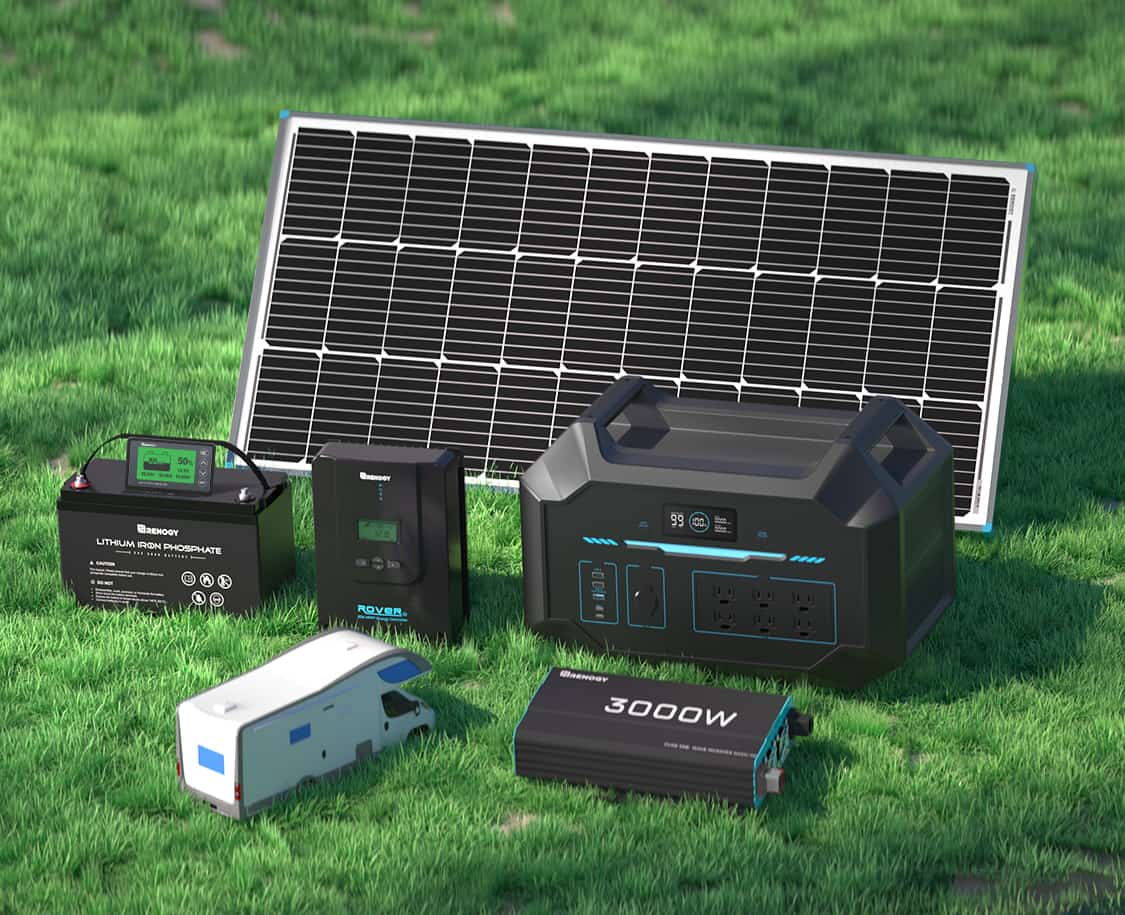 Save up to 15% Space
High-density pouch cells and improved cable structure ensure battery quality and a smaller battery volume.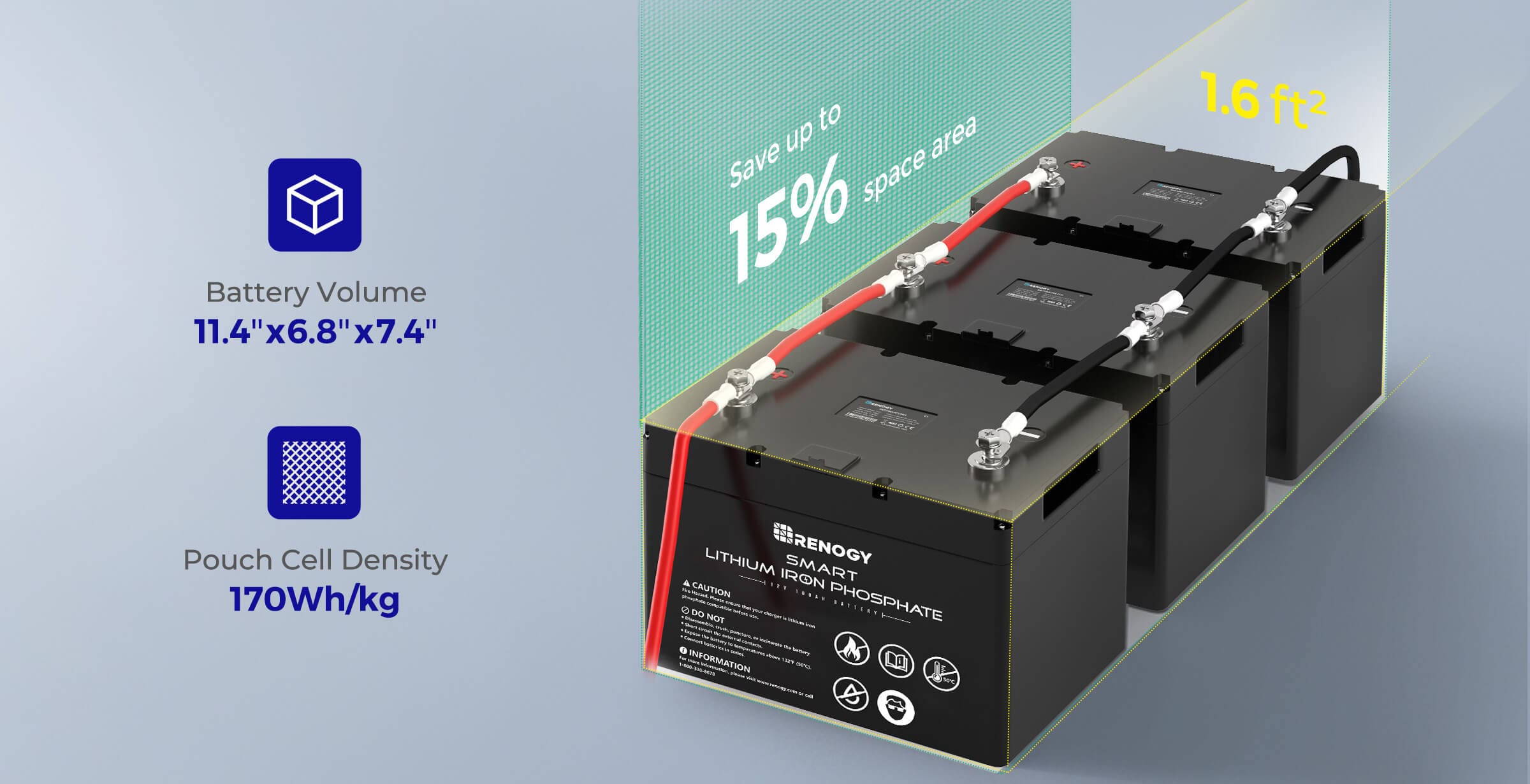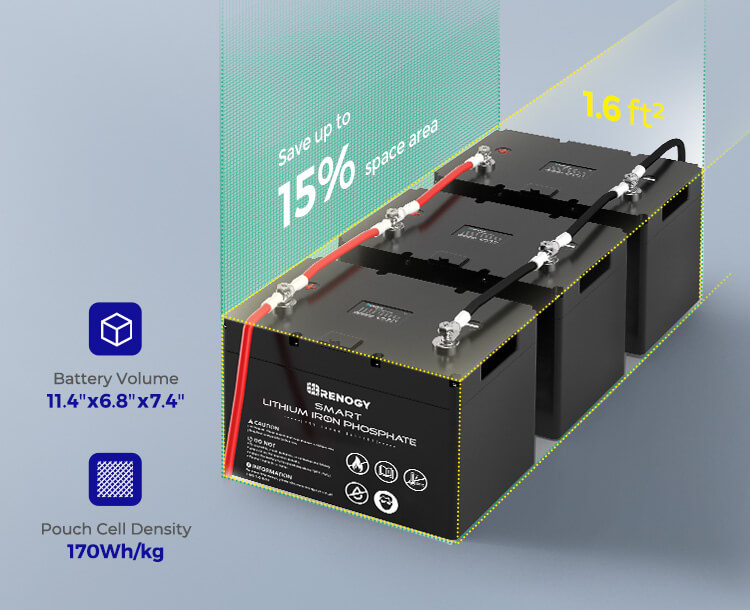 Change Makers. Assemble.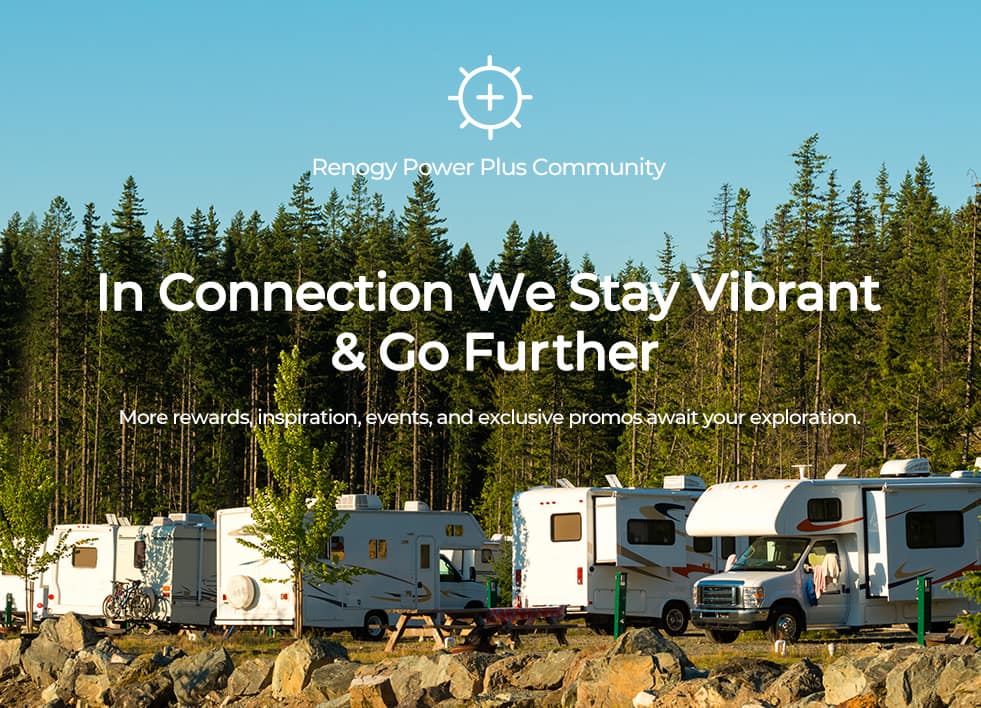 Power Your Remote Cabins
Tired of the whining of a gas generator? Make your cabin a self-sufficient living space with an expandable power supply to run multiple home appliances effortlessly for seasonal vacations or a weekend getaway.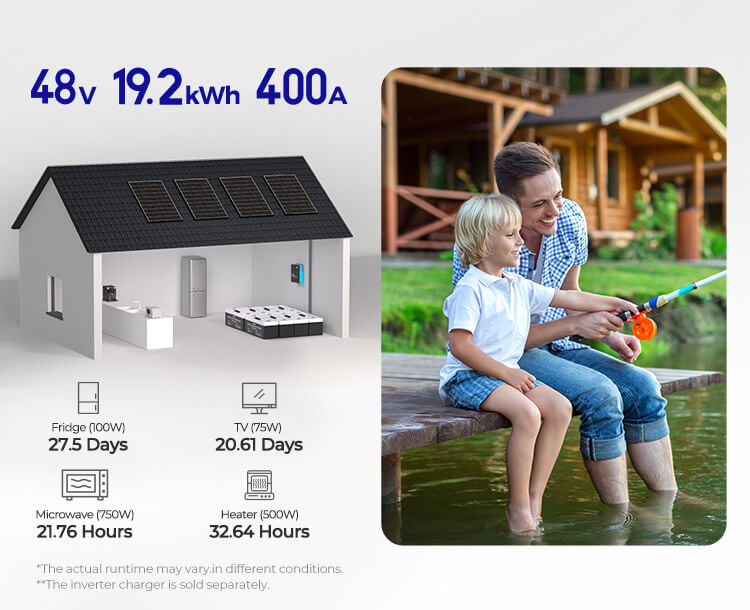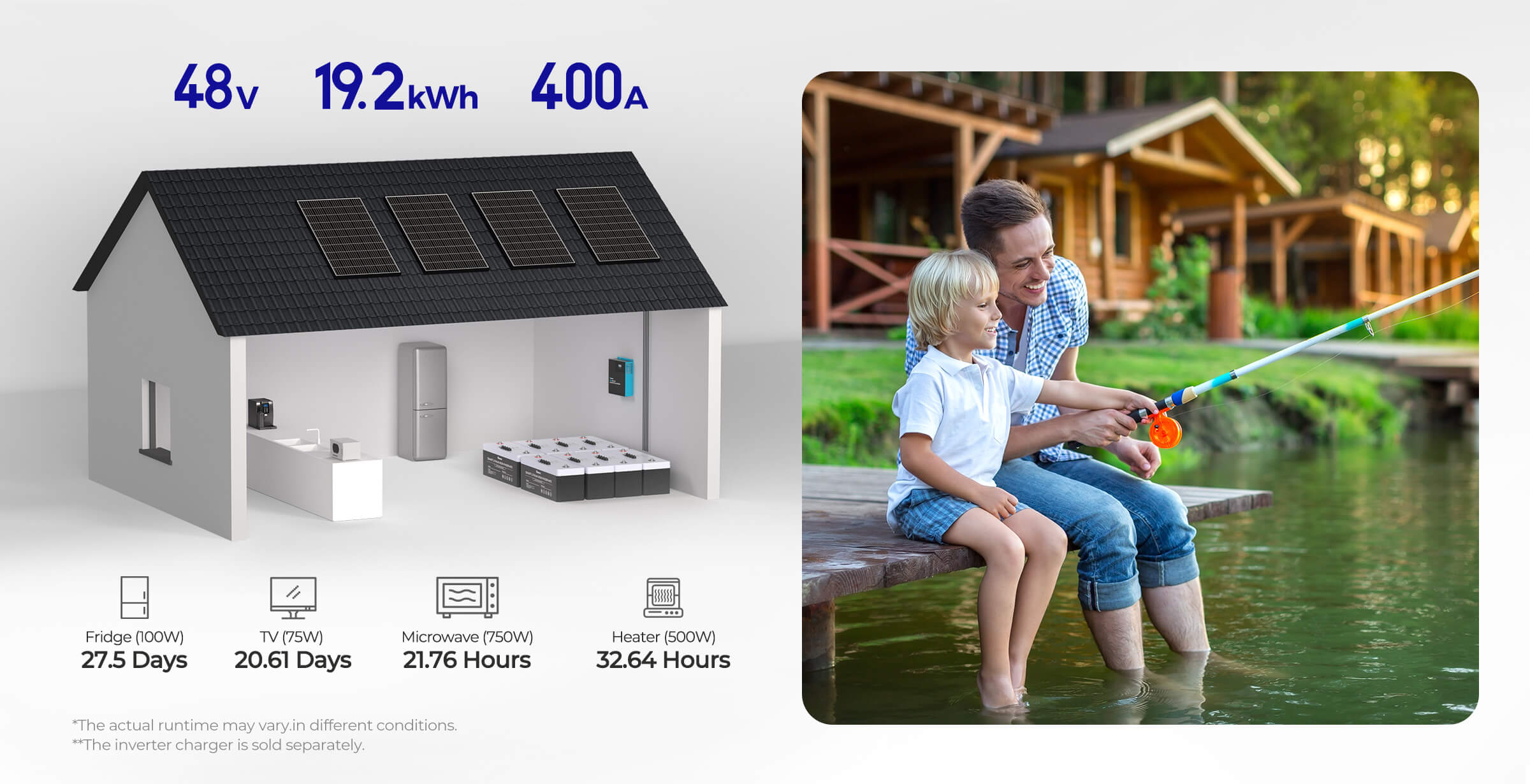 The Renogy Difference
Going solar is not that complicated. Renogy is here to help you build your system faster so you can roam further.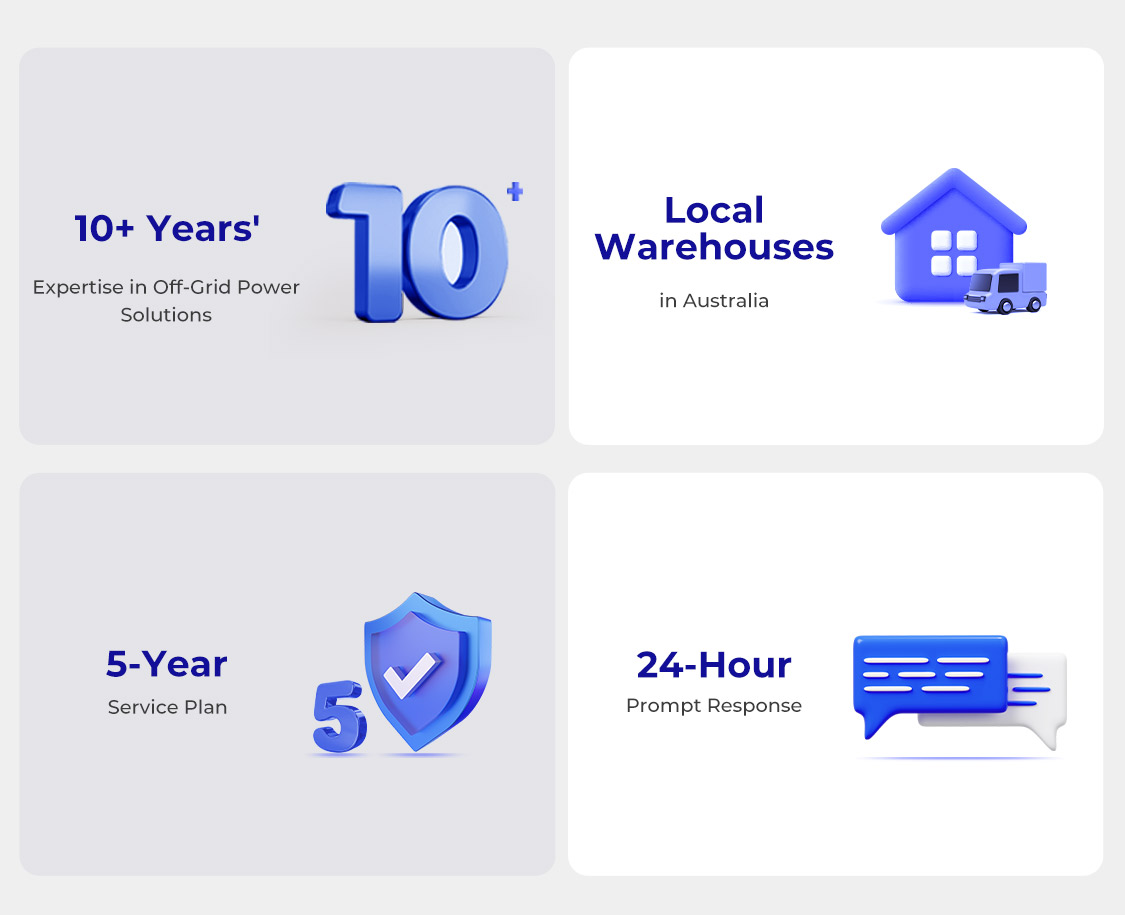 Planet-Friendly Power
Keep your appliances & devices powered while also caring for the environment with our eco-friendly batteries.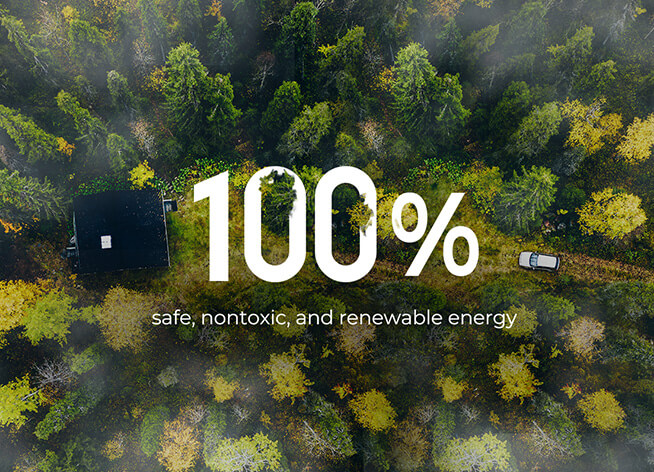 Connect with Renogy customers.
Go to Power Plus Community
Still have questions?
Ask our specialist
Package Includes
NOTE:
If you have any questions regarding this product, please call us at 1 (909) 287-7111 or

submit a ticket

for troubleshooting assistance.
More questions about your off-grid power system? Learn more from

Renogy Learning Center

!
Renogy 24V 50AH SMART LITHIUM IRON PHOSPHATE BATTERY

Electrical Specifications
Temperature Parameters
Rated Capacity (0.5C, 25°C)
50 Ah
Operation Temperature Range
Charge:32°F~113°F (0°C~55°C)
Nominal Voltage
24V
Operation Temperature Range
Discharge: -4°F~140°F (-20°C~60°C)
Energy
1280Wh
Storage Temperature Range
-13°F~149°F (-25C~65°C)
Cycle Life(0.5C/1C, 25℃)
3500 Cycles (80% DOD 80% EOL)
Standard Operation Temperature
73.4 ± 9℉ / 23 ± 5℃
Charging Parameters
Mechanical Specifications
Charge Voltage
29.0 ± 0.2V
Dimension (L x W x H)
13.0 x 6.8 x 8.4 inch (330 x 172 x 214 mm)
Maximum Continuous Charge Current
50 A
Weight
28.0 lbs. /12.7kg
Discharging Parameters
Terminal Bolt Size
M8 x2
Maximum Continuous Discharge Current
50A
Protection Rating
IP55
Disharge Cut-off Voltage
20V
Communication Port
No
Certifications
Warranty
MSDS, UN38.3, FCC, CE, UKCA, PSE
YES
3-year material Warranty
1. What are Renogy battery's greatest advantages?
Firstly, our batteries use the most up to date pouch cell technology. Currently, there are a few battery brands on the market using pre-used battery cores, these have a negative impact on the battery's life span and present safety risks. In addition, Renogy batteries feature, self-heating functions, an auto-balancing system and an advanced and efficient BMS system. Moreover, Renogy batteries have passed the free drop test,Electro Magnetic Compatibility testing, forced overcharge/discharge test,and crash test.
2. What exactly are pouch cells?
Soft pouch cells use a lightweight aluminum-polymer film to house the battery core, however most Li-ion batteries on the market today still use outdated hard metal battery casings. Comparing metal casings and pouch cells of the same capacity, pouch cells are substantially more light weight and have good cycle performance. When a pouch cell is damaged the gas and heat can escape through a sealing port, preventing further violent reactions. However, hard metal battery casings made from aluminum and steel are much more likely to explode when damaged.
3. My current RV is using a 12V system, if I upgrade to a 48V system what obvious life improvements will I see?
The most perceptive advantage of upgrading from 12V to 48V is that you will be able to use high-power electrical appliances in your RV. If you need to use high-power electrical appliances such as an air conditioner, refrigerator, or oven then a 48V battery will meet your energy needs and greatly enhance your off-grid living experience. Also, thinner cables can be used to connect the battery to the rest of this system, this will reduce transmission loss, save on space and improve the safety of your solar setup.
4. How long can this battery be used for?
This battery can complete 4500 full charge-discharge cycles and battery efficiency will drop to 80% of factory performance after this, however it can still be used with ease. If you live completely off-grid and charge and discharge the battery once a day it will last for more 10 years.
5. How many batteries can be connected together at once?
Up to 8 batteries can be connected in parallel, the auto-balancing function allows you to connect in parallel more safely.
5. I've never seen a switch button a battery before, what function does it have?
We have added one touch activation function to this battery. When the battery and BMS system aren't needed it, they can be turned off with one touch, reducing wear and tear, making storage safer and extending battery life.